The 5 Minute Guide to JPMorgan Chase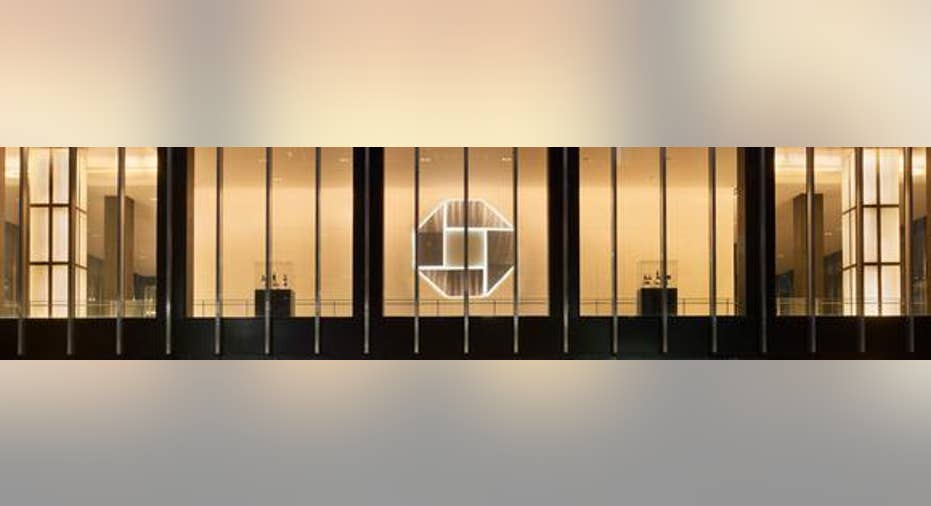 JPMorgan Chase is not only one of the largest financial services companies in America, it's among the biggest in the world. It's a sprawling company with many divisions and activities, and the full scope of its business can take weeks to understand completely.
In this article, we don't have weeks -- we have 300 seconds. So I'm here to give you a basic understanding of JPMorgan Chase and what it does, in the time it takes to order and claim a takeout latte. Ready? Deep breath, and here we go ...
IMAGE SOURCE: JPMORGAN CHASE.
A bulky behemothJPMorgan Chase is one of the "big four" incumbent banking groups in the United States, along with Bank of America , Citigroup , and Wells Fargo . In terms of total assets, it is the leader of the group, with a hard-to-imagine $2.4 trillion. It's No. 2 in terms of market capitalization, not far behind top dog Wells Fargo.
JPMorgan Chase has grown to Godzilla size to no small degree on the back of acquisitions, a clutch of which occurred after last decade's financial crisis. One top investment bank, Bear Stearns, was absorbed during this time. Other assets finding their way into the bank's portfolio were lender Washington Mutual and big financial Bank One, among many others.
Readers of previous generations might also recognize such names as Chemical Bank, and Chase Manhattan. Both were swallowed up by earlier forms of the company years ago. Chase, of course, gives it half of its name, with J.P. Morgan & Co. -- the company founded by its namesake Gilded Age financier -- providing the remainder.
All flavors of financeAny institution that likes to go asset shopping as much as Morgan is going to have a wide range of activities.
These days, the company keeps itself busy in nearly every finance nook and cranny imaginable. It's a big player in the mortgage market, has a giant credit card operation, funds car purchases, and makes plenty of coin with its asset management activities. The list of its businesses is long and exhausting, although it helpfully groups them into four core units.
Morgan knows how to concentrate on the activities that bring in the green. A critical part of its business is its corporate and investment bank division, which brought in nearly one-third of its parent's $23.7 billion net revenue in fiscal Q4 2015.
Powerful and profitableIt isn't easy to turn a substantial profit from all that sprawl, but Morgan has managed to do so consistently over many years -- even through the hysteria of the financial crisis, when peer companies were losing their shirts.
In the trailing twelve months, it's posted the highest revenue and net profit figures among the big four. It's even managed to edge past Wells Fargo, despite the latter's dominance of the all-important mortgage segment:
JPM Net Income (TTM) data by YCharts
JPM Revenue (TTM) data by YCharts
Yes, the bank's size works to its advantage, but it's got the operational discipline to keep that bottom line up -- its TTM net profit margin, for example, is a close second to that of Wells Fargo.
Could it improve those numbers? Perhaps. Costs are still relatively high, with its efficiency ratio clocking in at over 60%. That's some distance above Wells Fargo, Bank of America, and Citigroup, all of which have lately hovered around the 54% level.
Morgan also socks away more of its money, due largely to a corporate culture that emphasizes a strong (or "fortress," in the company's memorable phrase) balance sheet.
There might not seem to be much difference between its Tier 1 capital ratio of 13.5% and Citigroup's 12.8%, Bank of America 12.4%, and Wells Fargo's 10.8%, but this does amount to tens of billions of dollars -- money that could earn more coin if it were freed to do so.
Time's up!Lastly, on a valuation basis, Morgan lands a bit -- but not too much -- on the high side when compared to its incumbent bank amigos. It's got a one-year forward P/E of 10.5, cheaper than Wells Fargo at 11.8, but pricier than Bank of America's 9.6 and, especially, Citigroup's 8.4.
So that's my bank-in-a-box digest of JPMorgan Chase's business, and how it compares to its peers. Enjoy your coffee as you drink all of that in.
The article The 5 Minute Guide to JPMorgan Chase originally appeared on Fool.com.
Eric Volkman has no position in any stocks mentioned. The Motley Fool owns shares of and recommends Wells Fargo. The Motley Fool has the following options: short May 2016 $52 puts on Wells Fargo. The Motley Fool recommends Bank of America. Try any of our Foolish newsletter services free for 30 days. We Fools may not all hold the same opinions, but we all believe that considering a diverse range of insights makes us better investors. The Motley Fool has a disclosure policy.
Copyright 1995 - 2016 The Motley Fool, LLC. All rights reserved. The Motley Fool has a disclosure policy.