The 5 Biggest Retail Bankruptcies of the Past Decade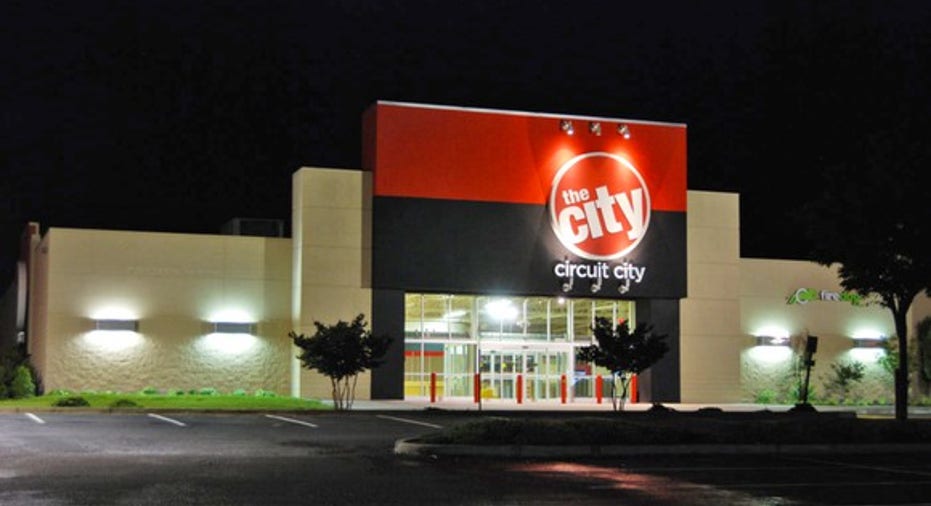 Image source: Getty Images.
This year has already been fraught with bankruptcy news. Over the past few months, nine major companies have filed for bankruptcy.
Topping the list for 2017 are hhgregg, RadioShack (for the second time), Wet Seal, The Limited, and others. While these companies are in the middle of the bankruptcy process, they're following in the unfortunate footsteps of many recognizable retail brands before them. Here are five major retailers you probably know that have all gone under during the past 10 years:
Image source: Circuit City Corporation.
1. Circuit City
Circuit City was once one of the main electronics retailers in the U.S. Based in Richmond, VA, the company can trace its history back to 1949, and dominated the electronics space up until the 1990s. In its heyday, Circuit City had 1,520 stores across the U.S. and Canada, with 46,000 employees.
But the company faced increasing pressure from Best Buy, big-box stores like Walmart, and online sales from Amazon. After a series of failed strategy changes, the company ultimately filed for bankruptcy in 2008 and closed its doors the following year. Circuit City left a pile of assets after its demise, to the tune of $3.4 billion.
Image source: Getty Images.
2. Linens & Things
Linens & Things was a key player in the housewares market. In its prime, the company had more than 500 stores across the U.S. Unfortunately, massive cutbacks in consumer spending caused problems for the company, and it filed for bankruptcy in 2008.
Just two years earlier, the private equity firm Apollo Management bought the company in an attempt to turn it around. In the end, Linens & Things closed up shop with $1.7 billion in assets.
Image source: The Great Atlantic & Pacific Tea Co.
3. Great Atlantic & Pacific Tea
The grocery store chain, often referred to as A&P, limped along for several years by filing for bankruptcy twice. The company had been in business since 1859, starting just a couple of years before the Civil War, but was forced to close its last store in New York City two years ago.
A&P met its match among rising competition in the grocery-store market, and aftermore than 150 years in business, the company shuttered its doors and sold off $1.6 billion in assets.
Image source: Getty Images.
4. Sports Authority
E-commerce claimed another victim last year when Sports Authority filed for bankruptcy. The company had a total of 463 locations across the country, but couldn't keep up with increasing competition, high leadership turnover, and instability from past mergers.
Sports Authority had $1.3 billion in assets at the time of its Chapter 11 filing -- the same amount the private equity firm Leonard Green & Partnerspaid for the company back in 2006. Rival Dick's Sporting Goods swept in and bought the Sports Authority's intellectual property -- mainly customer information -- for about $15 million.
Image source: Getty Images.
5. RadioShack
It was just two years ago when Radio Shack first filed for bankruptcy, with about $1.2 billion in assets.Sprint(NYSE: S) and the hedge fund Standard General took over about 1,700 of the company's once 4,000 stores, and tried to keep the company afloat..
But Sprint announced last month that it will close the remaining stores and convert several hundred of them to Sprint stores. After nearly a 100-year run in the retail business, RadioShack may finally be seeing its end this time around.
10 stocks we like better than SprintWhen investing geniuses David and Tom Gardner have a stock tip, it can pay to listen. After all, the newsletter they have run for over a decade, Motley Fool Stock Advisor, has tripled the market.*
David and Tom just revealed what they believe are the 10 best stocks for investors to buy right now... and Sprint wasn't one of them! That's right -- they think these 10 stocks are even better buys.
Click here to learn about these picks!
*Stock Advisor returns as of April 3, 2017
John Mackey, CEO of Whole Foods Market, is a member of The Motley Fool's board of directors. Chris Neiger has no position in any stocks mentioned. The Motley Fool owns shares of and recommends Amazon and Whole Foods Market. The Motley Fool has a disclosure policy.