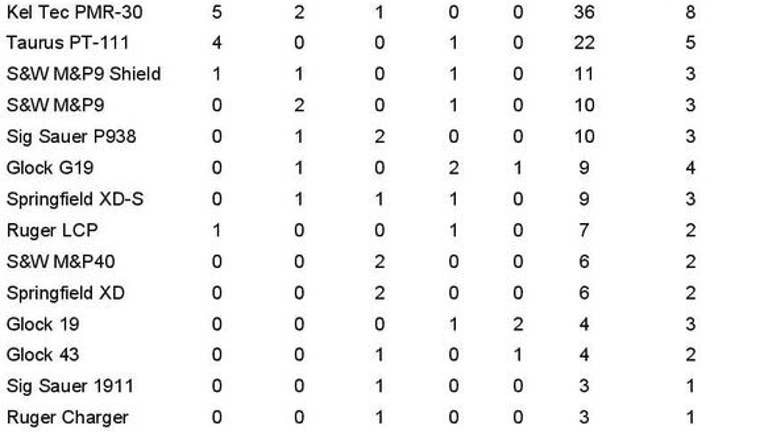 With concealed carry a primary concern for gun buyers, Smith & Wesson's M&P Shield line of subcompact guns has proved extremely popular, with over 1 million guns produced. Image: Smith & Wesson Holding.
There are probably as many favorite guns among firearms enthusiasts as there are models manufactured. One way to determine what the "best" gun is is to see what people are buying. But that's not a straightforward endeavor.
Since Smith & Wesson Holding and Sturm, Ruger are the only publicly traded gunsmiths, we're able to gain some insights into their sales, but mostly of broad categories rather than specific models.
For example, Smith & Wesson reported that fiscal-second-quarter sales were driven 15% higher by demand for its polymer shield and M&P models, while Ruger pointed to demand for its new AR-556 modern sporting rifle and LC9 pistol as reason sell-through from independent distributors to retailers jumped 28% in its last period. But with the bulk of the balance of the industry privately held, it's hard to get a read on who's buying what.
So I turned to GunBroker.com, the world's largest online auction site for firearms and accessories, which every month publishesthe five best-selling firearms on its site. While it lists the leaders in every major category of firearms sold, breaking them down between new, used, and a combination of the two, for this list I limited the selection to the five best-selling new, semi-automatic pistols. However, GunBroker.com doesn't list specific numbers for the guns sold. No raw unit totals or total dollar values. So what I did was compile all the monthly lists and broke it down into which gun landed in the top spot the most number of times. Then I looked at which was No. 2 most often; which was third, and so on.
I then arbitrarily assigned a value to each slot. A first-place finish got 5 points; second place, 4 points; third, 3, and so on. I then tallied the results and picked out the top five guns for 2015 (January to November). Nineteen different gun models from eight separate manufacturers appeared on the list. Here are the top five best-selling newsemiautomatic pistols on my list, in reverse order.
Fourth Place (tie): Smith & Wesson M&P9 and Sig Sauer P938. Neither gun landed in the top spot over the course of the year, but the models were gun buyers' second and third choices most often. The M&P9 is Smith & Wesson's direct challenge to Glock in the low-cost polymer frame segment and its lightweight design has helped the gunmaker enjoy tremendous growth as handgun sales have taken off.
Similar in size to its best-selling P238 pistol, Sig Sauer's P938now offers concealed carry gun buyers the ballistic advantage of the 9mm cartridge. Image: Sig Sauer.
In contrast, Sig Sauer's P938 is ahammer-fired, single-action semi-auto, withaluminum alloy frame and steel slide. It's super-lightweight and designed for concealed carry.
Third Place: Smith & Wesson M&P9 Shield. This is S&W's answer to the concealed-carry gun niche that is exploding. So popular are its Shield models that during the second quarter the gunmaker produced its one millionth model, which it says makes it "the best-selling personal protection and self-defense pistol" on the market.
Second Place: Taurus PT-111 Millenium G2. Yet another gun designed for the concealed carry market, the Taurus PT-111 is available in 9mm and built on a lightweight polymer platform in a subcompact form factor. Its appearance on the list would surprise many gun enthusiasts, but the fact it was the favorite gun four months in a row probably raised even more eyebrows, though it also attested to the gun's meeting a specific need in the market.
Compiled by author. Data source: GunBroker.com.
First Place: Kel Tec PMR-30. This might not have been the gun many would have expected to top the list, but the Kel Tec PMR-30 dominated sales at GunBroker.comthis year, coming in first place more times than any other model (five), and regularly being a gun buyer's second or third choice. The Kel Tec was also on the top-five list more often than any other model (eight), and unlike Smith & Wesson, Ruger, or Sig Sauer, which each had three different models appear at any time over the course of the year, it was only the Kel Tec PMR-30 that gun buyers wanted.
The Kel Tec PMR-30. Image: Kel Tec Weapons.
What pushes gun enthusiasts to want the Kel Tec is its light weight. Even fully loaded with 30 double-stacked .22 Magnum rounds (.22 WMR), its glass-reinforced nylon Zytel frame is lighter than many polymer-frame guns, yet there's a distinct lack of recoil when fired. It's also pretty accurate.
Gun sales have never been greater. The FBI is on track to conduct more background checks on gun buyers this year than at any other time, even more than the record number of investigations performed in 2013. While GunBroker.com will release its best-selling firearm for 2015 next month, there's a good bet it will be one of those here. And considering how often the Kel Tec PMR-30 has topped the lists so far, I'd be surprised if it wasn't the overallchoice of gun buyers everywhere.
The article The 5 Best-Selling Guns of 2015 originally appeared on Fool.com.
Rich Duprey has no position in any stocks mentioned. The Motley Fool has no position in any of the stocks mentioned. Try any of our Foolish newsletter services free for 30 days. We Fools may not all hold the same opinions, but we all believe that considering a diverse range of insights makes us better investors. The Motley Fool has a disclosure policy.
Copyright 1995 - 2015 The Motley Fool, LLC. All rights reserved. The Motley Fool has a disclosure policy.