The 5 Best Healthcare ETFs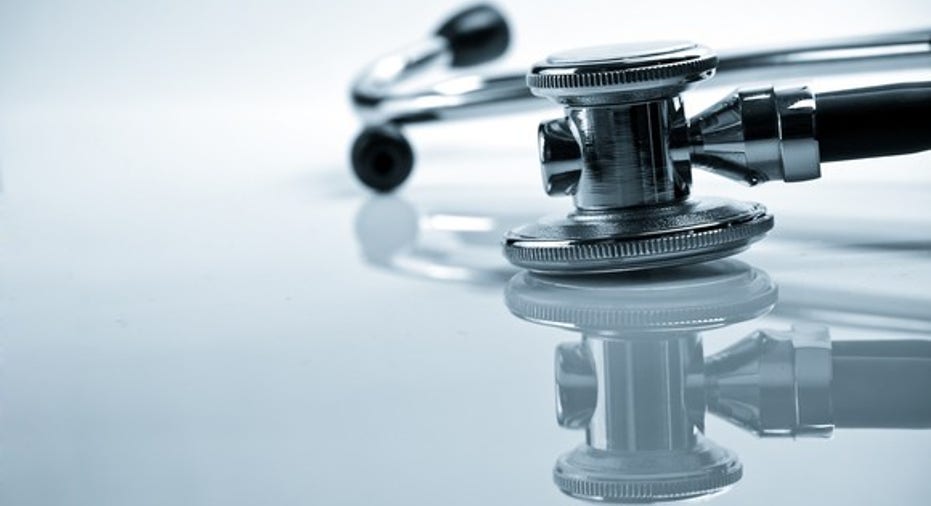 Image source: Getty Images.
With nearly 50 healthcare ETFs on the market,there isn't a shortage of choices for fund investors. The best healthcare ETFs have managed to attract a lion's share of the assets, and thus a disproportionate amount of daily trading volume. From Vanguard to iShares, here's a healthcare ETF list that has something for every investor.
| ETF | Ticker | Expense ratio |
| --- | --- | --- |
| Health Care Select Sector SPDR ETF | | 0.14% |
| Vanguard Health Care ETF | | 0.09% |
| iShares Nasdaq Biotechnology ETF | | 0.47% |
| SPDR S&P Biotech ETF | | 0.35% |
| iShares Global Healthcare ETF | | 0.48% |
Source: Fund prospectuses and fund sponsors.
1. Health Care Select Sector SPDR ETF
The S&P 500 Index is frequently broken into 10 sectors, from utilities to technology stocks, and, of course, healthcare. This fund is simple to explain: It holds all the healthcare stocks in the S&P 500, from device manufacturers to pharmaceutical stocks.
Weighted by market cap just as the S&P 500 is, this ETF holds just under 60 stocks and is most concentrated in well-known household names. Johnson & Johnson, Pfizer, and Merck, its three-largest investments, make up about 12%, 8%, and 6% of assets, respectively.
An annual expense ratio of 0.14% makes this fund very inexpensive for buy-and-hold investors.
2. Vanguard Health Care ETF
Easily one of the most diversified ETFs on this list, Vanguard's healthcare ETF has a lot to like, including exposure to 361 companies that run the gamut from pharmaceuticals to healthcare facilities operators. Like many sector ETFs, though, this one is also market cap-weighted, thus putting the bulk of its portfolio in familiar companies J&J, Pfizer, and Merck.
The fund is designed to track the MSCI U.S. Investable Market Health Care 25/50 Index, which invests in American domiciled companies that are based in the United States.What it does offer, however, is cost efficiency, carrying an annual expense ratio of just 0.09%.
3. iShares Nasdaq Biotechnology ETF
If medical stalwarts put you to sleep, this ETF certainly won't. Designed to track the Nasdaq Biotechnology Index, the fund invests in companies that are listed on the Nasdaq exchange and have a minimum market cap of $200 million.
It remains one of the best pure plays for investing in publicly traded biotech companies, holding a stake in 191 companies. Gilead Sciences, Amgen, and Celgenewere its three largest positions, each making up just over 8% of its portfolio, and nearly 25% of its portfolio on a combined basis.
A strict sector focus makes this fund a little more costly, but its annual expense ratio of 0.48% may be worth it for investors looking for pure-play access to one of the most volatile corners of the healthcare industry.
4. SPDR S&P Biotech ETF
This ETF offers an interesting twist to the biotech industry by equal-weighting its portfolio so that it invests just as much in any given large cap stock as it does a small cap stock. The result is that its performance is hinged more on the performance of small biotech companies, which generally haven't yet put a drug on the market.
The median company in this ETF had a market cap of just $1.2 billion at the time of writing, well below that of funds that track more established healthcare companies. Its focus on smaller stocks is a winning recipe, however, as the fund's 10-year record trounces the competition. Recent performance, however, has been shaky, the result of a portfolio that will run especially hot and cold when biotech companies go in and out of favor.
In all, the fund's annual expense ratio of 0.35% seems more than fair given its bias toward small cap stocks, and the fact it is diversified across 86 holdings.
5. iShares Global Healthcare ETF
Want a globally diversified ETF that invests in all healthcare companies, foreign and domestic? This might be the ETF for you. You'll notice an immediate difference when you take a peek at its top five holdings, which include the likes of Novartisand Roche Holding, both of which are Swiss companies, at No. 3 and No. 4, respectively.
This fund will give you exposure to American companies, which still dominate about two-thirds of the portfolio, but it also offers access to foreign companies other ETFs on this list ignore. In all, the fund holds 106 different stocks, with Switzerland- and U.K.-based companies following up the United States to round out the top three geographies.
The fund does carry a higher-than-average expense ratio for index funds, but its total expense ratio of 0.47% of assets annually is well within line for sector-specific funds, particularly those that venture across local borders.
The article The 5 Best Healthcare ETFs originally appeared on Fool.com.
Jordan Wathen has no position in any stocks mentioned. The Motley Fool owns shares of and recommends Celgene, Gilead Sciences, and Johnson and Johnson. The Motley Fool has the following options: short October 2016 $95 puts on Celgene. Try any of our Foolish newsletter services free for 30 days. We Fools may not all hold the same opinions, but we all believe that considering a diverse range of insights makes us better investors. The Motley Fool has a disclosure policy.
Copyright 1995 - 2016 The Motley Fool, LLC. All rights reserved. The Motley Fool has a disclosure policy.