The 4 Building Blocks That Pushed Exelixis, Inc. Higher by 164% in 2016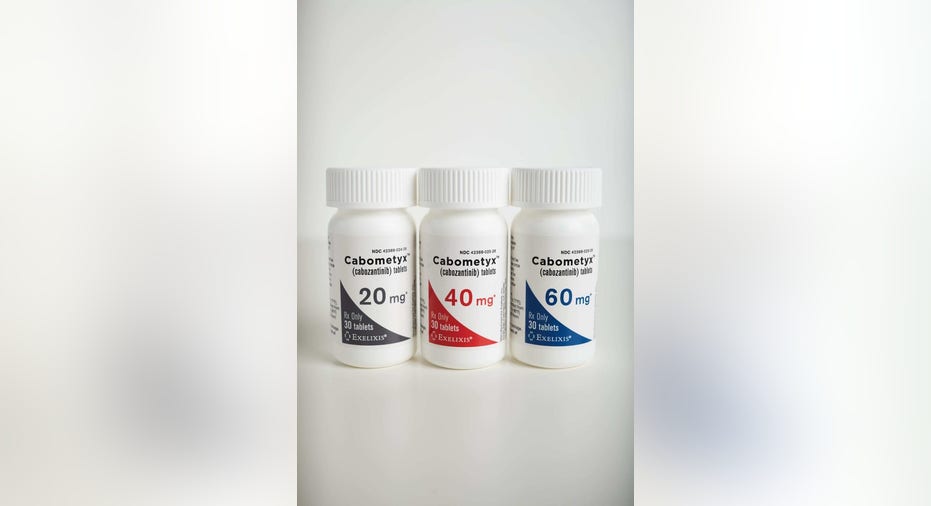 Image source: Getty Images.
What happened
Shares of Exelixis (NASDAQ: EXEL), a mid-cap biotech company primarily focused on developing therapies to treat cancer, surged 164% during 2016 according to S&P Global Market Intelligence. There appear to be four key reasons why the company had such an incredibly good year despite most drug stocks underperforming.
So what
Hands down, the biggest catalyst for Exelixis and its shareholders (of which I've been one for more than two years) was the approval of Cabometyx as a second-line treatment for renal cell carcinoma (RCC). It wasn't just that the METEOR trial delivered good enough results to simply get Cabometyx on pharmacy shelves, either. Cabometyx hit the all-important "trifecta," as Exelixis' management team has touted. It offered a statistically significant improvement in overall response rate, median overall survival, and progression-free survival (PFS) in second-line RCC over the placebo. The implication is that even though Bristol-Myers Squibb's (NYSE: BMY) Opdivo is the dominant second-line RCC player, its market share could be chipped away by Cabometyx.
Image source: Exelixis.
Building off the first point, the second factor that sent Exelixis higher was data from the midstage CABOSUN study in first-line RCC. In October, Exelixis announced a median PFS of 8.2 months in first-line RCC with Cabometyx compared to 5.6 months for Pfizer's (NYSE: PFE) Sutent, the current standard-of-care therapy. What's more, there was a 31% reduction in the rate of disease progression or death in the 20.8-month follow-up, and a clear-cut improvement in objective response rate to 46% when compared to Sutent's 18%.
Third, Exelixis received positive news from its ongoing and pivotal phase 3 CELESTIAL trial for hepatocellular carcinoma in September. The independent data monitoring committee suggested the trial continue as planned during a planned interim analysis, implying that Cabometyx appears safe, and that it has a chance to hit its primary endpoint of a statistically significant improvement in median overall survival.
Finally, in late February Exelixis and Ipsen (NASDAQOTH: IPSEY) entered into a licensing agreement for Cabometyx. The deal could be worth as much as $855 million to Exelixis, but what was most important was that it provided $200 million in immediate upfront cash for a company that had, until Cabometyx's approval, struggled. The Ipsen deal essentially put Exelixis' cash woes in the rearview mirror.
Now what
Do I expect a repeat 164% gain in 2017? I don't believe so, but there's still room for upside depending on how Cabometyx performs in CELESTIAL and first-line RCC.
Image source: Getty Images.
Let's not also lose sight of the fact that there are other opportunities, too. Cabometyx is being tested with a handful of cancer immunotherapies, including Bristol-Myers' Opdivo, and if it can catch on as a combination therapy, Exelixis could see its sales rapidly expand. Similarly, don't overlook Cotellic, the company's approved metastatic melanoma therapy with Roche's Zelboraf, as a combination treatment. Cotellic is being studied with cancer immunotherapies from Roche.
Given that 2017 could be the year that Exelixis begins to deliver recurring profits, I don't believe this is the time to take your profits, as tempting as it might be. With a bounty of milestone revenue yet to be earned and plenty of label expansion potential, a modest gain in Exelixis in 2017 seems quite possible.
10 stocks we like better than Exelixis When investing geniuses David and Tom Gardner have a stock tip, it can pay to listen. After all, the newsletter they have run for over a decade, Motley Fool Stock Advisor, has tripled the market.*
David and Tom just revealed what they believe are the 10 best stocks for investors to buy right now... and Exelixis wasn't one of them! That's right -- they think these 10 stocks are even better buys.
Click here to learn about these picks!
*Stock Advisor returns as of Nov. 7, 2016
Sean Williamsowns shares of Exelixis. You can follow him on CAPS under the screen nameTMFUltraLong, and check him out on Twitter, where he goes by the handle@TMFUltraLong.The Motley Fool owns shares of and recommends Exelixis. The Motley Fool has a disclosure policy.