The 4 Best Dividend Stocks in Cloud Computing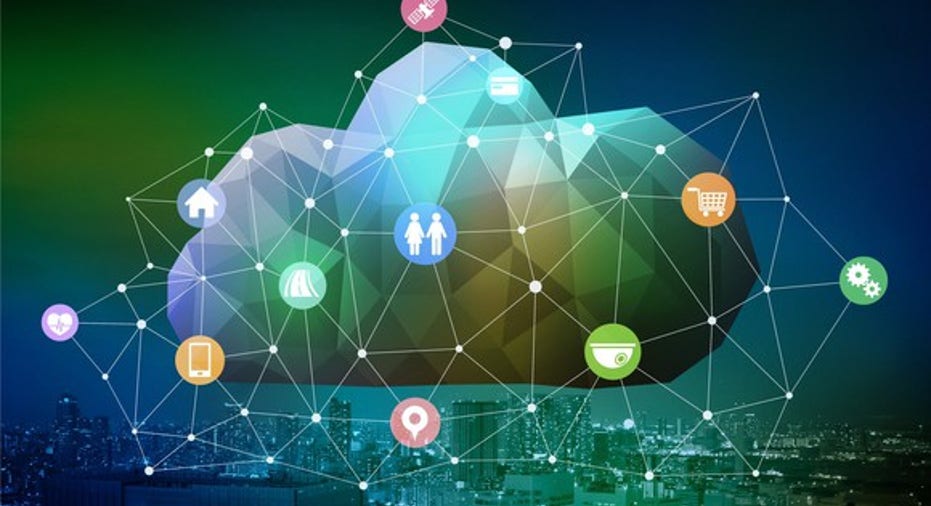 Cloud companies often generate high sales growth with thin margins. They aren't usually associated with dividends, which generally indicate that a tech company's high growth days are over.
Yet there are still a handful of stocks that expose investors to the growing cloud market while paying dependable dividends. Let's take a closer look at four such companies -- Microsoft (NASDAQ: MSFT), IBM (NYSE: IBM), Oracle (NYSE: ORCL), and Hewlett-Packard Enterprise (NYSE: HPE).
Image source: Getty Images.
Microsoft
Microsoft's commercial cloud business hit an annual runrate of over $14 billion last quarter -- a 49% jump from a year earlier. CEO Satya Nadella expects that figure to hit $20 billion, or nearly a fifth of Microsoft's revenue, in fiscal 2018.That business generates most of its revenue from three cloud services -- Office 365, Dynamics CRM (customer relationship management), and the Azure cloud platform. Azure -- the second largest cloud platform after Amazon's (NASDAQ: AMZN) AWS (Amazon Web Services) -- hosts applications, analyzes data, and loans out computing power.
Microsoft pays a forward dividend yield of 2.4%, which is supported by a payout ratio of 69%. The company has raised that payout annually for 13 straight years. Analysts expect Microsoft's revenue and earnings to respectively rise 5% and 7% this year, but its valuation looks a bit rich at 31 times earnings.
IBM
IBM's cloud business achieved an annual runrate of $13.7 billion last quarter, growing 35% from a year earlier and accounting for 17% of its top line. Within that total, its cloud services had an annual run rate of $8.6 billion -- a 61% jump from 2015.Big Blue bundles all its public, private, and hybrid cloud services into a platform called the IBM Cloud. Notable products in that suite include its AI platform Watson, Blockchain for digital transactions, and the Bluemix platform, which competes against AWS and Azure.
Big Blue pays a forward dividend yield of 3.2% with a payout ratio of 44%. It's raised that dividend annually for 17 straight years. Its P/E of 14 is much lower than its industry average of 21, but analysts expect its revenue to fall 2% this year and for its earnings to rise just 2%.
Oracle
Over the past few years, Oracle has grown its cloud businesses to offset sluggish demand for its aging database and hardware products. These products include a mix of SaaS, PaaS (platform as a service), and IaaS (infrastructure as a service) products -- whichachieved a non-GAAP annual run rate of $5 billion last quarter. Last quarter, Oracle's total cloud revenues rose 62% annually to $1.2 billion and accounted for 13% of the tech giant's top line.
Oracle's forward dividend yield of 1.4% is supported by a payout ratio of just 28% -- indicating that the tech giant could easily double its dividend if it wanted to. Nonetheless, Oracle's five straight years of dividend hikes have kept the yield well below 2%. Analysts expect Oracle's revenue and earnings to both rise just 1% this year, but its multiple of 21 is well below the industry average of 54 for application software makers.
Hewlett-Packard Enterprise
Hewlett-Packard Enterprise retained HP's enterprise hardware and software businesses after splitting with the PC, printing, and imaging businesses in late 2015. Shortly after the split, HPE shut downits Helion public cloud platform, which couldn't compete against larger rivals like AWS. But HPE continued providing support for private and hybrid cloud deployments, and tethered those systems to AWS, Azure, and other leading public cloud platforms. HPE's adjusted software revenue fell 1% annually last quarter, but within that business, its cloud software as a service (SaaS) revenue rose6%.
Image source: HPE.
HPE's forward yield of 1.1% looks paltry, but its payout ratio of 13% suggests that there's plenty of room for growth. Wall Street expects HPE's revenue and earnings to remain nearly flat this year, due to sluggish enterprise spending, but its trailing P/E of 12 makes it one of the cheapest large cap tech plays on the market today.
The key takeaways
Microsoft, IBM, Oracle, and HPE often showcase their cloud growth, but none of these mature companies are generating massive growth. That's because they're relying heavily on cloud growth to offset weakness as their older businesses -- like Microsoft's Windows, IBM's hardware and IT services, Oracle's database systems, and HPE's aging enterprise hardware and software.Investors should weigh the pros and cons of these companies before investing in them as cloud or income plays.
10 stocks we like better than IBMWhen investing geniuses David and Tom Gardner have a stock tip, it can pay to listen. After all, the newsletter they have run for over a decade, Motley Fool Stock Advisor, has tripled the market.*
David and Tom just revealed what they believe are the 10 best stocks for investors to buy right now... and IBM wasn't one of them! That's right -- they think these 10 stocks are even better buys.
Click here to learn about these picks!
*Stock Advisor returns as of February 6, 2017
Teresa Kersten is an employee of LinkedIn and is a member of The Motley Fool's board of directors. LinkedIn is owned by Microsoft. Leo Sun owns shares of Amazon. The Motley Fool owns shares of and recommends Amazon. The Motley Fool owns shares of Oracle. The Motley Fool has a disclosure policy.