The 3 Worst Performing Tech Stocks in April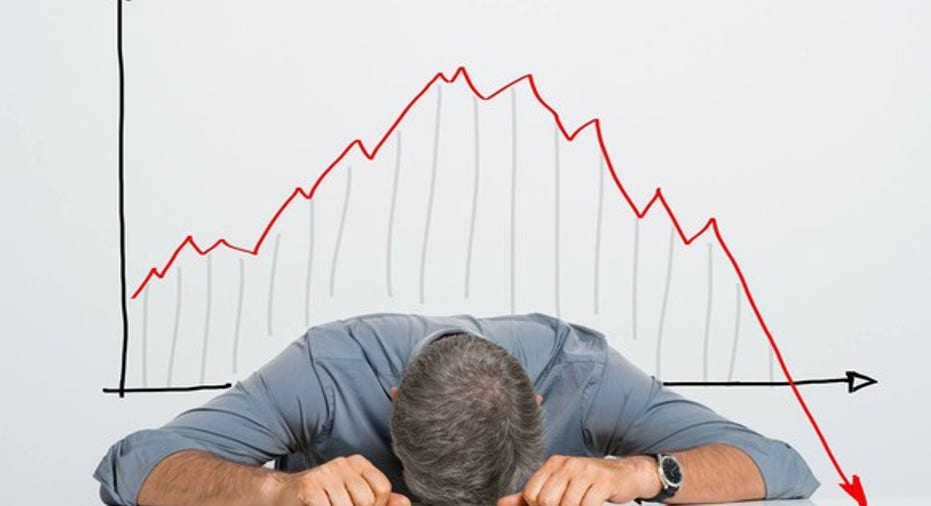 The S&P 500 and NASDAQ have both stayed almost flat in April, as political uncertainties capped any significant gains. While that flat growth is certainly disappointing, several stocks fared much worse over the past month. Let's examine three tech stocks that posted steep declines in April, and whether or not they can bounce back in May.
Image source: Getty Images.
NantHealth
Shares of healthcare tech company NantHealth (NASDAQ: NH)have fallen around 38% in April due to growing doubts about the company's core GPS (Genomic Proteomic Spectrometry) Cancer product. The GPS Cancer test analyzes tumor genetics and recommends possible courses of treatment, and is supported by NantOS, a cloud-based platform for healthcare providers, payors, self-insured employers, and pharmaceutical companies.
When NantHealth reported its fourth quarter earnings at the end of March, it became clear that physicians weren't eagerly adopting the GPS Cancer test. It sold a mere 452 tests during thequarter, compared to 524 orders in the previous quarter. Reportedly over 300 of those tests were bought for research purposes instead of diagnosing actual patients. NantHealth generated $100 million in revenue from selling those tests last year, but it reported a steep loss of $184 million -- more than double its loss in 2015.
CEO Dr. Patrick Soon-Shiong tried to allay investor concerns by claiming that "adoption is now beginning to take hold," but the company also warned that it will "incur operating losses over the near term" as it tries to expand the GPS Cancer test's market. Unfortunately, investors don't seem willing to wait around to see if physicians warm up to the test.
Unisys
IT services, virtualization, and outsourcing company Unisys (NYSE: UIS)has shed 14% of its value in April (although at one point it was as much as 21%), after a fourth quarter earnings miss and a $440 million offering of senior secured notes raised questions about its long-term growth. Analysts expect Unisys' revenue to fall 4% to $2.7 billion this year, compared toa 6% decline in 2015. Its earnings areexpected to remain negative for the next two years.
Unisys has been hurt by the same headwinds that have weighed down the entire IT industry over the past few years -- sluggish enterprise spending and the rise of nimbler cloud-based rivals. To make matters worse, Unisys relies heavily on H1-B visas, which allow foreign IT professionals to work in the U.S. Critics of H1-B visas -- which notably include the Trump Administration -- claim that tech companies use H1-B visas to avoid hiring American workers with higher salaries.
These long-term pressures make it tough to love Unisys. However, the company trades at just 0.2 times sales, which makes it much cheaper than comparable IT services players like Accenture and Wipro, which respectively trade at 2.2 and 2.1 times sales.
Finisar
Shares of fiber optic components maker Finisar (NASDAQ: FNSR) fell 17% in April due to a big third-quarter miss in mid-March. Its revenue rose 23% annually to $380.6 million, but that missed expectations by $9 million. Earnings rose136% to $0.59 per share, but that also missed estimates by three cents. Finisar's top and bottom line guidance for the fourth quarter (16% sales growth and 83% earnings growth at the midpoints) also came in below Wall Street estimates.
Finisar's growth figures might seem robust, but analysts expected better numbers due to the so-called "super cycle" across the fiber optic industry. That cycle is fueled by service providers and companies upgrading their aging infrastructure to handle the increased use of streaming media, cloud-based apps, and virtualization solutions.
Despite Finisar's pullback in March and April, the stock remains up nearly 30% over the past 12 months. The recent decline reduced its P/E to 19, which is lower than its industry average of 25 and compares favorably to its projected earnings growth.
Are any of these stocks worthy buys?
NantHealth, Unisys, and Finisar all posted big declines this month, but one stock is clearly a more promising pick than the other two. NantHealth is trying to sell a test that physicians aren't eager to buy, and Unisys is posting big losses in a struggling industry. That makes Finisar -- which is still posting solid double-digit sales and earnings growth -- the only stock I'd consider buying out of these three beaten-down stocks.
10 stocks we like better than UnisysWhen investing geniuses David and Tom Gardner have a stock tip, it can pay to listen. After all, the newsletter they have run for over a decade, Motley Fool Stock Advisor, has tripled the market.*
David and Tom just revealed what they believe are the 10 best stocks for investors to buy right now... and Unisys wasn't one of them! That's right -- they think these 10 stocks are even better buys.
Click here to learn about these picks!
*Stock Advisor returns as of April 3, 2017
Leo Sun has no position in any stocks mentioned. The Motley Fool recommends Accenture. The Motley Fool has a disclosure policy.