The 3 Stocks With the Best Businesses We've Ever Seen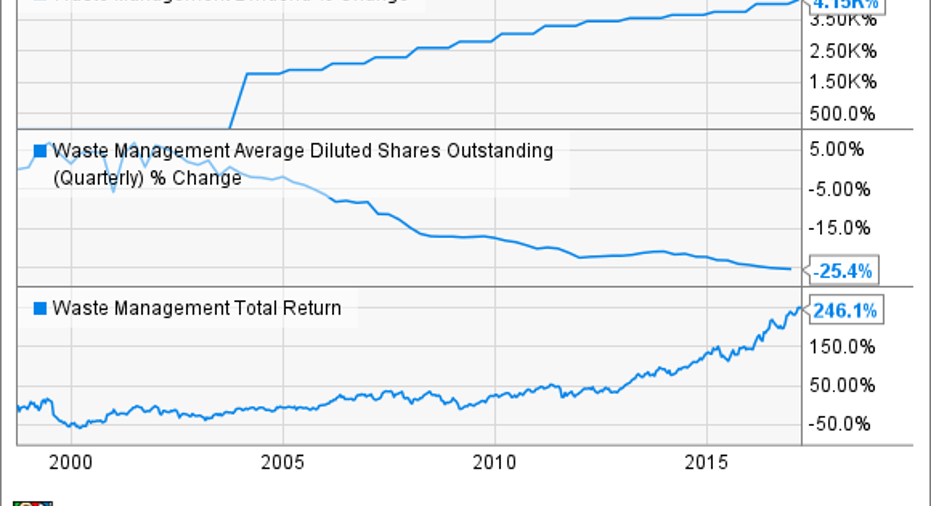 A great business is extremely difficult to disrupt. Competition has the tendency to drive down profits, but a great business can buck this trend. A competitive advantage isn't enough; the best businesses have durable competitive advantages, what Warren Buffett calls an economic moat. Trying to beat a company with a moat isn't impossible, but it's often not worth the cost.
We asked three of our contributors to each discuss a company that fits the above description. Here's why Mastercard (NYSE: MA), Alphabet (NASDAQ: GOOG) (NASDAQ: GOOGL), and Waste Management (NYSE: WM) are three of the best businesses, and the best stocks, we've ever seen.
A toll bridge on global commerce
Brian Feroldi(Mastercard): While there are a lot of great business models in existence, I must admit that Mastercard's is the one I most admire. Mastercard plays a crucial role in connecting merchants, customers, and financial institutions together to enable digital commerce. In exchange for its services, Mastercard takes a small swipe off of each transaction. With trillions of dollars flowing through its network each year -- yes, trillions -- those small fees add up to the tune of more than $10 billion in annual revenue.
All that revenue is wonderful, but what I really love about Mastercard's business is its operating leverage. In essence, this means that Mastercard's costs are largely fixed, so processing one more transaction costs the company next to nothing. Thus, every additional transaction that the company can incentivize on its network almost turns into pure profit. Since consumers have been ditching cash and checks in favor of credit and debit cards for years, Mastercard's profit margin has skyrocketed.
MA Profit Margin (TTM) data by YCharts.
Looking ahead, I see no reason for this trend to change. While credit and debit cards are ubiquitous in developed markets, they only represent 15% of global transactions. That suggests that this company has decades of room left for revenue and profit growth. If true, then Mastercard's stock stands a good chance at continuing to thump the market from here. That's why I've made this company one of my biggest personal holdings and have no intention to sell my shares anytime soon.
An incredible technology company
Tim Green (Alphabet): The amount of cash that Alphabet's Google throws off is made even more impressive by the fact that the company is still growing at a double-digit rate. Revenue from Google grew by 20% in 2016 to $89.5 billion, with the business producing operating income of $27.9 billion. While Google does face threats, ranging from social media companies like Facebook to e-commerce giant Amazon, the company's products are so deeply embedded in people's lives that upending its business model would be a herculean task.
Google dominates search, leaving its competitors fighting over the scraps. Products like Gmail, Maps, and the Chrome browser have become the standards, giving Google a massive base of users. Google's Android mobile operating system powers more than 85% of all smartphones sold, and its Chromebooks now account for more than half of all U.S. classroom devices sold. All of this feeds into it advertising business and its cloud computing business.
Image source: Alphabet.
The success of Google allows Alphabet to subsidize its moon shots. From self-driving cars to internet access delivered via balloons, Alphabet is betting billions that one of these long-shot ideas will take off. Many will lead nowhere, but the potential of each idea is enormous.
Alphabet is one of the most successful companies in history, and that success has been sustained by significant competitive advantages. Even if none of Alphabet's moonshots pay off, the company should continue to thrive well into the future.
The best kind of business: The ones you use daily but never even consider
Tyler Crowe(Waste Management):I think of some of the best businesses to be in are the ones that we don't consideron a daily basis. Those day-to-day tasks we take for granted and think nothing of paying for the service. Is there anything that fits that description better than handling our refuse?Companies that collect and properly dispose of our trash are incredibly valuable services that we barely notice. Behind the scenes, though, it is a business that has more competitive advantages than one can count. That's what makes Waste Management the kind of company that leaves me in awe of its businessmodel.
The most obvious advantage a waste handling industry has is geography and regulations. The ability to open up a new landfill for proper waste disposal faces mountains of regulatory scrutiny as well as the "not in my backyard" mentality of local communities. So those companies that can get a landfill up and running have near-monopolistic reign over a particular region. If that weren't enough, it's extremely capital intense to build and maintain a fleet of collection vehicles. These types of strategic benefits keep competition low in specific regionsand give those operating in a particular community incredible pricing power.
For investors in Waste Management, it has translated this economic moat into a value-generating machine. While no one will ever be blown away with the company's growth rates, it continues to generate gobs of free cash flow that is used to buy back stock and increase dividend payments. These sorts of shareholder-friendly initiatives have made Waste Management an incredible stock to hold for decades at a time.
WM Dividend data by YCharts.
It's hard to disrupt a well-entrenched business in the waste-handling industry, and that makes Waste Management a stock that should tug at the heartstrings of long-term investors.
10 stocks we like better than MastercardWhen investing geniuses David and Tom Gardner have a stock tip, it can pay to listen. After all, the newsletter they have run for over a decade, Motley Fool Stock Advisor, has tripled the market.*
David and Tom just revealed what they believe are the 10 best stocks for investors to buy right now... and Mastercard wasn't one of them! That's right -- they think these 10 stocks are even better buys.
Click here to learn about these picks!
*Stock Advisor returns as of February 6, 2017
Suzanne Frey, an executive at Alphabet, is a member of The Motley Fool's board of directors. Brian Feroldi owns shares of Alphabet (A shares), Alphabet (C shares), Amazon, Facebook, and Mastercard. Timothy Green has no position in any stocks mentioned. Tyler Crowe owns shares of Waste Management. The Motley Fool owns shares of and recommends Alphabet (A shares), Alphabet (C shares), Amazon, Facebook, and Mastercard. The Motley Fool owns shares of Waste Management. The Motley Fool has a disclosure policy.