The 3 Standout Numbers From ConocoPhillips Fourth-Quarter Results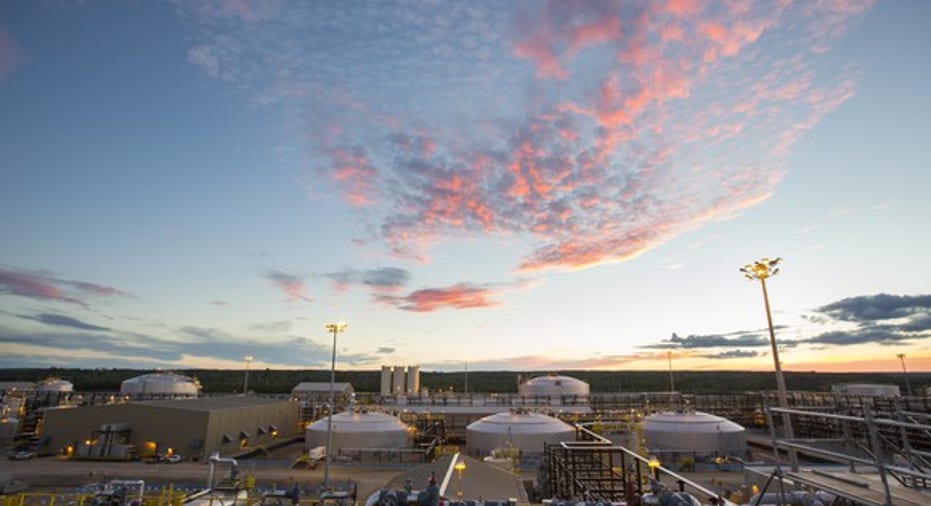 Image source: ConocoPhillips.
ConocoPhillips (NYSE: COP) has undergone a significant transformation over the past few years to reposition the company so it can thrive at lower oil prices. Those moves are starting to pay off, as evidenced by the oil giant's stronger-than-expected fourth-quarter results.
While the company still reported an adjusted loss of $318 million, or $0.26 per share, that was a significant improvement from the year-ago loss of $1.1 billion. Further, the company beat the consensus estimate by $0.16 per share. However, as impressive as that improvement was, three other metrics stood out even more.
An incredible improvement in capital efficiency
One of the reasons ConocoPhillips' loss was not as wide as expected was because production came in ahead of guidance. The company produced 1.587 million barrels of oil equivalent per day (BOE/D) during the quarter, which was 12,000 BOE/D above the midpoint of its guidance range. While that was down slightly from the year-ago quarter, after adjusting for asset sales and other items, production was up 3%. Meanwhile, full-year production was also up 3% when adjusting for asset sales and other items.
What's so impressive with that number is that ConocoPhillips was able to grow its production last year despite cutting capital expenditures (capex) by more than 50% compared to 2015. That capital efficiency enabled the company to deliver more oil for less money, allowing it to better weather lower oil prices.
Finally generating free cash flow
In addition to producing more for less, ConocoPhillips also spent 19% less on operating and production expenses last year. Those lower costs enabled the company to generate more cash flow during the quarter than it would have otherwise. Overall, Conoco produced $1.75 billion in cash flow from operations during the quarter.
That was more than enough money to fund its remaining $1 billion in capex and $300 million in dividends with room to spare. That allowed the company to use its excess cash flow, along with $900 million in asset sale proceeds and cash on hand, to repay $1.4 billion of debt during the quarter and repurchase $100 million of stock. This quarter was the second straight one that Conoco generated excess cash flow, which is a dramatic turnaround for a company that couldn't produce free cash flow when oil was in triple digits.
Image source: ConocoPhillips.
An expanding low cost of supply
One of the results of ConocoPhillips' dramatic reduction in costs is a significant increase in its low-cost resource base. In fact, the company now controls 18 billion BOE of resources that have an average supply cost of less than $40 per barrel. That's up 40% from 2015's 13 billion BOE low-cost supply base.
Oil companies have done a tremendous job expanding their access to cheap oil and gas over the past year. Another prime example is EOG Resources (NYSE: EOG). At the beginning of last year, it had put together an inventory of 3,200 premium drilling locations, which it defines as wells that can deliver a 30% after-tax rate of return at $40 oil. At the time, that inventory represented roughly 2 billion barrels of resource potential.
However, through a combination of drilling advancements, efficiency gains, and acquisitions, EOG boosted that number up to 5.1 billion by September after nearly doubling its well count to 6,000 and increasing its net resource recovery per well from 625,000 BOE to 850,000 BOE. Given the rapid advancement in drilling technology over the past year, it's likely that shale costs will continue coming down, which should keep driving up low-cost resource estimates.
Investors takeaway
ConocoPhillips has clearly turned its operations around and is now able to grow within cash flow at current oil prices. Fueling that tremendous turnaround has been the ability to expand its access to low-cost resources by pushing costs down and recoveries up. This transformation positions the company to grow shareholder value at current prices, with the flexibility to increase iteven faster as prices recover.
10 stocks we like better than ConocoPhillips When investing geniuses David and Tom Gardner have a stock tip, it can pay to listen. After all, the newsletter they have run for over a decade, Motley Fool Stock Advisor, has tripled the market.*
David and Tom just revealed what they believe are the 10 best stocks for investors to buy right now... and ConocoPhillips wasn't one of them! That's right -- they think these 10 stocks are even better buys.
Click here to learn about these picks!
*Stock Advisor returns as of January 4, 2017
Matt DiLallo owns shares of ConocoPhillips. The Motley Fool owns shares of EOG Resources. The Motley Fool has a disclosure policy.