The 3 Most Important Numbers for Exelixis, Inc.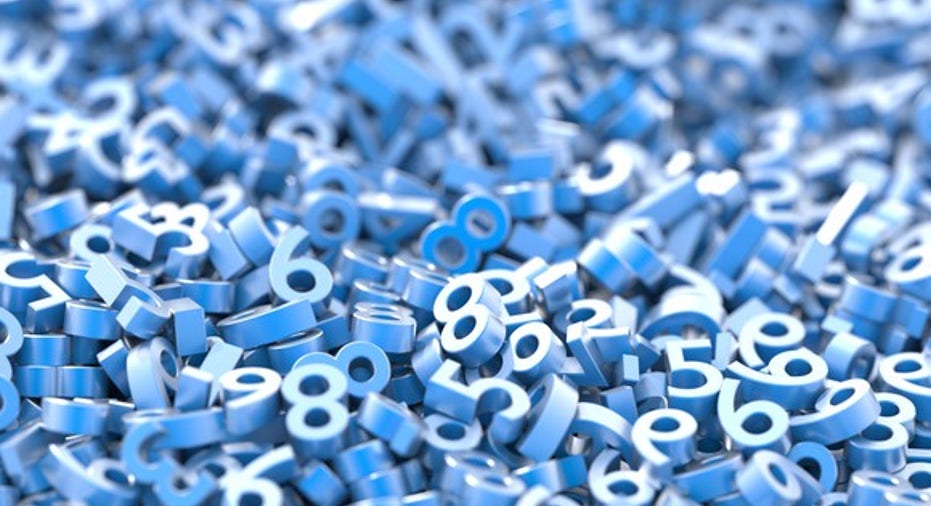 Exelixis (NASDAQ: EXEL) boasts several numbers that make its shareholders smile. The biotech's stock has soared more than 430% over the past 12 months. Its most promising drug, Cabometyx, has quickly captured around 20% of the market share as a second-line treatment for kidney cancer and 35% as a third-line treatment for the indication.
Those numbers are impressive. But here are the three numbers that are most important for Exelixis going forward.
Image source: Getty Images.
8.2
In the phase 2 CABOSUN clinical study, the median progression-free survival (PFS) for patients with previously untreated advanced kidney cancer taking Cabometyx was 8.2 months. Why is this number so critical for Exelixis? It was significantly better than the 5.6 month PFS for patients taking Pfizer's Sutent.
This PFS result was so impressive that Exelixis immediately moved forward with preparing a regulatory submission for Cabometyx as a first-line treatment of kidney cancer. The drug has been very successful in the second- and third-line markets, but the big prize is the first-line market.
The CABOSUN results served as the primary catalyst behind Exelixis' tremendous stock surge in 2016 and 2017. If Cabometyx wins approval as a first-line treatment for kidney cancer and becomes an even greater commercial success as many expect, that 8.2 month PFS from the phase 2 study will be one of the main reasons why.
13
There could very well be even more potential for Cabometyx beyond kidney cancer. The biotech's pipeline includes 13 other clinical studies exploring the possibilities for the drug in treating other indications.
The most advanced of these studies is a late-stage clinical trial evaluating Cabometyx in treatingadvanced hepatocellular cancer, the most common form of liver cancer. Exelixis expects to announce results from this study later this year.
Three phase 2 studies are in progress evaluating Cabometyx in treating various forms of non-small cell lung cancer. Other mid-stage studies are looking at the drug for potentially treating differentiated thyroid cancer, endometrial cancer, breast cancer, advanced soft tissue sarcoma, uterine sarcoma, and pancreatic neuroendocrine and carcinoid tumors.
The number of studies will definitely grow -- for kidney cancer and other indications. Exelixis and Bristol-Myers Squibb (NYSE: BMY) recently announced plans for a late-stage study of Cabometyx in combination with Opdivo and Yervoy as a first-line treatment for kidney cancer. Other combination studies are also planned forbladder cancer, hepatocellular carcinoma, and potentially other tumor types.
$6 billion
The tremendous clinical results for Cabometyx as a first-line treatment for kidney cancer and the additional studies in Exelixis' pipeline should translate to solid prospects for the biotech. However, its current market cap of more than $6 billion could be a limiting factor in how much higher the stock can go.
It seems reasonable to estimate that Cabometyx could generate annual sales topping $1 billion if the drug wins approval as a first-line treatment for kidney cancer. Exelixis' other two approved drugs, Cometriq and Cotellic, will kick in additional revenue. Neither Cometriq nor Cotellic are expected to achieve the level of success as Cabometyx, though. Also, Exelixislicensed Cotellic toRoche, so it must split profits for the drug.
A lot of optimism about Cabometyx's prospects is already baked into Exelixis' stock price. I believe that optimism is warranted, but I don't think the biotech's stock can or will grow at the rate that it has over the last year.
The most important unknown number
We know how important the numbers 8.2, 13, and $6 billion are for Exelixis. However, there's another number that isn't known right now that I suspect will be critical at some point. What's that number? The offer amount from a larger biopharmaceutical company.
I fully expect Exelixis will be an acquisition target down the road, perhaps even in 2017. Who will the acquirer be? Bristol-Myers Squibb would be an excellent choice.
The big drugmaker has acknowledged that combo therapies will be key for Opdivo's future success. The two companies have already reported positive results from an early-stage study with Opdivo and Cabometyx. With more combination studies planned, it's not too hard to imagine Bristol-Myers Squibb seeking to bring Cabometyx into its lineup.
However, there are several other companies that could also have Exelixis on their radar screens. I'm not sure how high bidding might go for Exelixis, but this unknown amount will certainly be higher than the biotech's current share price. If Exelixis does become an acquisition target like I think it will, there's a bigger and brighter number for the biotech and its shareholders awaiting.
10 stocks we like better than ExelixisWhen investing geniuses David and Tom Gardner have a stock tip, it can pay to listen. After all, the newsletter they have run for over a decade, Motley Fool Stock Advisor, has tripled the market.*
David and Tom just revealed what they believe are the 10 best stocks for investors to buy right now... and Exelixis wasn't one of them! That's right -- they think these 10 stocks are even better buys.
Click here to learn about these picks!
*Stock Advisor returns as of February 6, 2017
Keith Speights owns shares of Pfizer. The Motley Fool owns shares of and recommends Exelixis. The Motley Fool has a disclosure policy.