The 3 Most Important Drugs in Inovio Pharmaceuticals' Pipeline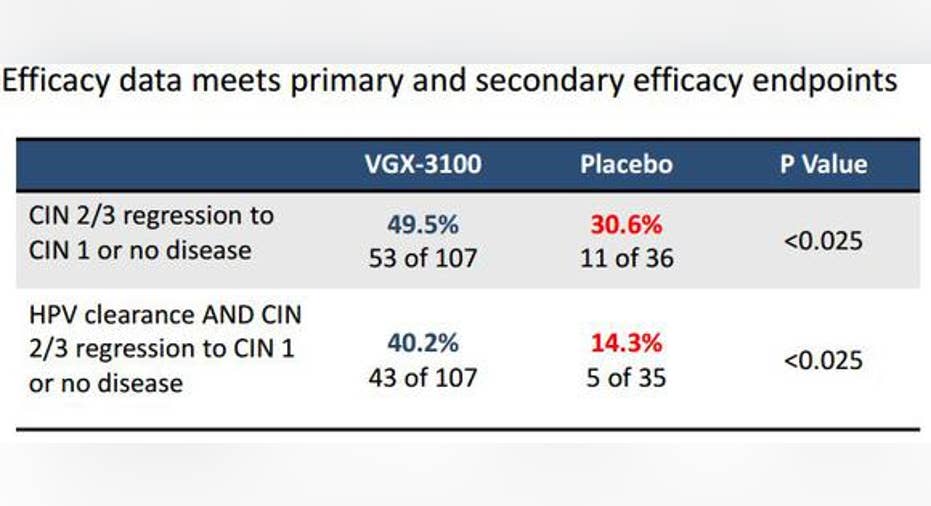 Image source: National Cancer Institute.
Despite biotech as a whole outperforming over the last couple of years, development-stage company Inovio Pharmaceuticals has largely been left behind. Despite a strong rally in mid-2013 leading into 2014, Inovio's shares are down around 20% year to date, and they're up only 65% over the past five years compared to the 260% move higher for the broad-based SPDR S&P Biotech ETF.
Although it's underperformed, there's still a lot of hope for the company heading into 2016 and beyond. Inovio is not only going to have answers soon for its investors, but also for patients with select diseases that may soon have new treatments.
Seeing as how Inovio is still entirely in the clinical stage of its drug development process, this is where the bulk of its valuation is derived. Inovio's research is split into two components: synthetic DNA-based immunotherapy vaccines designed to fight cancer and vaccines aimed at treating global infectious diseases. At this very moment, Inovio has 14 ongoing clinical studies with at least a dozen unique experimental vaccines. If you're curious what takes the most precedence, Inovio's management hasn't minced words that oncology is its main focus.
With this in mind, here are the three most important drugs within Inovio Pharmaceuticals' pipeline.
VGX-3100The bread and butter of Inovio's pipeline is VGX-3100, its most advanced drug. VGX-3100 is a DNA-based immunotherapy -- meaning it works hand in hand with a patient's immune system to help it better recognize and fight cancer -- designed to fight cervical dysplasia caused by human papillomavirus (HPV) types 16 and 18.
The reason VGX-3100 is so important is twofold. To begin with, VGX-3100 has a shot at becoming the first approved therapy for Inovio. An approval would mean recurring revenue for the first time ever, and it would give investors hope that there may be an end to Inovio's cash burn. Secondly, an approval here would validate Inovio's synthetic DNA-based vaccine development platform, which presumably would allow it to monetize its technology and other aspects of its pipeline, should it choose to do so in order to raise capital.
Image source: Inovio Pharmaceuticals.
As it stands now, VGX-3100 has successfully completed phase 2 trials, and Inovio is expected to initiate enrollment in phase 3 studies in 2016, with an expected primary endpoint readout by 2018. If approved, VGX-3100 would likely find its way to pharmacy shelves by 2019. In midstage studies, VGX-3100 met both its primary and secondary endpoints, which were statistically significant regression of CIN 2 or CIN 3 disease to CIN 1 or no disease, and HPV clearance as well as disease regression.
INO-3112Coming in a very close second place in terms of importance is the development of INO-3112. This immunotherapy product combines VGX-3100 with a DNA-based immune activator encoded for IL-12, and is designed, like VGX-3100, to treat cervical cancers caused by HPV 16 and 18. Additionally, INO-3112 is being studied as a treatment for head and neck cancer caused by HPV 16 and 18.
Image source: AstraZeneca.
What makes INO-3112 so important is that it's gotten the attention of MedImmune, which is a subsidiary of Big Pharma AstraZeneca . MedImmune forked over $27.5 million in up-front payments and laid out an additional $700 million in development, regulatory, and commercial milestones in order to license INO-3112, and will be free to test INO-3112 with other immunotherapy products within its own pipeline. Inovio will receive double-digit royalties from AstraZeneca on product sales.
We already have initial efficacy from VGX-3100 in midstage studies, so there's obvious hope that INO-3112, especially in combination with other immunotherapies, may offer cervical cancer patients and head and neck cancer patients, a favorable outcome. Inovio's management has previously suggested that investors can expect phase 1 data on INO-3112 in 2016.
INO-1800Even though cancer is Inovio's primary focus, I think it would be foolish (with a small "f'") if investors didn't pay very close attention to the development of INO-1800, the company's synthetic DNA immunotherapy focused on treating hepatitis B.
Image source: Roche.
Like VGX-3100, there are two reasons why INO-1800 deserves your attention. First, hepatitis B currently has no cure, but it's a potentially deadly and vast disease that could lead to a long shelf life for an approved treatment. The World Health Organization estimates that there are 240 million people worldwide infected with chronic HBV, of which more than 780,000 die each year. That's a bigger market than hepatitis C, and we've seen what Gilead Sciences has done there with Sovaldi and Harvoni.
The second point is that Inovio has a collaborative partner for INO-1800 in Roche . Roche is responsible for picking up the tab on all development costs, and the deal also landed Inovio a $10 million upfront payment. Having a partner like Roche provides the potential for developmental and regulatory milestone payments and also gives Inovio access to Roche's successful marketing team if INO-1800 is approved by the Food and Drug Administration.
Investors should expect phase 1 data on INO-1800 next year.
Is Inovio's pipeline enough to make the company a buy? It's tough to tell at this point considering that most of its experimental vaccines are early in development. However, initial results from VGX-3100's phase 2 trial are very encouraging, and Inovio is operating in a rapidly growing niche within oncology research. Investors considering this stock should be looking at their investment in a five- to 10-year time frame, but they should also be resigned to the idea that any investment in Inovio is high risk, high reward.
The article The 3 Most Important Drugs in Inovio Pharmaceuticals' Pipeline originally appeared on Fool.com.
Sean Williamshas no material interest in any companies mentioned in this article. You can follow him on CAPS under the screen nameTMFUltraLong, track every pick he makes under the screen nameTrackUltraLong, and check him out on Twitter, where he goes by the handle@TMFUltraLong.The Motley Fool owns shares of and recommends Gilead Sciences. Try any of our Foolish newsletter services free for 30 days. We Fools may not all hold the same opinions, but we all believe that considering a diverse range of insights makes us better investors. The Motley Fool has a disclosure policy.
Copyright 1995 - 2015 The Motley Fool, LLC. All rights reserved. The Motley Fool has a disclosure policy.