The 3 Biggest Surprise Stock Market Winners of 2016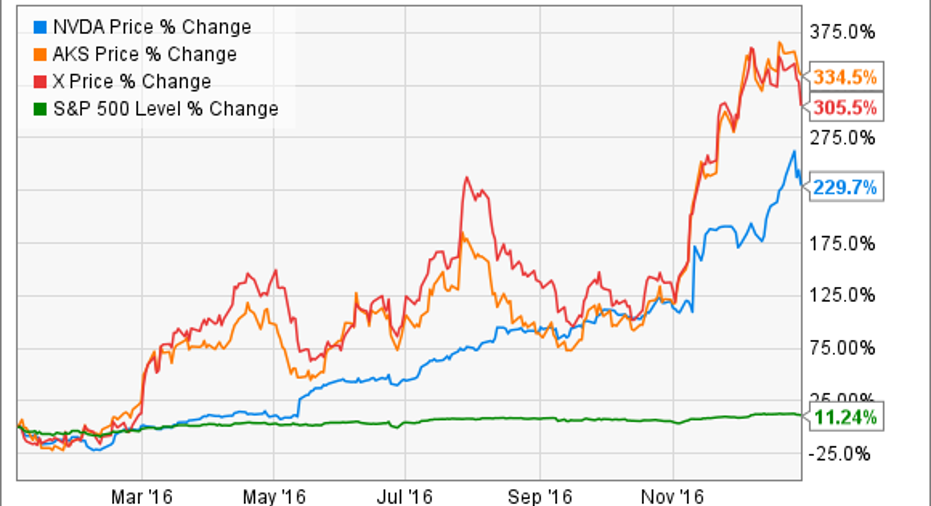 Image source: Getty Images.
2016 was a banner year for shares of AK Steel (NYSE: AKS), United States Steel (NYSE: X), and NVIDIA (NASDAQ: NVDA). The worst performer in the group outpaced the S&P 500 by nearly 22-fold in a single year.
These incredible, surprising performances were driven by a diverse mix of catalysts, some one-time and others ongoing. Let's review each of these three surging stocks in greater detail.
AK Steel: 334.5% and United States Steel: 305.5%
The incredible rally AK Steel and United States Steel enjoyed in 2016 owed to the same macro factors,so we can dissect their stock-price surge together.
For a number of reasons, 2016 was a banner year for American steel producers. Earlier in the year, the U.S. imposed stiff tariffs on imported Chinese steel, which many felt China was "dumping" into international markets at below-market prices as the result of slowing global growth and overcapacity in its own factories. Those tariffs were seen as good news for domestic steel companies. However, the most significant single day in last year's steel stock rally was Nov. 8.
The election of Donald Trump ignited optimism that increased spending on domestic infrastructure and a tougher stance on international trade would be a boon for American steel companies. Because of their heavy use of blast furnaces -- whose operating leverage enables them to produce more cost-effectively when running at high capacity -- AK Steel and United States Steel have seen their stocks rally the most among large U.S. steel producers. However, it's difficult, if not impossible, to predict how or when the new administration's trade and domestic spending policies will affect steelmakers in the long run. Investors should therefore approach these red-hot stocks with a plenty of caution.
NVIDIA: 229.7%
Even though NVIDIA rose 60% in 2015,the investing community was somewhat slow to recognize the extent of the renaissance underway at the company. The market and mediadid take notice in 2016, though, as NVIDIA was the year's best performer in the S&P 500, perhaps as a result of reorganizing its reporting structure in late 2015 to emphasize the multiple "specialized markets"to which NVIDIA caters.
NVIDIA first rose to prominence for pioneering the graphics processing units (GPUs) that enabled high-end image processing in personal computers, which found a natural market in PC gaming. Though NVIDIA foresaw the mobile trend, its Tegra system-on-a-chip processors failed to grab meaningful market share, leading many to question how the company fit into the changing technology landscape. In fact, NVIDIA stock gained only 22% from the start of 2010 through the end of 2014, dramatically underperforming the Nasdaq Composite's 120% gain over the same period.But after NVIDIA listed sideways for several years, the dawn of the artificial intelligence and autonomous driving revolutions changed things completely.
Think of NVIDIA's GPU chips as the eyes that will power new-age technologies such as self-driving cars and machine learning. An autonomous vehicle is useless (or worse) if it can't understand what surrounds it on the road. Nor can AI software provide more accurate cancer diagnoses if it can't convert an X-ray image into data to process. In these situations and more, NVIDIA's longtime specialization on graphics processing gives its chips a technological edge over competitors such asIntel and Advanced Micro Devices.
With a P/E multiple of 71,NVIDIA shares are garishly expensive. However, the financial benefits of its enviable position are expected to shine through this year. The average sell-side analysts' estimates call for NVIDIA's sales to rise 37% in 2017 and for its earnings per share to soar 120%. Of course, much of this growth is priced into NVIDIA's stock already. However, NVIDIA's place at the epicenter of some of tech's most impressive growth markets still makes it an intriguing option for long-term growth investors today.
10 stocks we like better than Nvidia When investing geniuses David and Tom Gardner have a stock tip, it can pay to listen. After all, the newsletter they have run for over a decade, Motley Fool Stock Advisor, has tripled the market.*
David and Tom just revealed what they believe are the 10 best stocks for investors to buy right now... and Nvidia wasn't one of them! That's right -- they think these 10 stocks are even better buys.
Click here to learn about these picks!
*Stock Advisor returns as of January 4, 2017
Andrew Tonner has no position in any stocks mentioned. The Motley Fool owns shares of and recommends Nvidia. The Motley Fool recommends Intel. The Motley Fool has a disclosure policy.