The 3 Best Restaurant Stocks to Buy in 2017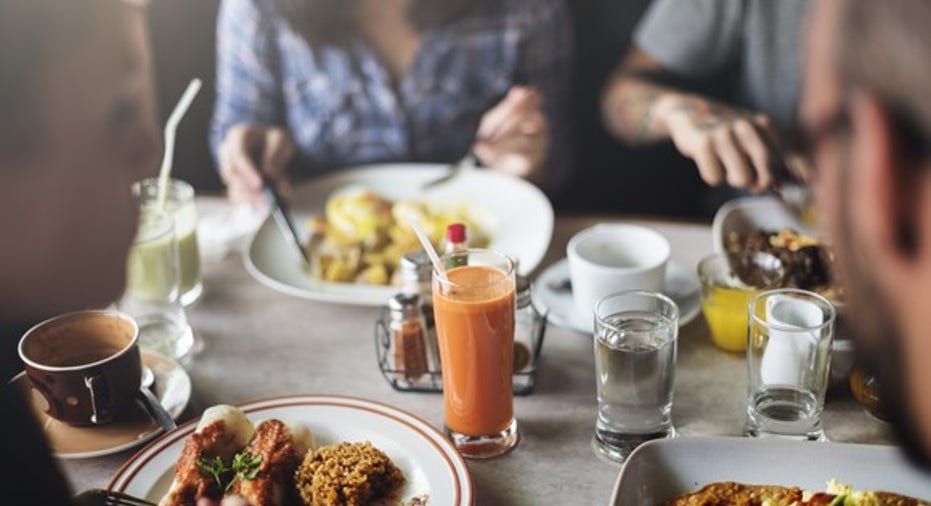 2017 is shaping up to be a rough year for restaurant stocks. Restaurant chains came into the year already seeing comparable sales slide for six months in a row, and traffic was down every month last year.
Restaurants have offered a number of excuses: food deflation that made grocery prices more appealing, distractions from the election during campaign season, or just the general decline in retail traffic as more Americans shop online and get accustomed to ordering everything on the internet.
Indeed, more restaurants have stepped up delivery efforts to combat declining traffic.Starbucks(NASDAQ: SBUX) introduced Mobile Order & Pay nationwide in 2015, and management complained during the last earnings call that ordering via mobile app has become so popular that it was creating bottlenecks in stores and driving regular customers away.
Image source: Getty Images.
McDonald's(NYSE: MCD) announced earlier this month that it would launch a similar Mobile Order & Pay program and step up delivery efforts, and several other chains such as Shake Shackand BJ Restaurants, Inc.have also launched initiatives around apps and delivery.
However, the recent "restaurant recession" has shown no signs of abating as earnings reports over the fourth quarter were largely downbeat, and restaurant chains are also coping with higher labor costs as minimum wages increase and the labor market tightens.
Still, there are some promising picks in the restaurant sector if you look outside of the traditional mainstays. Here are three that could take off this year.
1. Dave & Buster's
Since its IPO in 2014, entertainment emporium Dave & Buster's(NASDAQ: PLAY) has been a consistent winner on the market as shares have more than tripled since its debut, and the company has beaten earnings estimates in each of its earnings reports.
Dave & Buster's has not yet reported fourth-quarter earnings for 2016, but the company showed no signs of yielding to the industry headwinds in its third-quarter report, as comparable sales jumped 5.9%, and earnings per share more than doubled.
The company differentiates itself from other restaurants by offering amusements such as arcade games, billiards, bowling, and other such entertainment in addition to food and beverages. The chain is as much a destination for fun as it is for a tasty meal. In fact, the company makes more revenue from amusements than it does from food and beverages, and the amusement segment also delivers higher margins than the restaurant operation does. So, the company's games not only provide a draw for customers and distinguish it from ordinary restaurants, but they also help beef up the bottom line.
That should continue to provide a buffer for the company as it expands through 2017.
2. Domino's Pizza
Like Dave & Buster's,Domino's Pizza(NYSE: DPZ) has also been a standout winner on the stock market in recent years. The pizza delivery chain has rocketed 358% higher over the last five years as it has expanded abroad, increased technology investments, and improved the quality of its product.
Domino's seems to be benefiting from the trends that are hurting much of the restaurant industry as the increasing premium consumers place on convenience means they are more likely to seek out delivery options like Domino's. Savvy marketing and execution, and adding features like a pizza tracker to allow customers to track the status of their order, have also helped the company propel profits consistently higher.
As a result, domestic comparable sales jumped 10.5% in 2016, and earnings per share increased 25% to $4.30. The company also continued to expand aggressively, adding another 1,110 international stores and 171 locations in the U.S., bringing the grand total to nearly 14,000.
That momentum, both in comparable sales and new stores, seems likely to continue into 2017 as the premium on delivery continues to grow and the pizza delivery concept has proven its international appeal.
3. GrubHub
Though not technically a restaurant company, GrubHub (NYSE: GRUB) is at the center of the growing app-based restaurant delivery industry. As the owner of popular apps and websites such as GrubHub, Seamless, and MenuPages, GrubHub is the leader of online and mobile food-ordering industry, and the only publicly traded pure-playdelivery stock.
Last year, revenue grew 36% to $493.3 million, and adjusted earnings per share increased 32% to $0.89. As a young company, GrubHub is still in growth/investment mode, and the company could make more acquisitions as it seeks to snatch up smaller delivery providers in order to consolidate its leadership in the industry. Over the last two years, the company has acquired companies like Delivery Dish, Bask Labs, and LAbite.
For the current year, the company is expecting revenue growth, at 30%, to outpace adjusted EBITDA growth, at 23%, a sign of continued investment in the platform, but the long-term growth path for the company looks promising. As interest in restaurant delivery grows, the stock could take off.
10 stocks we like better than Domino's PizzaWhen investing geniuses David and Tom Gardner have a stock tip, it can pay to listen. After all, the newsletter they have run for over a decade, Motley Fool Stock Advisor, has tripled the market.*
David and Tom just revealed what they believe are the 10 best stocks for investors to buy right now...and Domino's Pizza wasn't one of them! That's right -- they think these 10 stocks are even better buys.
Click here to learn about these picks!
*Stock Advisor returns as of February 6, 2017.
Jeremy Bowman owns shares of Shake Shack and Starbucks. The Motley Fool owns shares of and recommends Starbucks. The Motley Fool is short Domino's Pizza and Shake Shack and has the following options: short June 2017 $140 puts on Domino's Pizza. The Motley Fool recommends BJ's Restaurants and Dave and Buster's Entertainment. The Motley Fool has a disclosure policy.