The 3 Best Quotes From Shake Shack Inc's Fourth Quarter Earnings Call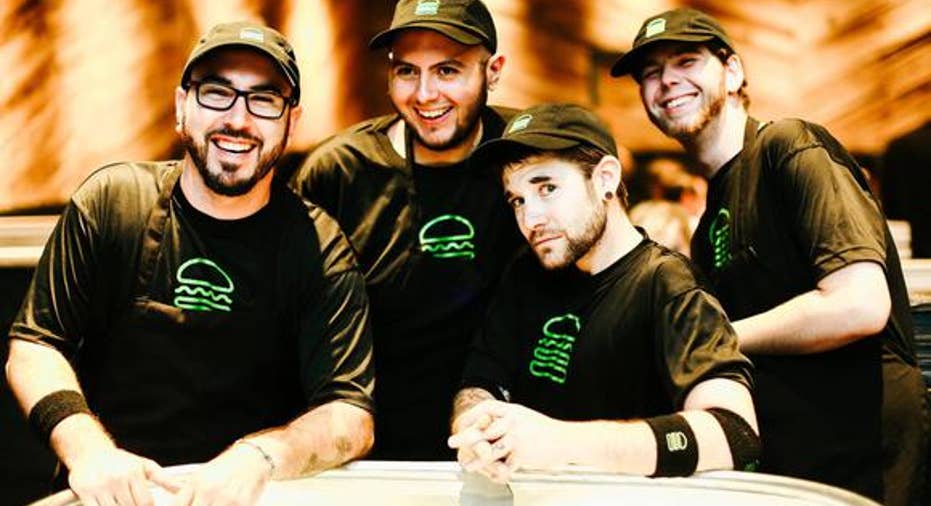 Shake Shack reported fourth quarter and full-year 2015 results on March 7. While the number results are often the main focus, comments from CEO Randy Garutti give us more insight into the future of this young and rapidly growing business.
CEO Randy Garutti ringing the bell at the NYSE. Source: Shake Shack
Versatility of the Shake Shack model
For Shake Shack to merit its valuation, which remains lofty even after dropping 60% from its 2015 highs, the company needs to grow its store count while maintaining the essence of what makes each restaurant great. Shake Shack started in Madison Square Park in New York. Expanding around the city required the company to build locations of varying size and aesthetic. Soon, it could boast a licensed location inside Citi Field, as well as a number of Shacks that reflect the essence of the neighborhood while sharing core design principles.
The company has been proving doubters wrong with its ability to expand in novel ways. Not every Shack needs to be flagship location delivering $90k to $100k in weekly sales. Locations in outlet malls, dense urban areas, suburbs, and elsewhere are all performing well. Before it successfully opened a location in the Woodbury Commons outlet mall, this type of store was an unknown quantity to analysts, customers, and Shack Shack itself. Now that it has proven the concept, outlet malls across the country are viable options for new locations. The institutional knowledge gained from building one type of store -- a smaller inline location for instance -- should make it cheaper and easier to build a dozen more.
Future store openings
This type of growth strategy allows for Shake Shack to reduce risk, save on advertising expenses, and increase profitability in more mature markets.
Opening one location in Scottsdale, AZ places much less of a burden on the company than concurrently opening up 10 stores in the area. If the store underperforms, for geographic reasons, Shake Shack can shutter it or choose not to open additional locations. It is better to measure twice and cut once when it comes to entering a new market. Once a market is established, the results from expansion are more predictable and easier to model.
Shake Shack generates a ton of free publicity from local news and fans on social media as well. This helps with the launch, generating increased interest and foot traffic. The company has 250,000 Instagram followers -- more than 5,000 per domestic location -- and a rabid fanbase.
Second Arizona Shake Shack Opening. Source: Shake Shack
Eventually, the initial surge will die down, but by opening additional locations nearby, it can improve margins as a result of increased scale. It makes it easier to populate the new locations with experienced staff members who have gone through growing pains at earlier locations. The community will have gained familiarity with the products and the ordering process, which helps with throughput and margins.
Shake Shack's expansion plans -- tilted toward bolstering existing markets -- is a boon for shareholders.
Wage increases
Danny Meyer is not involved in day-to-day operations at the company but remains Chairman of the Board. CEO Randy Garutti is a died in the wool Meyer disciple, having worked at Tabla, Union Square Cafe, and eventually rising to become COO of Union Square Hospitality Group. Meyer's views on business are encapsulated in what he calls "enlightened hospitality". At his restaurants, and now Shake Shack, investors come last. Employees, customers, the community, and suppliers come first, in that order. This runs contrary to the Wall Street credo of maximizing shareholder returns first and foremost.
The #1 priority of "enlightened hospitality" is employees. Source: Shake Shack
However, the long-term positive effect of empowering and generously compensating employees crushes the short-term hit to net income. Employees stay longer, grow with the company, and deliver superior customer service. Investors have never worried about being fifth on the totem pole with Danny Meyer -- a legendary New York restaurateur -- and I'm happy to be fifth at Shake Shack. Not being a wage leader in the fast casual space would concern me more as it would signal a move away from "enlightened hospitality". This managerial vision is one of the company's biggest advantages, yet it won't be found on any income statement or balance sheet.
The article The 3 Best Quotes From Shake Shack Inc's Fourth Quarter Earnings Call originally appeared on Fool.com.
James Sullivan owns shares of Shake Shack. The Motley Fool has no position in any of the stocks mentioned. Try any of our Foolish newsletter services free for 30 days. We Fools may not all hold the same opinions, but we all believe that considering a diverse range of insights makes us better investors. The Motley Fool has a disclosure policy.
Copyright 1995 - 2016 The Motley Fool, LLC. All rights reserved. The Motley Fool has a disclosure policy.