The 3 Best eSports Stocks to Buy in 2017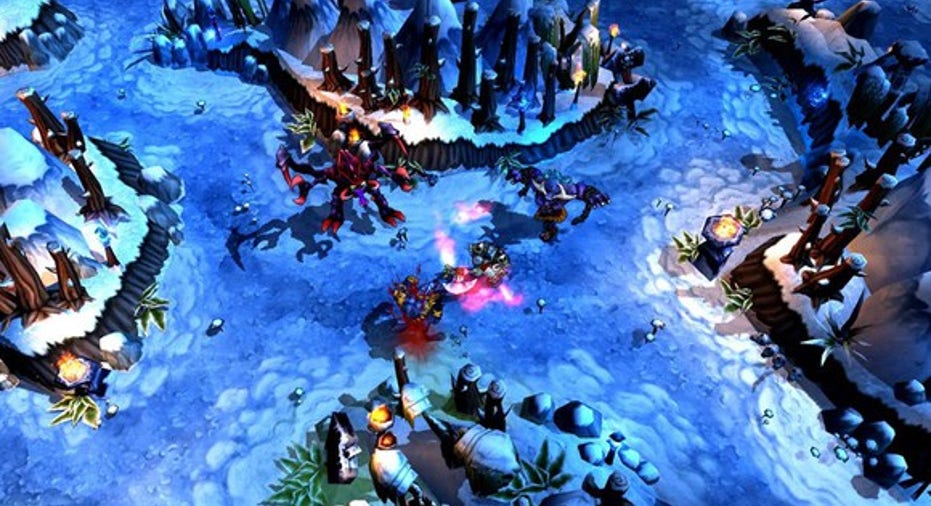 Over the past few years, the e-sports industry expanded from small professional gaming events into televised and live-streamed programswatched by millions. Goldman Sachs valued the e-sports market at $500 million in 2016, and expects the market to grow at a compound annual growth rate of 22% over the next three years to over $1 billion.
But amid all the hype and noise, investors might be confused about which companies will benefit the most from that growth. Let's examine three companies that fit that bill -- Tencent Holdings (NASDAQOTH: TCEHY), Activision Blizzard (NASDAQ: ATVI), and Electronic Arts (NASDAQ: EA).
Tencent Holdings
Chinese tech giant Tencent is the biggest video game company in the world by total revenue. Six years ago, it acquired Riot Games, the maker of League of Legends -- the MOBA (multiplayer online battle arena) game which is currently the most popular e-sports title in the world.
League of Legends. Image source: Riot Games, NVIDIA.
Research firm Newzoo's most recent numbers (from March 2017) reveal that31% of Twitch viewers watched a League of Legends game during that month, with over 90 million hours being viewed across the network. To monetize that audience, Tencent and Riot Games recently co-founded a new e-sports TV channel in China withChinese game publisher Perfect Worldand IPTV.
Tencent also recently relaunched its PC digital storefront as WeGame, a Steam-like platform for its games, and revealed plans to build an e-sports-themed park in China to promote itstop franchises. In addition to League of Legends, Tencent owns the hit mobile game Clash of Clans, a wide variety of first-party and licensed titles, and minority stakes in other game publishers like Activision Blizzard. Those firm foundations should continue boosting Tencent's gaming revenue, which rose 16% annually last quarter and accounted for 42% of its top line.
Activision Blizzard
Tencent's Riot Games holds the top spot in overall Twitch viewership, but four other top ten titles -- Hearthstone, Starcraft II, Overwatch, and Heroes of the Storm -- are published by Activision Blizzard. Hearthstone, which ranks fourth, is a card game which features collectible cards. Fifth-place Starcraft II is a popular real-time strategy game, sixth-place Overwatch is a first-person shooter, and eighth-place Heroes of the Storm is a MOBA.
Overwatch. Image source: Activision Blizzard.
Last year, Activision CEO Bobby Kotick told the New York Times that he planned tobuild the "ESPN of video games" to capitalize on the growing e-sports market. To do so, Activision acquired the assetsof the IGN Pro League in 2013, then bought nearly allthe assets of Major League Gaming (MLG) in late 2015. That same year, it launched a dedicated e-sports unit and hired Steve Bornstein, the former CEO of ESPN andthe NFL Network, as its new chief.
Last year, Activision signed a live-streaming deal with Facebookto broadcast its most-watched games on Facebook Live. It then established a new e-sports league for Overwatch which consists ofplayer contracts, teams, and playoffs. All these moves indicate that if e-sports ever become as big as football or basketball, Activision Blizzard will be well poised to profit.
Electronic Arts
Activision's rival Electronic Arts spent more time expanding its mobile gaming portfolio in recent years than investing in e-sports, but it has some ambitious plansfor the future.In late 2015, EA launched itsown e-sports unit, dubbed the Competitive Gaming Division, and assigned COO Peter Moore to lead the business as its "chief competition officer."
Last June, the unit announced new competitive gaming competitions forits own titles, which included four EA-owned and operated tournaments called "majors" for top games like Madden NFL 16 and Battlefield 1. EA offered up to $1 million in prizes throughout the series -- matching the average prize pool of major competitions across the industry.
EA still has a lot of catching up to do. None of its games have broken into Twitch's top ten yet, andit cancelled Dawngate, its potential MOBA challenger to League of Legendsand Heroes of the Storm, in 2014. It also hasn't sealed any big broadcasting or streaming deals like Tencent and Activision yet. Nonetheless, the strength of EA's gaming portfolio and its creation of a dedicated e-sports unit indicate that the company could still catch up quickly.
The key takeaways
It's unclear if e-sports will ever become as popular as traditional sports, but one thing is certain -- a growing number of people are spending time watching other people play games. For companies like Tencent, Activision, and EA, that shift enables dedicated gamers to promote their games to an interested audience -- something which can't be guaranteed by costlier TV or internet ads.
Therefore, companies that have a better grasp on the e-sports market might reduce their marketing spend while boosting the sales and longevity of their titles. If the e-sports market truly takes off, sponsorship revenue from dedicated e-sports channels and leagues could become major pillars of growth for game publishers in the future.
10 stocks we like better than Electronic ArtsWhen investing geniuses David and Tom Gardner have a stock tip, it can pay to listen. After all, the newsletter they have run for over a decade, Motley Fool Stock Advisor, has tripled the market.*
David and Tom just revealed what they believe are the 10 best stocks for investors to buy right now... and Electronic Arts wasn't one of them! That's right -- they think these 10 stocks are even better buys.
Click here to learn about these picks!
*Stock Advisor returns as of May 1, 2017
Leo Sun owns shares of Tencent Holdings. The Motley Fool owns shares of and recommends Activision Blizzard and Facebook. The Motley Fool recommends Electronic Arts. The Motley Fool has a disclosure policy.