The 3 Best Dividend Stocks in Telecommunications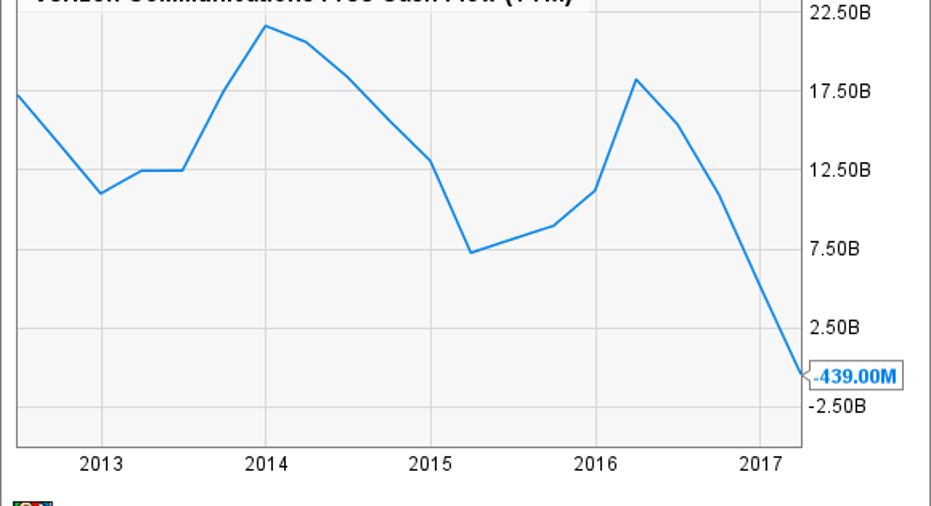 Telecom stocks are popular with income investors because they offer high yields and steady growth and their moats are tough for new competitors to cross. But with so many telco stocks on the market, it can be hard to identify the best plays. Let's take a closer look at three of my personal favorites -- AT&T (NYSE: T), Verizon Communications (NYSE: VZ), and BCE (NYSE: BCE).
AT&T
AT&T pays a forward dividend yield of 5.2%, and it's hiked that dividend annually for over three decades. It spent 95% of its earnings and 70% of its free cash flow on those payments over the past 12 months -- so it can easily keep raising its dividend for the foreseeable future.
AT&T is the second-largest wireless carrier in the U.S. after Verizon, and it's the largest pay TV provider in the country, thanks to its purchase of DirecTV in 2015. If its proposed takeover of Time Warner clears regulatory hurdles, it will also become one of the biggest media companies in the world.
AT&T is bundling these services together in lucrative packages to lock in customers. Its wireless customers, for example, can stream content from DirecTV and its "sponsored data" partners without the usage counting toward their data plans. It also recently bundled Time Warner's HBO channels with its unlimited wireless plans.
Analysts expect AT&T's revenue to fall 2% this year and for its earnings to rise 2%. Those are lackluster growth figures, but the stock trades at just 19 times earnings, compared to the industry average of 22 for telecom companies.
Verizon
Verizon also pays a forward yield of 5.2%, and it's hiked that dividend for 10 straight years. It spent 76% of its earnings on those dividends over the past 12 months. However, Verizon's free cash flow also dipped into the red over the past year -- partly due to its buyout of Vodafone's stake in Verizon Wireless in 2014 and its subsequent purchases of AOL and Yahoo's internet business.
Verizon merged those two aging businesses into a new company called Oath, led by former AOL CEO Tim Armstrong. Armstrong recently claimed that the new media platform would attract over 10 million creators for 2 billion customers and generate between $10 billion to $20 billion in annual revenues -- which would represent 12% of Verizon's 2016 revenue at the midpoint.
Verizon plans to bundle all of these internet and media properties into its own wireless and wireline ecosystem. Like AT&T, it's using sponsored data to lock in customers with data-free streaming -- a strategy that both telcos hope will offset their slowing growth in postpaid wireless customers.
Analysts see Verizon's revenue and earnings both slipping 3% this year on the slowdown of its core wireless business and its increased investments in its ecosystem. However, both figures are expected to turn positive next year, and the stock remains cheaper than AT&T at 15 times earnings.
BCE
BCE, formerly known as Bell Canada Enterprises, is the largest telecom company in Canada. It generates most of its revenue from internet, phone, and TV packages, but also generates additional revenue from investments in media outlets, real estate holdings, and professional sport teams.
BCE pays a forward dividend yield of 4.8%, and it's hiked that dividend on an annualized basis for two straight years. It spent 83% of its earnings and 87% of its free cash flow on those payments over the past 12 months -- so its payout looks very sustainable.
Unlike AT&T and Verizon, BCE is posting steady growth in wireless postpaid subscribers, which is only partly offset by its weaker prepaid growth. Its wireline business also continues growing, thanks to the strength of its internet and TV businesses. Analysts expect BCE's revenue to rise 4% this year, but its earnings are expected to slip 1% -- partly due to its recent takeover of Manitoba Telecom Services.
But above all, BCE isn't copying AT&T's and Verizon's strategies of expanding their media ecosystems or divesting their wireline businesses. So if you're looking for a simpler telco with fewer moving parts, BCE -- which trades at a reasonable 18 times earnings -- might fit the bill.
10 stocks we like better than Verizon CommunicationsWhen investing geniuses David and Tom Gardner have a stock tip, it can pay to listen. After all, the newsletter they have run for over a decade, Motley Fool Stock Advisor, has tripled the market.*
David and Tom just revealed what they believe are the 10 best stocks for investors to buy right now... and Verizon Communications wasn't one of them! That's right -- they think these 10 stocks are even better buys.
Click here to learn about these picks!
*Stock Advisor returns as of June 5, 2017
Leo Sun owns shares of AT&T and Verizon Communications. The Motley Fool owns shares of and recommends Verizon Communications. The Motley Fool recommends Time Warner. The Motley Fool has a disclosure policy.