The 3 Best Dividend Stocks in Cybersecurity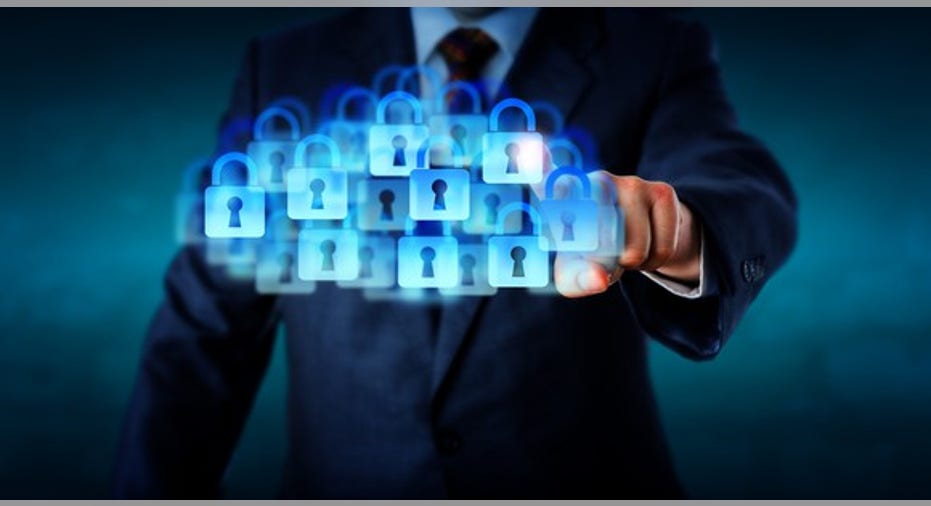 Cybersecurity stocks are usually considered growth plays instead of income plays. That's because many smaller cybersecurity firms aren't profitable, and they usually reinvest their cash back into marketing or R&D.
Yet there are still a handful of stocks that offer exposure to the rapidly growing cybersecurity sector with stable profitability and dividends. Let's examine three of the best income plays on that short list -- Cisco Systems (NASDAQ: CSCO), ManTech International (NASDAQ: MANT), and Symantec (NASDAQ: SYMC).
Image source: Getty Images.
Cisco Systems
Cisco is generally known as one of the world's largest networking hardware companies rather than a cybersecurity one. However, Cisco has been aggressively expanding its cybersecurity business to offset the ongoing slowdownin its core businesses of routers and switches.
That's why Cisco acquired smaller cybersecurity firmslike Sourcefire, ThreatGRID, OpenDNS, and Lancope over the past four years. That expansion boosted its cybersecurity revenue by 13% to $1.97 billion in fiscal 2016, which accounted for 4% of its adjusted revenues (excluding the sale of its set-top box business).
Cisco's cybersecurity revenue rose another 13% during the first half of 2017 and accounted for 4.5% of itstop line. That percentage might seem low, but Cisco's ability to bundle security products into its hardware and other software products widens its moat against rivals in both the networking hardware and security markets.
Cisco currently pays a forward dividend yield of 3.4%, which is supported by a low payout ratio of 54%. The company has raised its dividend annually for six straight years. Analysts expect its earnings to grow 1% this year and 5% next year -- so that steady streak of hikes should continue for the foreseeable future.
ManTech International
ManTech is one of the U.S. government's top providers of cybersecurity programs. Its services support over50 government agencies, including the Department of Defense, Department of Justice, Department of Homeland Security, and all branches of the armed forces, under 1,000 active contracts.
ManTech's Mission Solutions & Services (MSS) Group serves its government clients with global logistics, C4ISR (Command, Control, Communications, Computers, Intelligence, Surveillance, and Reconnaissance) teams, and various IT services. Its Mission, Cyber & Intelligence Solutions (MCIS) Group directly counters cybersecurity and intelligence threats on a national level. Its smaller Commercial Services unit partners with other tech companies to serve enterprise customers.
ManTech's revenue rose 3% to $1.6 billion in fiscal 2016, and its earnings grew 8%. Wall Street expects that growth to continue with 5% sales growth and 2% earnings growth this year. The company pays a forward dividend yield of 2.2%, and its low payout ratio of 56% indicates that it has plenty of room to raise its payout -- but it hasn't done so ever since it introduced the dividend six years ago.
Symantec
Symantec's most well-known product is Norton Antivirus, but antivirus sales have fallen over the past few years due to the rise of free alternatives and tougher attacks that circumvent traditional antivirus platforms. To offset that slowdown, Symantec expanded by acquiring enterprise-focused companies like cybersecurity firm Blue Coat and identity theft prevention company LifeLock.
Image source: Getty Images.
Those moves enable Symantec to offer end-to-end security solutions for businesses, which protect everything from PCs, data centers, emails, networks, cloud services, and even Internet of Things devices. Symantec's reputation and scale also arguably give it an edge against smaller stand-alone cybersecurity companies that protect just a few of those platforms.
Symantec's non-GAAP revenue rose 12% to $4.16 billion in fiscal 2017, while its earnings grew 15%. For the current year, its non-GAAP revenue and earnings are expected to respectively rise another 24% and 51% -- partly fueledby the LifeLock acquisition, which closed in February. After those year-over-year comparisons normalize, analysts expects sales to rise 5% and earnings to grow 12%.
Symantec's forward dividend yield of 0.9% is paltry compared to Cisco or ManTech's yields. Symantec also slashed its dividend last year to cut costs. But if Symantec's inorganic expansion pays off, the company could eventually raise its dividend again over the next few years.
The key takeaways
It's tough to find companies that have growing cybersecurity businesses and pay meaningful dividends. But for investors looking for some balance between the two, companies like Cisco, ManTech, and Symantec deserve a closer look.
10 stocks we like better than Cisco SystemsWhen investing geniuses David and Tom Gardner have a stock tip, it can pay to listen. After all, the newsletter they have run for over a decade, Motley Fool Stock Advisor, has tripled the market.*
David and Tom just revealed what they believe are the 10 best stocks for investors to buy right now... and Cisco Systems wasn't one of them! That's right -- they think these 10 stocks are even better buys.
Click here to learn about these picks!
*Stock Advisor returns as of May 1, 2017
Leo Sun owns shares of Cisco Systems. The Motley Fool recommends Cisco Systems. The Motley Fool has a disclosure policy.