The 3 Best Cholesterol Drug Stocks to Buy in 2017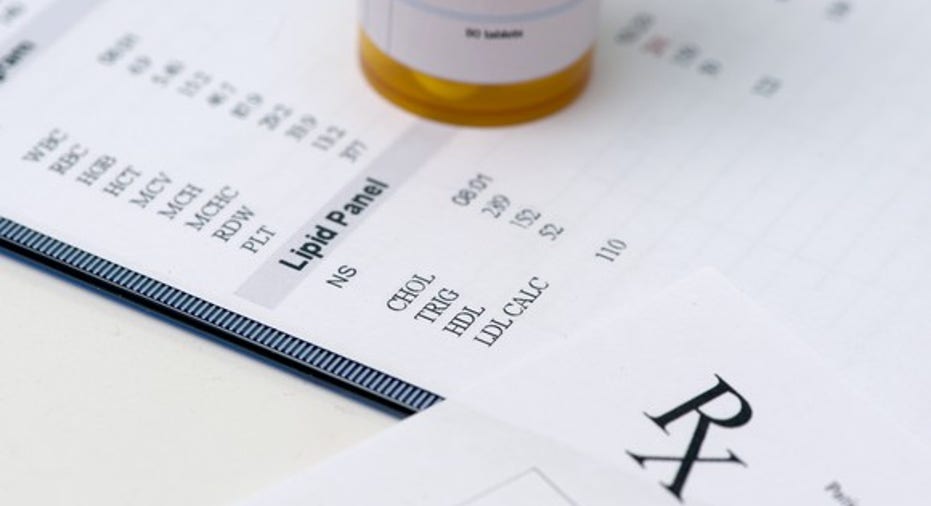 No cholesterol drug is likely to ever reach the sales level that Lipitor was able to achieve, but investors can still profit buying stock in companies developing drugs for patients with high cholesterol where Lipitor or other statins aren't enough to bring patients' cholesterol levels down. The Medicines Company, Esperion Therapeutics, and Regeneron Pharmaceuticals are all poised to progress their cholesterol drugs in 2017.
| Company | Market Capitalization | Drug | Status |
| --- | --- | --- | --- |
| The Medicines Company (NASDAQ: MDCO) | $3.4 billion | inclisiran | Starting phase 3 |
| Esperion Therapeutics (NASDAQ: ESPR) | $774 million | bempedoic acid | Phase 3 |
| Regeneron Pharmaceuticals (NASDAQ: REGN) | $42 billion | Praluent | Approved in 2015 |
Data source: Google Finance and company disclosures.
Fewer doses
The Medicines Company wrapped up its phase 2 program for its cholesterol drug inclisiran on a high note in March, presenting data from its ORION-1 clinical trial at the American Collegeof Cardiology meeting.
Inclisiran targets PCSK9 using Alnylam Pharmaceuticals' (NASDAQ: ALNY) RNAi technology, which lowers the production of the PCSK9 protein rather than using antibodies to target the protein directly. PCSK9, which stands for proprotein convertase subtilisin/kexin type 9,lowers the amount of receptors responsible for taking low-density lipoprotein cholesterol, or LDL cholesterol, out of the bloodstream, so by lowering the amount of PCSK9 protein, the number of receptors is increased and more LDL cholesterol -- that's the bad kind -- is removed from the bloodstream.
The ORION-1 study tested multiple doses, but the one that The Medicines Company and Alnylam have decided to take into phase 3 development -- 300 mg dose on day 1 and day 90 -- produced an average of 52.6% decline in LDL cholesterol after 180 days in the study. More importantly, the LDL cholesterol levels continued to stay low, with a time-adjusted mean decline of greater than 50% for the six-month period from day 90 through day 270.
The long duration will allow The Medicines Company and Alnylam to dose inclisiran every six months, offering a distinct advantage over the current PCSK9 inhibitors that have to be dosed once a month or every two weeks.
Image source: Getty Images.
A pathway to approval
In March, Esperion Therapeutics told investors the Food and Drug Administration indicated that showing its drug, bempedoic acid, lowers cholesterol levels in patients that aren't helped by statins at the maximally tolerated dose would be enough to gain approval.
The biotech is running a cardiovascular outcomes study to show that the drug not only decreases cholesterol but also reduces the risk of cardiovascular events like heart attacks and strokes. That trial won't be ready for submission until about 2022, but data from three clinical trials looking at cholesterol levels as their main endpoint will be ready by mid-2018, which will allow Experion to file for approval in the first half of 2019, a few years earlier than if the FDA wanted to wait for the cardiovascular outcomes study for an approval.
It can't get worse
Regeneron has had a rough couple of months.
A court found Regeneron and partner Sanofi's (NYSE: SNY) PCSK9 inhibitor drug Praluent infringed on patents held by Amgen(NASDAQ: AMGN), which sells a PCSK9 inhibitor called Repatha. An appeals court suspended an injunction that said Regeneron and Sanofi couldn't sell Praluent, allowing the companies to continue selling the drug until the appeal is complete.
A few months later Amgen released disappointing data for Repatha, showing a mild reduction in cardiovascular risk and no effect on cardiovascular death. Shares of Regeneron fell on the news because investors are worried that Regeneron and Sanofi's outcomes study will show the same muted effect.
But Regeneron and Sanofi have an advantage because their outcomes trial will run longer, so Praluent may show a bigger effect compared to placebo than Amgen was able to show with Repatha. There's some evidence to support this thesis in Amgen's data where the risk reduction was greater in the second year than in the first.
Regeneron will still have the pesky lawsuit to deal with, but will be in the driver's seat for a potential settlement if its outcomes study looks better than Amgen's data.
More than cholesterol
Image source: Getty Images.
Esperion Therapeutics is solely focused on cholesterol with bempedoic acid being the only new drug in its pipeline. It's also working on a combination product with bempedoic acid and Merck'sZetia.
But investors interested in The Medicines Company and Regeneron have to be comfortable with the rest of the companies' drugs. Regeneron, for example, recently gained FDA approval for its eczema drug Dupixent, which will likely drive sales growth more than Praluent in the near term.
10 stocks we like better than Esperion TherapeuticsWhen investing geniuses David and Tom Gardner have a stock tip, it can pay to listen. After all, the newsletter they have run for over a decade, Motley Fool Stock Advisor, has tripled the market.*
David and Tom just revealed what they believe are the 10 best stocks for investors to buy right now... and Esperion Therapeutics wasn't one of them! That's right -- they think these 10 stocks are even better buys.
Click here to learn about these picks!
*Stock Advisor returns as of February 6, 2017
Brian Orelli has no position in any stocks mentioned. The Motley Fool owns shares of and recommends Alnylam Pharmaceuticals. The Motley Fool has a disclosure policy.