The 2 Most Wildly Overvalued Stocks in Virtual Reality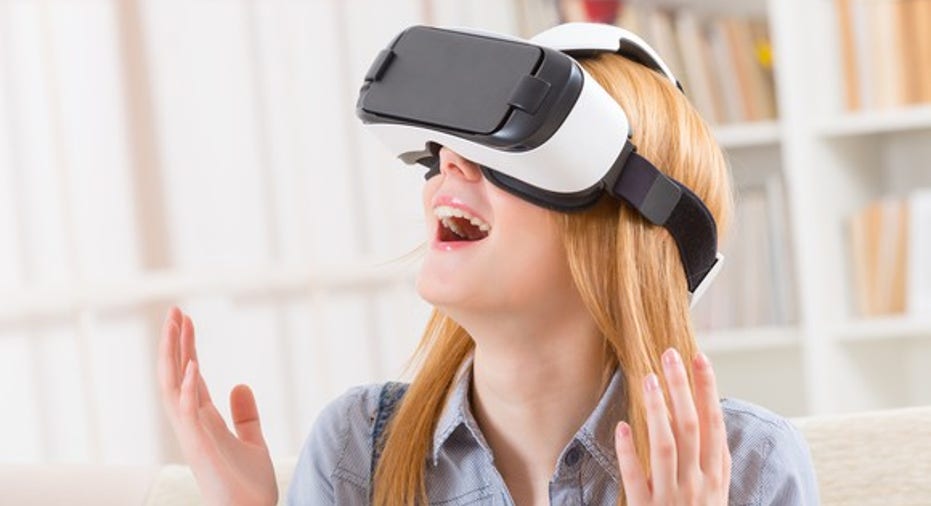 Virtual reality is often hailed as the "next big thing" in technology. Tech M&A advisory firm Digi-Capital claims that the fledgling market could be worth $30 billion by2020, while Piper Jaffray estimates that 500 million VR headsets could be sold by 2025. Those bullish estimates caused many companies to pin their future hopes on the VR market.
Image source: Getty Images.
While companies like Sony and AMD might be considered undervalued plays on VR, others -- like GoPro (NASDAQ: GPRO) and InvenSense (NYSE: INVN) -- are considerably overvalued relative to their growth potential.
Why GoPro is overvalued
Back in May, CEO Nick Woodman boldly declared that the GoPro VR app, which displays similar 360-degree content asAlphabet's YouTube, "further establishes GoPro as a leader in virtual reality." Woodman also declared that the combination of GoPro VR, its VR rigs, and its stitching software Kolor created "one of the most comprehensive platforms for capturing, stitching, sharing and enjoying VR content."
The Omni (L) and the Odyssey (R). Image source: GoPro.
Woodman talks tough when it comes to VR, but GoPro's actual presence in the consumer VR market is tiny. The six-camera Omni rig costs $5,000, while the 16-camera Odyssey rig costs $15,000. It's unclear who the Omni and Odyssey are built for, since both products are wedged between cheaper stand-alone 360-degree cameras like Samsung's $350 Gear 360 and higher-end devices likeNokia's$45,000 Ozo.
As for VR video capture and content creation, YouTube and Facebook (NASDAQ: FB) both have much bigger audiences for 360-degree videos than GoPro VR. Both platforms also support a wide range of cheaper 360-degree cameras. Earlier this year, Woodman stated that GoPro was developing a cheaper stand-alone 360-degree camera, but the company hasn't announced such a device yet.
So after cutting through all the VR hype, investors should realize that GoPro's future still depends on selling its action cameras and new drone to previous users and mainstream consumers. But as I mentioned in a previous article, the market is saturated with tough rivals thatcould cause GoPro's sales to fall in line with analyst expectations of 14% this year. GoPro's annual earnings are expected to fall at an average rate of 7% per year over the next five years, which gives it a five-year PEG ratio of 2.1. Since a PEG ratio under 1 is considered undervalued, GoPro looks pricey relative to its earnings growth potential.
Why InvenSense is overvalued
InvenSense is mainly known as the supplier of motion sensors for Apple's iPhone and other smartphones, but it'salso been expanding into VR headsets and controllers.
During last quarter's conference call, CEO Behrooz Abdi claimed that InvenSense was developing a game controller with a major OEM. It also announced "a motion tracking device specifically designed to meet their rigorous performance demands of head mounted displays," which was being evaluated in VR applications by "leading gaming and software companies" and had "achieved design wins" with major VR OEMs.
HTC's Vive. Image source: HTC.
Abdi also claimed that augmented reality games like Pokemon Go would blur the lines between AR and VR, possibly paving the way for more AR headsets like the HoloLens. While all that sounds promising, it's unclear if InvenSense can hold its ground against larger rivals like STMicroelectronics (NYSE: STM) and Bosch. InvenSense's motion sensors are found inHTC's Vive, but Facebook'sOculus Rift uses Bosch's sensors. If these rivals offer comparable sensors at lower prices, InvenSense could be marginalized by economies of scale.
As a result, most of InvenSense's revenue (63% lastquarter) still comes from smartphones and tablets. That's a problem, because OEMs are flocking toward lower-cost suppliers as both markets become commoditized. Apple usedSTMicro's motion sensors in older iPhones, and there's no guarantee that it won't switch back for the right price.
InvenSense's sales fell 20% annually last quarter, due to slowing sales of mobile devices and cameras, and analysts expect it to finish the year with a 24% decline. Its annual earnings are anticipated to improve 20% over the next five years, but that only gives it a five-year PEG ratio of 3.2 -- indicating that the stock is also overvalued relative to its growth potential.
Don't believe the hype
GoPro and InvenSense are both trying to board the VR hype train, but neither company generates a significant amount of revenue from that market. Instead, both companies are posting double-digit sales declines due to softness in their core markets and their shares are overvalued relative to their potential growth.
A secret billion-dollar stock opportunity The world's biggest tech company forgot to show you something, but a few Wall Street analysts and the Fool didn't miss a beat: There's a small company that's powering their brand-new gadgets and the coming revolution in technology. And we think its stock price has nearly unlimited room to run for early in-the-know investors! To be one of them, just click here.
Suzanne Frey, an executive at Alphabet, is a member of The Motley Fool's board of directors. Leo Sun has no position in any stocks mentioned. The Motley Fool owns shares of and recommends Alphabet (A shares), Alphabet (C shares), Apple, Facebook, GoPro, and InvenSense. The Motley Fool has the following options: long January 2018 $90 calls on Apple and short January 2018 $95 calls on Apple. Try any of our Foolish newsletter services free for 30 days. We Fools may not all hold the same opinions, but we all believe that considering a diverse range of insights makes us better investors. The Motley Fool has a disclosure policy.