The 2 Best Growth Stocks of 2016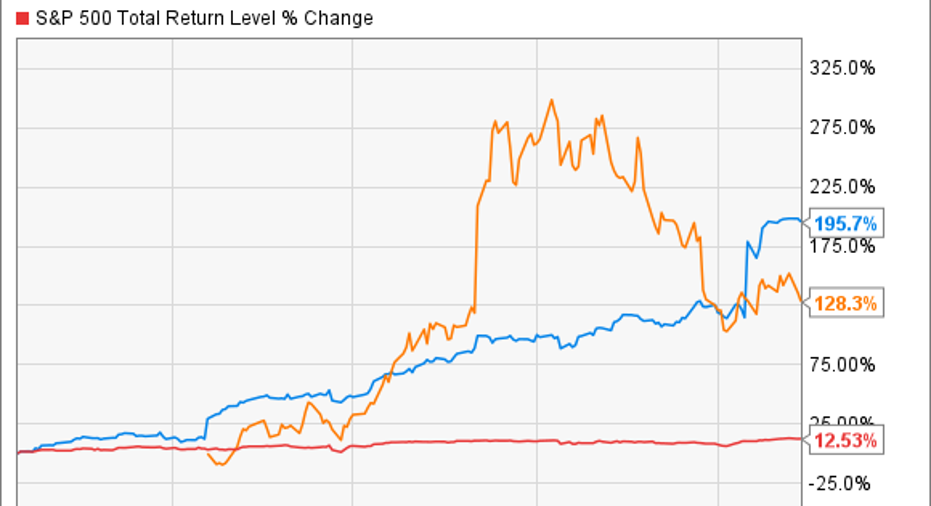 The two best-performing growth stocks in 2016, as of Nov. 29, are NVIDIA Corporation(NASDAQ: NVDA)andAcacia Communications (NASDAQ: ACIA),which have returned 196% and 129%, respectively. Moreover, Acacia has accomplished its impressive feat in less time than 11 months, as it just went public in mid-May.
Data by YCharts.
There are countless ways to define "growth stocks," so here's the specific screen used to find our gold and silver medalists:
Most recent quarterly year-over-year revenue growth of at least 20%.
Projected average annual earnings-per-share (EPS) growth of at least 20% over the next five years.
Market capitalization of at least $300 million (a small-cap stock or larger).
Currently profitable.
This screening turned upWeibo Corp -- which went public in 2014 and has been called the "Twitter of China" -- asNo. 2, but I'm skipping it. It might well be a fine company and stock -- I'm not that familiar with it -- but the veracity of the financial statements of enough Chinese companies have been called into question that most average investors should probably steer clear of investing in all but the top names. Moreover, following U.S.-based companies should be easier for most U.S.-based investors.
NVIDIA
Image source: NVIDIA.
Graphics and mobile computing specialist NVIDIA has been firing on all cylinders. The Silicon Valley-based company is the dominant player in its traditional business of selling discrete graphics-processing units (GPUs) for computer gaming, with this core business continuing to grow like gangbusters. In NVIDIA's recently reported third quarter, revenue generated from gaming products soared 63% year over year, to $1.24 billion, accounting for 62% of NVIDIA's total revenue.
In addition to its platforms for gaming and professional graphics, for which it's well known, NVIDIA has two other major platforms that are also performing fantastically and have much further growth potential: automotive and data center. Like gaming revenue, automotive computing sales increased by a little more than 60% in the third quarter. Sales to the data-center server market tripled to $240 million in the quarter.
NVIDIA -- whose stock has a market cap of $49 billion -- has much growth potential because its products have uses in many of today's relatively nascent, but fast-growing, technologies, such as artificial intelligence (AI) computing, self-driving cars, and virtual reality (VR).
In the third quarter, NVIDIA's revenue jumped 54%, to $2.0 billion, net income rocketed 120%, to $542 million, and earnings per share soared 89%, to $0.83.Analysts estimate that NVIDIA will grow EPS at an average annual rate of 24.3% over the next five years.
However, given that the company regularly beats Wall Street's estimates -- it crushed them by 47% in the third quarter, for instance -- there's good reason to believe that this long-term growth expectation will prove too conservative. The stock is priced at 35.1 times forward earnings -- not overly pricey for a proven winner with much long-term growth potential.
Acacia Communications
Image source: Getty Images.
Acacia's optic components provide fiber-optic connectivity for long-haul, metro, and interconnected data-center networks. The Massachusetts-based company -- whose stock has a $2.5 billion market cap -- hasbeen benefiting from the growth of cloud computing and other applications that need the speed and strength of fiber connections as they expand. The rollout of 5G services by wireless networks over the next couple of years will require significant infrastructure upgrades, which should provide a catalyst for growth for fiber-optic companies, in general.
While Acacia's stock is still a huge winner for investors who bought it for $23 at its May IPO -- the stock closed at $70.67 on Nov. 29 -- or in its first few months of trading, it's fallen sharply since October, as the chart at the top shows. There have been two main culprits.
In early October, the company released pricing for its secondary stock offering that was lower than the price the stock was trading at on the day of the announcement, suggesting demand for the stock could be weakening. Then in late October, Chinese telecom gear-makerZTE Corporation released weaker-than-expected third-quarter earnings and guidance. This unnerved the market because ZTE is Acacia's largest customer.
Acacia is growing revenue and earnings by leaps and bounds. In the third quarter, its year-over-year revenue jumped 107%, to $135.3 million, net income rocketed 295%, to $34.9 million, and earnings per share soared 330%, to $0.86. On an adjusted basis, EPS jumped 248%, to $1.01.
Analysts estimate that Acacia will grow EPS at a brisk average annual rate of 37.2% over the next five years. The stock is priced at 19.7 times forward earnings, which is a reasonable valuation assuming that Acacia meets these growth expectations. The fiber-optic space has great potential, but it's also very competitive.
Find out why NVIDIAis one of the 10 best stocks to buy now
Motley Fool co-founders Tom and David Gardner have spent more than a decade beating the market. (In fact, the newsletter they run, Motley Fool Stock Advisor, has tripled the market!*)
Tom and David just revealed their ten top stock picks for investors to buy right now. NVIDIAis on the list -- but there are nine others you may be overlooking.
Click here to get access to the full list!
*Stock Advisor returns as of November 7, 2016
Beth McKenna has no position in any stocks mentioned. The Motley Fool owns shares of and recommends Nvidia. Try any of our Foolish newsletter services free for 30 days. We Fools may not all hold the same opinions, but we all believe that considering a diverse range of insights makes us better investors. The Motley Fool has a disclosure policy.