The 12 Greatest Medical Breakthroughs of 2016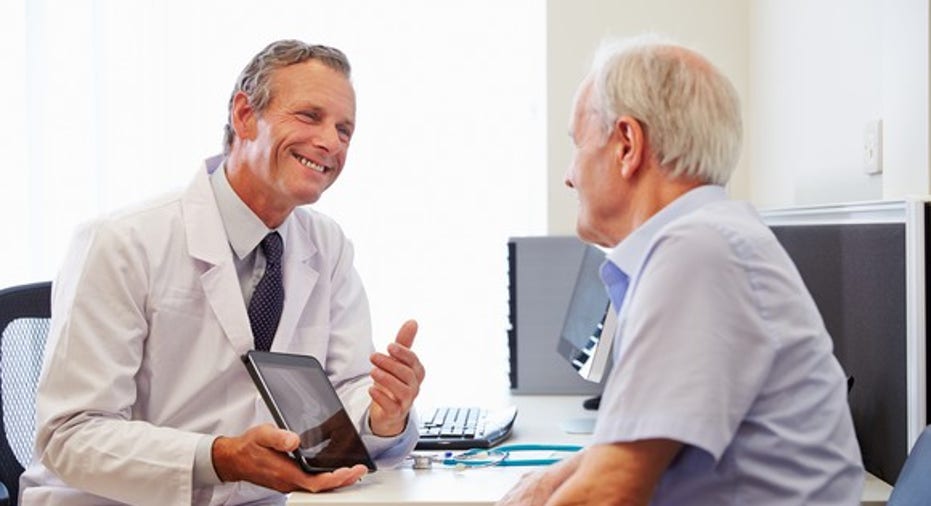 Image source: Getty Images.
With less than two weeks to go before we turn the page on 2016, we can look back on another largely successful year for the healthcare industry. The U.S. Food and Drug Administration has approved 19 novel drugs in 2016 to treat everything from psoriasis to hepatitis C to cancer. Meanwhile, the regulatory agency has also given the green light to 25 new medical devices this year. With tens of billions of dollars invested in research and development annually, it's reassuring to see that money paying off in life-changing medications and devices.
Of course, some medical breakthroughs, be they approvals or ongoing clinical trials, stood head-and-shoulders above the rest in 2016. In no particular order, here are the 12 greatest medical breakthroughs of 2016.
1. The world's first artificial pancreas
One of the most exciting advances of 2016 was the FDA's approval in September of Medtronic's (NYSE: MDT) MiniMed 670G, the world's first artificial pancreas for type 1 diabetes. The device, which was approved for those aged 14 and up, measures a patient's blood glucose every five minutes. It uses a sensor with a protruding needle that's slipped under the skin to measure insulin levels, while a pump worn on the abdomen delivers insulin as needed. This setup could dramatically reduce instances of hypoglycemia and greatly improve the quality of life of type 1 diabetics, who no longer have to constantly check their blood sugar throughout the day.
Image source: Getty Images.
2. A dual SGLT-1/SGLT-2 inhibitor shines in Type 1 diabetes
Also in September (September was an encouraging month for type 1 diabetics), Lexicon Pharmaceuticals (NASDAQ: LXRX) announced that its experimental dual inhibitor of SGLT-1 and SGLT-2 met its mark in a phase 3 trial for type 1 diabetes. The drug, sotagliflozin, showed average A1C reductions of 0.43% and 0.49%, respectively, in its once-daily 200 mg dose and its once-daily 400 mg dose. This compares to just a 0.08% A1C reduction for the placebo. Sotagliflozin, the first dual-inhibitor of SGLT-1 (which works in the intestines) and SGLT-2 (which works in the kidneys) may also have the same welcome side effects of weight loss and lowered systolic blood pressure that FDA-approved SGLT-2 drugs have shown.
3. A pan-genotypic hepatitis C approval
When it comes to the hepatitis C virus (HCV), Gilead Sciences (NASDAQ: GILD) is synonymous with "innovation." In June, Gilead added a third, unique HCV drug to its arsenal with the approval of Epclusa. However, Epclusa isn't your typical genotype-specific drug. Epclusa is the first pan-genotypic-approved drug, meaning it's capable of treating all six genotypes of hepatitis. It led to 95% to 99% virologic clearance 12 weeks after finishing treatment for patients with no or mild cirrhosis of the liver, while for those with moderate to severe cirrhosis, Epclusa in combination with a ribavirin led to 94% virologic clearance at the 12-week post-treatment mark.
4. Exondys 51 brings hope to select Duchenne muscular dystrophy patients
Select sufferers of Duchenne muscular dystrophy (DMD), a rare disease that causes the progressive degeneration of muscle due to a lack of dystrophin production, also got great news in 2016. In September, the FDA approved Sarepta Therapeutics' (NASDAQ: SRPT) Exondys 51, a therapy designed to treat exon 51-skipping DMD, which affects about 1 in 8 DMD patients. In multiple extension updates from its phase 2b study, the Exondys 51 arm often delivered 50-meter to 70-meter improvements in the six-minute walk test compared to the placebo. This is the first drug ever approved by the FDA to treat DMD.
Image source: Getty Images.
5. The DEA approves a medical marijuana study
Puff, puff, cure? Believe it or not, in April the U.S. Drug Enforcement Agency OK'ed the first-ever clinical trial in which patients will be smoking marijuana. The DEA denied petitions to reschedule cannabis in August, but in April it gave the green light to the Multidisciplinary Association for Psychedelic Studies, which is running the trial, to establish whether or not smoking pot can have positive medical benefits for patients with post-traumatic stress disorder, or PTSD. Previous clinical studies have only allowed extracts of the cannabis plant to be tested. Cannabis has appeared to demonstrate positive benefits in previous clinical trials across a broad spectrum of ailments, so this softening in DEA policy could mean that further testing is on the horizon.
6. Opdivo delivers incredible long-term survival results in metastatic melanoma
While Bristol-Myers Squibb's (NYSE: BMY) cancer immunotherapy Opdivo is already approved to treat advanced melanoma, it was a five-year follow-up of a previous phase 1 study that stole the show in 2016. At the American Association for Cancer Research's annual meeting, Bristol-Myers Squibb announced that 34% of patients in its phase 1 trial of Opdivo were still alive five years later. That may not sound like a lot, but prior to the introduction of cancer immunotherapies, the average survival period for advanced melanoma patients was only 11 months.
7. Keytruda's response rate in first-line NSCLC is phenomenal
Opdivo may have had a banner year with its long-term advanced melanoma data, but Bristol-Myers' key cancer drug flopped in a first-line advanced non-small cell lung cancer (NSCLC) study. That wasn't the case for rival cancer immunotherapy Keytruda, which was developed by Merck (NYSE: MRK). In first-line advanced NSCLC patients whose tumors had at least 50% PD-L1 expression, the Keytruda arm had a 50% reduction in the risk of progression or death compared to chemotherapy, and a 40% decrease in the risk of death compared to chemotherapy. Furthermore, overall response rates jumped to 45% from just 28% with chemotherapy. For patients whose tumors have high PD-L1 expression, Keytruda has become a source of new hope.
Image source: Getty Images.
8. Keytruda delivers the first-ever positive results for Merkel cell carcinoma patients
It's so nice we'll mention it twice: Keytruda also delivered the first positive results seen in Merkel cell carcinoma (MCC) patients in clinical trials. MCC is a rare form of skin cancer that's about three times deadlier than melanoma. In the 26-patient study, Keytruda led to a 56% overall response rate. What was notable was the duration of response. There are no FDA-approved treatments for MCC, so the disease is usually treated with chemotherapy. Though chemotherapy leads to about a 55% response rate, most patients relapse within three months. That wasn't the case with Keytruda, which exhibited durable responses in many of the responding patients.
9. CoLucid's migraine medication wows in Phase 3
Although acute migraines are tough to treat, CoLucid Pharmaceuticals' (NASDAQ: CLCD) lasmiditan delivered incredible results in September via its late-stage SAMURAI study. In SAMURAI, the 100 mg and 200 mg doses led 28.2% and 32.2% of patients, respectively, to be migraine-free at the two-hour mark, which was essentially double the placebo at 15.3%. Not only did lasmiditan meet this primary endpoint of the trial, but the secondary endpoint of a statistically significant reduction in the most bothersome symptoms of migraine headaches strongly favored the 100 mg (40.9%) and 200 mg (40.7%) lasmiditan doses compared to the placebo (29.5%). Assuming all goes well in the remaining late-stage studies, CoLucid's lasmiditan could become a migraine-buster.
10. Cabometyx hits a trifecta in renal cell carcinoma
Patients with advanced renal cell carcinoma (RCC) who have progressed on a previous line of therapy have a new, potent treatment option as of April 2016: Exelixis' (NASDAQ: EXEL) Cabometyx. In the METEOR study, Cabometyx nearly doubled progression-free survival (7.4 months) when compared to Afinitor (3.8 months), which was the primary endpoint of the study. However, its confirmed response rate (17%) was miles ahead of the Afinitor arm (3%), and median overall survival improved by nearly five months compared to Afinitor (21.4 months versus 16.5 months). This "trifecta" was a first in second-line RCC, and encouraging data via the phase 2 CABOSUN study could have Cabometyx improving kidney cancer patients' quality of life sooner rather than later.
Image source: Getty Images.
11. J&J's guselkumab knocks psoriasis on its behind
Johnson & Johnson's (NYSE: JNJ) experimental psoriasis drug guselkumab also gave patients a reason to be optimistic by crushing the placebo in the phase 3 VOYAGE 1 study. The subcutaneously administered IL-23-targeting drug had 85.1% of patients achieving cleared or minimal disease after 16 weeks, compared to just 6.9% of placebo patients. Furthermore, a whopping 73.3% of guselkumab patients had 90% skin clearance or better compared to 2.9% for the placebo. Even further out, at the 24-week mark, 80.2% of guselkumab patients had 90% skin clearance compared to only 53% for the Humira arm. Humira is currently the best-selling drug in the world. Needless to say, guselkumab could be a game-changer for those suffering from psoriasis.
12. A one-of-a-kind buprenorphine implant could save lives
Finally, we'll end the way we began, with a life-changing medical device. In May, the FDA approved a one-of-a-kind buprenorphine implant for the treatment of opioid dependence. The implant, known as Probuphine, was designed by Titan Pharmaceuticals and Braeburn Pharmaceuticals to provide a constant, low-level dose of buprenorphine for six months to patients who are stable enough to be administered a low to moderate dose of buprenorphine as part of a treatment program. This new implant is highly convenient, as it removes the need to remember to take a pill, and it's another step toward safely ending the opioid epidemic in America.
10 stocks we like better than Merck and Co. When investing geniuses David and Tom Gardner have a stock tip, it can pay to listen. After all, the newsletter they have run for over a decade, Motley Fool Stock Advisor, has tripled the market.*
David and Tom just revealed what they believe are the 10 best stocks for investors to buy right now... and Merck and Co. wasn't one of them! That's right -- they think these 10 stocks are even better buys.
Click here to learn about these picks!
*Stock Advisor returns as of Nov. 7, 2016
Sean Williamsowns shares of Exelixis, but has no material interest in any other companies mentioned in this article. You can follow him on CAPS under the screen nameTMFUltraLong, and check him out on Twitter, where he goes by the handle@TMFUltraLong.
The Motley Fool owns shares of and recommends Exelixis and Gilead Sciences. It also owns shares of Medtronic and recommends Johnson and Johnson. Try any of our Foolish newsletter services free for 30 days. We Fools may not all hold the same opinions, but we all believe that considering a diverse range of insights makes us better investors. The Motley Fool has a disclosure policy.