The 10 Best Stocks in the Nasdaq in 2016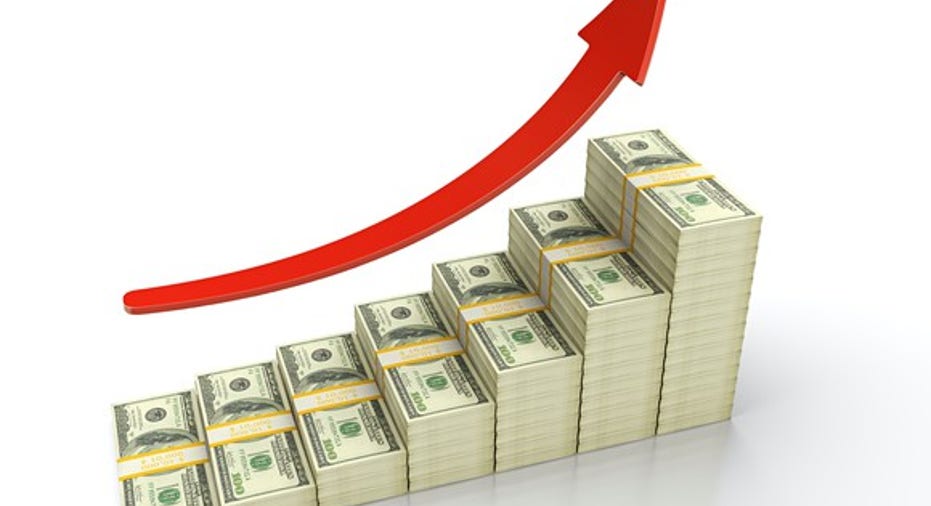 2016 was another great year to have money in the markets. The Nasdaq 100 Index rose by 6%, while the S&P 500 andDow Jones both ended the year up by double-digits. Those are solid returns over any twelve-month stretch of time.
Of course, while the indexes themselves did quite well, a handful of individual stocks put up truly stellar performances. Here's a look at the 10 best stocks that are listed on the Nasdaq and a quick summary of what they did that got shareholders so excited last year.
Source: S&P Global Market Intelligence.
Last year's biggest winner (by far) wasWins Finance Holding Group. Although this company is headquartered in New York City, its main business is providing financing to small and medium enterprises in China. The company acts primarily as aguarantor for customers seeking credit facilities to help grow their business operations.
While China is a massive country that provides Wins Finances with plenty of room to grow, it is unclear what caused the company's massive spike at the end of 2016. However, what is clear is that the company's huge run has greatly stretched its valuation. Shares trade for more than 200 times sales and nearly 18 times book value. If Wins' operations don't grow substantially from here, it wouldn't surprise me to see this rocketship come falling back to earth, which it's begun to do in 2017.
Bucking the biotech beatdown
Corbus Pharmaceuticals saw its stock soar on impressivephase 2 clinical data for its systemic sclerosis drug Resunab. The trial showed that patients who used Resunab experienceda meaningful benefit when compared to the placebo group. That result also suggest that Resunab could be useful in treating other autoimmune diseases like lupus, cystic fibrosis, anddermatomyositis.
Image Source: Getty Images.
CoLucid Pharmaceuticals' stock was another rocket ship that soared on the back of encouraging clinical results. Data from a late-stage trial showed the company's lead drug, lasmiditan, was able to meet both itsprimary and secondary endpoints in treating acute migraines. Both doses of the company's drug lead to a statistically significant reduction in headache pain at the two-hour mark when compared to the placebo. The results suggest that CoLucid could have a billion dollar winner on its hands.
Semiconductor companies on the rise
NVIDIA and Advanced Micro Devices both had breakout years thanks to each company producing a steady series of earnings releases that managed to top the market's expectations. In addition, both companies announced brand-new architecturesthat ignited investors' enthusiasm.
AMD's launch of its Polaris series has shareholders buzzing that a turnaround is finally in the cards. Analysts appear to agree with that assessment, since they are projecting that the company will crank out a profit in 2017. If true, that would be a great reversal from the years of losses that this company's shareholders have had to suffer through.
Meanwhile, NVIDIA's Pascal graphics cards are selling like hotcakes, and the company's data center business is on fire. Mix in investors' bullishness about the company's connection to driverless cars and virtual reality and it is easy tounderstand why shares outperformed in 2016.
The Trump Halo
Given the surprise election of Donald Trump, it is no surprise to see an energy company made it onto this list. Westmoreland Coal's stock soared in the aftermath of the election, which makes sense given Trump's calls to revive the coal industry. While it is still unclear what the long-term future holds for the coal industry, thus far Westmoreland has held up better than its peers thanks to its focus on owningmines that are right next door to its customers. That allows the company to minimize transportation costs, which keeps its prices low. If Trump can help the industry to rebound, then this company's future might not be nearly as bleak as was previously though.
Higher earnings = higher share price
Spartan Motors, a maker ofspecialty vehicles and parts, saw its stock climb on a number of key announcements. The company launched its new S-180 line of fire trucks, initiated a dividend, and produced its first units as part of its strategic agreement with General Motors and Isuzu. Mix in triple-digit growth in earnings that greatly surprised on the upside and it is easy to understand why shares were parabolic.
Career Education is another company that stunned market watchers in 2016 with impressive earnings results.This for-profit higher education company was able to produce a profit in three of its last four quarterly reports thanks to a renewed focused on student retention and outcomes. Those efforts are leading to gains in student enrollment, which in turn are causing revenue and profits to rise.
Image Source: Getty Images.
RMR Group, a provider of business and property management services to real estate companies, saw its shares rise throughout 2016 thanks to continued strong execution. The company's customers continue to build out their empires, providing RMR with an ever growing base of properties to manage. That allowed the company's revenue and net income to consistently grow throughout the year, which drove the company's share price higher.
Landing the big deal
Finally, investors bid up shares of Hudson Technologies' after the company announced that it had won a five-year contract to supplycompressed gasses, cylinders, and related items to theDepartment of Defense. The deal could be worth up to $400 million, which is a massive number for a company that only did $79 million in business in all of 2015.
Will any of these companies be able to keep their momentum going heading into 2017? While there's no telling what the future holds, I'm a firm believer that winners tend to keep on winning. That could make this group of stocks a fine starting point for further research.
10 stocks we like better than Nvidia When investing geniuses David and Tom Gardner have a stock tip, it can pay to listen. After all, the newsletter they have run for over a decade, Motley Fool Stock Advisor, has tripled the market.*
David and Tom just revealed what they believe are the 10 best stocks for investors to buy right now... and Nvidia wasn't one of them! That's right -- they think these 10 stocks are even better buys.
Click here to learn about these picks!
*Stock Advisor returns as of January 4, 2017
Brian Feroldi has no position in any stocks mentioned.Like this article? Follow him onTwitter where he goes by the handle@BrianFeroldior connect with him on LinkedIn to see more articles like this.
The Motley Fool owns shares of and recommends Nvidia. The Motley Fool recommends General Motors. The Motley Fool has a disclosure policy.