The 1 Perfect Stock for Investing in the Future of Solar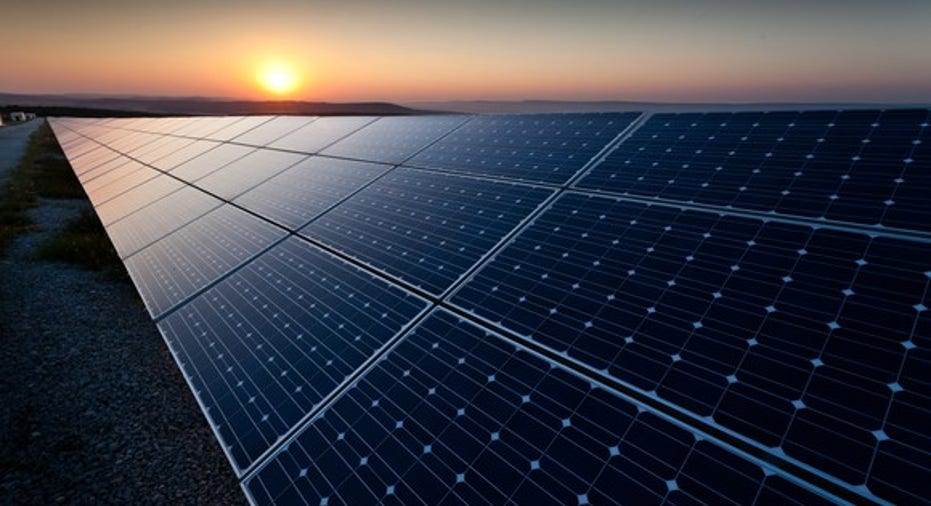 Image source: Getty Images.
The solar industry has been one of the most volatile sectors of the stock market over the past decade. Even the best investors in the space have been burned a time or two. But make no mistake, solar offers a multi-trillion dollar opportunity to venturesome investors. Here are three of our picks to take advantage of the solar opportunity today.
The solar rock
Travis Hoium: In a solar industry that's known for volatility, 8point3 Energy Partners (NASDAQ: CAFD) provides some much needed stability for investors. The yieldco, a creation of SunPower (NASDAQ: SPWR) and First Solar, owns all or part of solar power plants its sponsors have constructed, generating cash flow from solar energy production. These projects have long-term contracts with utilities, companies, and consumers, in most cases for 20 years or more.
This cash is then used to pay dividends to shareholders, which currently yields 6.7% where shares are trading today.
The consistency of cash flows is important, but that hasn't always been enough for yieldcos. What separates 8point3 Energy Partners is that it has two sponsors, which keeps both sponsors from using the yieldco as a place to dump projects or as a way to get abnormally high returns on projects. It's an added level of security for investors simply looking for a solid dividend.
8point3 Energy Partners isn't going to be a stock that doubles in the next year or drop if a dislocation happens in the solar market. It's a boring business that just collects cash from utilities year after year, but if you're an investor looking for a boring stock with a great yield in energy, this is a great place to look.
A cyclical low point could be creating a big opportunity
Jason Hall:SunPower Corporationshares are as beaten-down as nearly any in the solar industry right now. But at the same time, the company remains one of the technology leaders, making some of the most efficient, reliable panels available, and the long-term growth prospects for solar remain incredibly strong.
What's happening now with SunPower is in no small part a product of cyclical shifts that almost any large-scale, infrastructure-related industry can go through, and in this case it's something that's actually relatively good for the industry in the long term. A major solar investment tax credit was set to expire at year's end, but in late 2015, lawmakers agreed to extend the credit for several years, while also improving the "ramp-down" of the credit for a few years after that.
Image source: SunPower.
And while this should help support accelerated growth of solar sales over the next half-decade -- both distributed residential and large utility-scale projects that are a big part of SunPower's U.S. business -- it has had a negative impact on what was expected to be a very big 2016 for SunPower and its competitors, since a sizable portion of those projects won't happen this year.
Bottom line: There is some risk with SunPower, since it does have a large debt load (though most of that debt is tied to projects and not the company itself), and its cash flows have turned negative while it continues to invest in expanded manufacturing capacity and R&D. But with that risk is a fantastic opportunity to invest in a technology leader in a huge growth industry. It could take some time for things to improve for SunPower, but it's one of the few panel makers that should be able to avoid the race to the bottom.
The quiet solar supplier
Rich Smith: Solar stocks got rocked last week, when The Wall Street Journal reported that congressional investigators are looking into whether panel makers and installers such as Elon Musk's SolarCity (NASDAQ: SCTY), or solar utilities such as NRG Energy (NYSE: NRG) and their peers abused government subsidies to rack up windfall profits on tax credits.
Caught up in the firestorm, though, and suffering collateral damage is one company essential to the solar industry -- but not involved in making, installing, or operating solar panels at all: SolarEdge (NASDAQ: SEDG).
Instead of any of these things, SolarEdge simply makes solar power optimizers and inverters that convert direct current solar energy into alternating current electricity that consumers can use. It's a lucrative business that generated $76.6 million in profits for SolarEdge over the past year -- enough profit to give the stock an 8.1 P/E ratio. It's also a business growing briskly, with analysts who follow the company predicting long-term annual earnings growth of 17%.
SolarEdge isn't a perfect stock. Data from S&P Global Market Intelligence show that real free cash flow over the past year was only $36.7 million, or less than half of the company's reported net income. Even so, SolarEdge has saved up enough cash that its balance sheet now brims with $133 million -- without a lick of debt to offset it. Valued on enterprise value-to-free cash flow, the stock sells for a 12.6 ratio.
That seems cheap for the growth rate, even if it's not as cheap as the P/E makes the stock look.
Granted, any bad news that affects the solar industry as a whole will have a trickledown effect upon Solar Edge as well. If solar companies find their business pinched, they'll logically have less need to buy inverters from SolarEdge to pair with their panels, and this will hurt SolarEdge's growth rate. But the simple fact that investors are punishing SolarEdge stock on par with the punishment they're meting out to its customers -- even though SolarEdge itself is accused of no wrongdoing -- suggests the selling is overdone, and SolarEdge stock is due for a rebound.
A secret billion-dollar stock opportunity The world's biggest tech company forgot to show you something, but a few Wall Street analysts and the Fool didn't miss a beat: There's a small company that's powering their brand-new gadgets and the coming revolution in technology. And we think its stock price has nearly unlimited room to run for early in-the-know investors! To be one of them, just click here.
Jason Hall owns shares of SolarCity and SunPower. Jason Hall has the following options: long January 2017 $30 calls on SolarCity. Rich Smith owns shares of SolarEdge Technologies. Travis Hoium owns shares of 8point3 Energy Partners and SunPower. The Motley Fool owns shares of and recommends SolarCity. The Motley Fool owns shares of NRG Energy. Try any of our Foolish newsletter services free for 30 days. We Fools may not all hold the same opinions, but we all believe that considering a diverse range of insights makes us better investors. The Motley Fool has a disclosure policy.