The 1 Move That Could Obliterate This Leading Marijuana Stock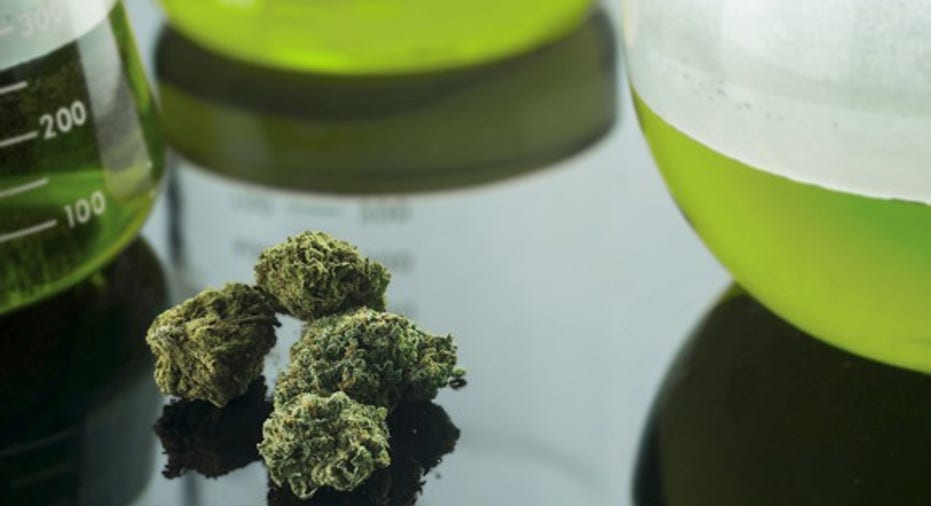 GW Pharmaceuticals (NASDAQ: GWPH) is one of the top marijuana stocks on the market right now. Its share price more than tripled over the last 12 months. Wall Street thinks shares of GW Pharmaceuticals could surge another 25% or more over the next 12 months.
But all of the biotech's past success and future hopes could evaporate if one specific thing happens, even if GW wins regulatory approval for cannabinoid drug Epidiolex -- as many expect it to. Here's what that one thing is, and how likely it might be.
Image source: Getty Images.
First things first
Before we end the suspense, let's first examine why GW Pharmaceuticals currently claims a market cap of over $3 billion. It's certainly not because of the company's one drug on the market, Sativex. The cannabinoid drug approved in several countries outside the U.S. for spasticitydue to multiple sclerosis generated revenue of less than $7 million.
The intense interest in GW and the corresponding increase in its stock price stems instead from Epiodiolex. Three late-stage studies showed tremendous promise for the cannabinoid drug in treating two forms of epilepsy -- Dravet syndrome andLennox-Gastaut syndrome (LGS).
Both of these indications have relatively low patient populations. Somewhere between14,000 and 18,500 children in the U.S. have LGS. Another 5,000 or so suffer from Dravet syndrome. These numbers reflect a U.S. market of up to 23,500 patients.
Analysts think that GW Pharmaceuticals will price Epidiolex (assuming it wins regulatory approval) between $30,000 and $60,000 per year. At the low end of that range, the biotech would be looking at annual revenue of more than $700 million in the U.S. If Epidiolex gains approval in Europe, the figure would be significantly higher.
One decision away from meltdown
So, GW Pharmaceuticals' current valuation depends on two things: winning regulatory approval for Epidiolex and convincing payers to cover the drug. The first objective seems very likely in my view. I suspect the second one will be achieved also. But maybe not.
Pharmacy benefits managers (PBMs) have been fighting back against high-cost drugs. Express Scripts (NASDAQ: ESRX) threw down the gauntlet in late 2014 by refusing to include Gilead Sciences' hepatitis C virus (HCV) drugs in its formulary and instead negotiating a lower cost with AbbVie for its HCV drug Viekira.
Now, imagine you're the head of Express Scripts and along comes a new epilepsy drug that's going to potentially cost you and other payers $700 million each year. At the same time, multiple companies sell cannabidiol (the active ingredient in Epidiolex) for a significantly lower cost than GW Pharmaceuticals plans to charge. What would you do if you wanted to generate more savings for your customers?
One option would be to refuse to cover Epidiolex at the sky-high prices and instead reimburse members who use "generic" cannabidiol from approved suppliers. Medical Marijuana, Inc. (NASDAQOTH: MJNA), for example, markets Real Scientific Hemp Oil through its HempMeds PX subsidiary. The product isn't cheap, but it's not too difficult to envision a scenario where a PBM like Express Scripts used a competing product like Medical Marijuana's to either exclude Epidiolex or force GW Pharmaceuticals to drastically lower its price.
Such a move would shatter GW Pharmaceuticals' market cap, which hinges on a premium price tag for Epidiolex. And this kind of decision could potentially come from a PBM or from any major payer.
Weighing the odds
How likely is this scenario? If history serves as a guide, the odds are very low.
Express Scripts doesn't cover cannabis products available from Medical Marijuana or its competitors. However, the PBM does include two cannabinoid-based drugs on its formulary: dronabinol and nabilone. The key is that both drugs received approval from the U.S. Food and Drug Administration (FDA).
Image source: Getty Images.
In the past, Express Scripts' stance on medical marijuana has been against reimbursement based on the lack of large, controlled clinical studies and absence of FDA approval. The company also frowned on paying for botanical or crude versions of marijuana products because their manufacture was not standardized. Other payers have adopted similar policies.
However, GW Pharmaceuticals should be able to address these objections with Epidiolex. The biotech has conducted large, well-controlled clinical studies that statistically demonstrate the drug's efficacy and safety in treating Dravet syndrome and LGS. It appears to be on track to win FDA approval. Part of that approval process will include addressing GW's manufacturing processes.
Epidiolex also won orphan drug designation from the FDA. That means the FDA can't approve another application for the same drug for the same indication for seven years. In addition, GW Pharmaceuticals has been granted two U.S. patents for Epidiolex and is pursuing additional patents.
Symptom of a broken system?
For those unfamiliar with the arcane regulatory and reimbursement processes for drugs, this might all seem crazy. It probably doesn't make sense that PBMs and health insurers would pay exorbitant amounts for a drug with an active ingredient that is available for far less. Is this merely a symptom of a broken healthcare system?
Maybe, but I suggest thinking about it in a different way. Payers can't afford to cover every treatment. They have to draw the line somewhere -- and using the FDA approval process makes sense in deciding what to cover and what not to cover.There also must be some protection for companies that invest the capital to prove that a drug is effective and win regulatory approval.
In theory, Express Scripts and others could decide to pit "off the shelf" cannabidiol products such as those from Medical Marijuana against Epidiolex. But if you think the U.S. healthcare system is broken now, this move might not just obliterate GW Pharmaceuticals' stock -- it could seriously damage the prospects for continued innovation by drugmakers. That's why I don't think it will happen and expect continued success for GW.
10 stocks we like better than GW PharmaceuticalsWhen investing geniuses David and Tom Gardner have a stock tip, it can pay to listen. After all, the newsletter they have run for over a decade, Motley Fool Stock Advisor, has tripled the market.*
David and Tom just revealed what they believe are the 10 best stocks for investors to buy right now... and GW Pharmaceuticals wasn't one of them! That's right -- they think these 10 stocks are even better buys.
Click here to learn about these picks!
*Stock Advisor returns as of February 6, 2017
Keith Speights owns shares of AbbVie, Express Scripts, and GILD. The Motley Fool owns shares of and recommends GILD. The Motley Fool owns shares of Express Scripts. The Motley Fool has a disclosure policy.