Thanks to Tesla Motors' Brilliance, Some Auto Suppliers Face Rapidly Approaching Challenges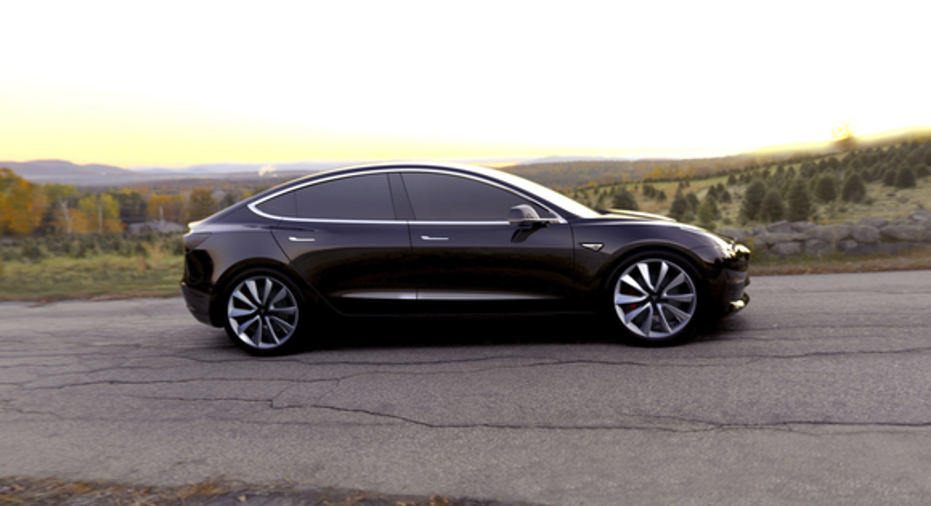 Tesla's Model 3. Image source: Tesla Motors.
Tesla Motors (NASDAQ: TSLA), one of the few electric vehicle start-ups to survive the financial crisis and the Great Recession, has done an incredible job of rebranding the electric vehicle. At a time when many consumers pictured an electric vehicle as a small, awkward-looking car that struggled to reach 50 miles per hour on the highway, Tesla was designing the Model S, which would leave those stereotypes in the dust. While major automakers' EV programs remained in their infancy, or neglected, Tesla was establishing its Supercharger network to alleviate range anxiety and was breaking ground on its Gigafactory.
Tesla, despite its manufacturing flaws and unpredictable strategy (cough, SolarCity acquisition, cough), has lit a fire under major automakers to accelerate their own EV programs. And that spells bad news for a cluster of auto supplier stocks.
What's the big deal?
Morgan Stanley's analyst Adam Jonas explained the issue in a note to investors, while cutting his price target onDelphi Automotive(NYSE: DLPH)from $74 down to $59:
To make matters worse for auto supplier stocks, that's far from the only risk. Their margins would be squeezed if the prices of steel, copper, aluminum, and other raw material move higher after years of weakness. Combine that with the fact that major automakers have begun to consolidate vehicle platforms and parts in an effort to increase their scale and reduce the number of suppliers -- that means less pricing power for suppliers, year after year. In fact, General Motors plans to move from 14 core and 12 regional vehicle architectures in 2015 down to 4 vehicle sets by 2025. And that's leaving out the obvious risk that auto suppliers are tied to a highly cyclical auto industry, and that a key global market, America, appears to be plateauing after years of consistent growth. Not to mention, we're not sure how President-elect Donald Trump's NAFTA threats will play out for the auto industry.
Now, it's not as if the executives at auto suppliers don't see the looming risks, but so far, they haven't been quick to adapt. Also, it appears that Tesla, approaching the release of its mass-affordable Model 3, is looking past traditional suppliers. "Tesla is turning to South Korean parts makers, which are more cost-competitive than Japanese rivals, as the electric car start-up plans to drastically cut costs for the cheaper Model 3," said Eim Eun-young, an auto analyst at Samsung Securities, according to Automotive News.
All is not lost
Despite looming headwinds, there are auto suppliers better suited to survive, and there will be ways for others to evolve, as none of this will happen overnight. For instance, Lear Corp (NYSE: LEA) is focused on vehicle trends that would be less impacted by electric vehicles, such as automotive electronics, higher-quality interiors, and parts in the luxury segment.Magna International Inc. (NYSE: MGA), as another example, has a massive global footprint that is extremely important to major automakers and generates almost half of its sales from Detroit automakers, which will continue to produce a plethora of trucks and SUVs for the foreseeable future.
Delphi even has ambitious plans beyond electric vehicles. It has announced a partnership withMobileye and Intelto collaborate on developing self-driving car technology. The goal is to develop a complete turnkey "SAE Level 4/5 automated driving solution" -- a system that manufacturers could purchase, rather than research and develop on their own.
All is not lost for auto supplier stocks, but they're trading at cheap valuations for a reason, and you can hardly blame investors for sitting this one out until suppliers prove they can adapt and grow their top lines in an auto industry that's poised to change more in the next two decades than it has in the past century.
10 stocks we like better than Tesla Motors When investing geniuses David and Tom Gardner have a stock tip, it can pay to listen. After all, the newsletter they have run for over a decade, Motley Fool Stock Advisor, has tripled the market.*
David and Tom just revealed what they believe are the 10 best stocks for investors to buy right now...and Tesla Motors wasn't one of them! That's right -- they think these 10 stocks are even better buys.
Click here to learn about these picks!
*Stock Advisor returns as of November 7, 2016.
Daniel Miller owns shares of General Motors. The Motley Fool owns shares of and recommends Tesla Motors. The Motley Fool recommends General Motors and Intel. Try any of our Foolish newsletter services free for 30 days. We Fools may not all hold the same opinions, but we all believe that considering a diverse range of insights makes us better investors. The Motley Fool has a disclosure policy.