Texas Roadhouse Tries to Get Tastier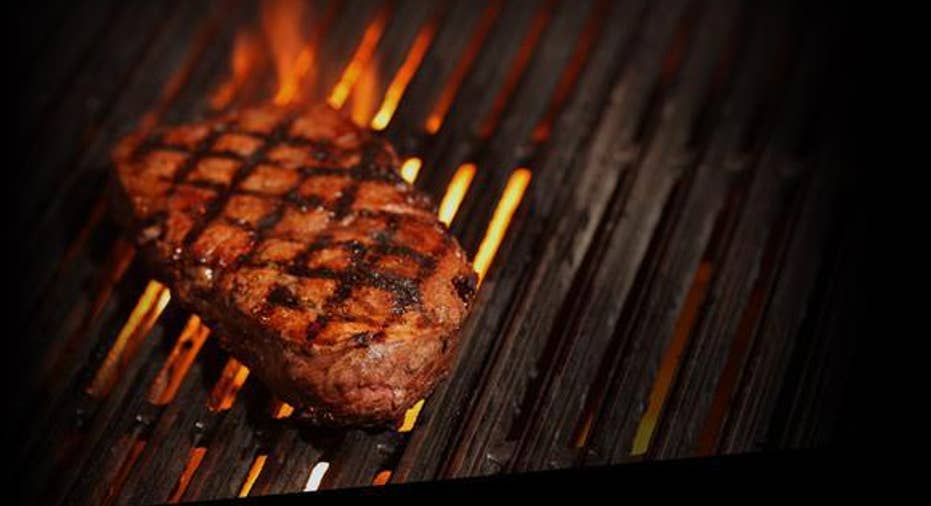 Image: Texas Roadhouse.
The restaurant business is extremely competitive, and steakhouse chain Texas Roadhouse is fighting against dozens of other players in the restaurant space to attract hungry customers. Coming into Monday afternoon's first-quarter financial report, Texas Roadhouse stock remained near all-time highs, and investors wanted to see signs that the company could continue to accelerate its growth. The results that Texas Roadhouse posted didn't live up to all of the expectations that shareholders had for the company, but the response in the market was nevertheless positive. Let's look more closely at the latest from Texas Roadhouse and what it says about the future for the steakhouse chain.
Texas Roadhouse looks to sizzle Texas Roadhouse's first-quarter results showed ongoing growth, albeit not at quite the pace that some were looking to see. Revenue was up 12% for the second straight quarter to $515.6 million, almost exactly matching the consensus forecast among those following the stock. Net income climbed at a more sedate 10% pace to $35.6 million, and that produced earnings of $0.50 per share, which was $0.04 less than what most investors were expecting from Texas Roadhouse. However, the company included a charge for a legal settlement in the quarter, and that cost Texas Roadhouse a nickel per share, which would have produced an earnings beat on an adjusted basis.
A closer look at the results from Texas Roadhouse showed mixed successes and ongoing challenges. Company-owned restaurants posted growth in comparable-restaurant sales of 4.6%, which was roughly comparable to what the company managed last quarter. Franchise-owned locations saw an even bigger slowdown that in the fourth quarter of 2015, with comps growth of just 3.1%. The figures confirmed the sluggishness of the company's performance following growth of 7% to 8% in mid-2015.
Texas Roadhouse continued to benefit from favorable cost management. Restaurant margins jumped more than a full percentage point to 20.1%, and the steakhouse chain said that lower food costs were the primary driver for the cost savings. Labor costs rose at roughly the same pace as revenue, and rent and other operating expenses experienced only slightly less rapid cost increases.
The restaurant chain also kept following its expansion strategy. Texas Roadhouse added seven company-owned restaurants during the quarter, including two locations for its newer Bubba's 33 concept. Including stores from the beginning of the second quarter, Texas Roadhouse has 10 new company restaurants, and the company also said that it had opened two international franchise restaurants, including its first in the Philippines.
CEO Kent Taylor celebrated the restaurant chain's performance. "We are pleased that our top-line momentum continued in the first quarter, driven by solid traffic growth," Taylor said. "Strong comps sales, along with commodity deflation driven by lower beef costs, helped us deliver near-double-digit earnings growth this quarter." The CEO also pointed to Texas Roadhouse's strong balance sheet and healthy cash-flow levels in supporting long-term growth.
Will Texas Roadhouse get hotter? Texas Roadhouse has already seen signs that the second quarter could be even stronger. During the first four weeks of the current quarter, company-owned restaurant comps are up 5.1%.
The steakhouse chain repeated most of its guidance for 2016. Texas Roadhouse expects positive comparable-restaurant sales growth, about 30 new restaurant openings, and food-cost deflation of 1% to 2%. Opening the new restaurants will require Texas Roadhouse to make capital expenditures of $165 million to $175 million.
The big question for Texas Roadhouse is how fast its international expansion could move. The company is looking for international partners for 27 international markets, including not only giants like China, India, and Russia but also smaller countries like Poland and Singapore. If franchising opportunities work out there, it could provide a huge new stream of income for the company.
Texas Roadhouse investors seemed pleased with the report, as shares climbed another 3% in after-hours trading following the announcement. If it can stay on track, Texas Roadhouse is giving shareholders all the growth that they've been hungry for and then some.
The article Texas Roadhouse Tries to Get Tastier originally appeared on Fool.com.
Dan Caplinger has no position in any stocks mentioned. The Motley Fool recommends Texas Roadhouse. Try any of our Foolish newsletter services free for 30 days. We Fools may not all hold the same opinions, but we all believe that considering a diverse range of insights makes us better investors. The Motley Fool has a disclosure policy.
Copyright 1995 - 2016 The Motley Fool, LLC. All rights reserved. The Motley Fool has a disclosure policy.