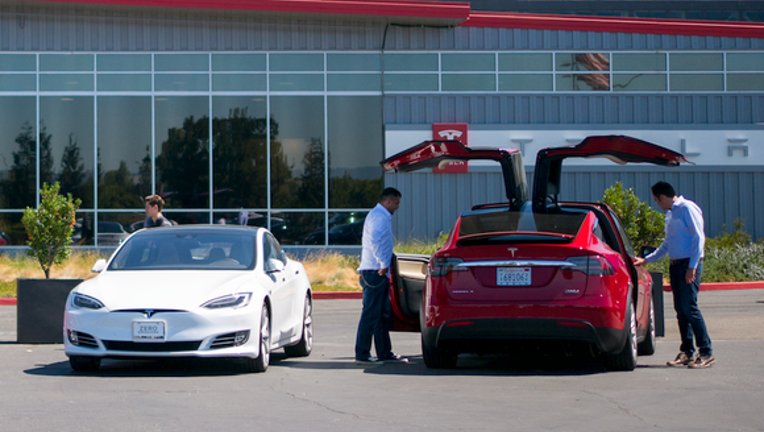 In Tesla's (NASDAQ: TSLA) fourth-quarter shareholder letter, management understandably refrained from providing guidance beyond the first half of 2017. Given that the second half of the year is expected to include the unpredictable production ramp of Tesla's upcoming higher-volume Model 3, guidance for such an uncertain outcome could do more harm than good for investors.
But what's interesting about the guidance for vehicle deliveries Tesla did provide is that it's not nearly as ambitious as it looks at first glance.
Model S (left) and Model X (right). Image source: Author.
Understanding Tesla's guidance
For its expectations for deliveries before Model 3 debuts during the second half of the year, Tesla said it expects to "deliver 47,000 to 50,000 Model S and Model X vehicles combined in the first half of 2017, representing vehicle delivery growth of 61% to 71% compared with the same period last year."
This is some big growth, right? It depends on how you look at it. On a year-over-year basis, this growth is an acceleration from the 27% year-over-year growth Tesla posted in its fourth quarter. But when investors zoom out and look at what this means for the trajectory of Tesla's combined Model S and X units on a sequential basis, Tesla isn't expecting much growth at all. Compared to combined Model S and X deliveries in the second half of 2016, 47,000 to 50,000 deliveries in the first half of 2017 would be up just 0% to 6%.
And assuming Tesla's late 2015-introduced Model X continues to account for a larger percentage of the electric-car maker's sales over the next few quarters as the company ramps up production of the newer vehicle, this guidance may mean management expects its Model S sales to decline. In fact, Model S sales have already turned downward. In Tesla's fourth quarter of 2016, Model S sales were down 21% sequentially and 26% year over year.
Still a success
Of course, if Tesla's combined Model S and X deliveries do level off at the 100,000-unit run rate they're at today, this would still be an impressive volume for two luxury models priced between $68,000 and $168,000. Indeed, Model S is already the best-selling large luxury sedan in this price range in the U.S. by a long shot. And Tesla's Model X SUV already accounts for about 6% of U.S. large luxury SUV sales.
Furthermore, based on Tesla's update on demand for Model S and X in the company's fourth-quarter shareholder letter, a meaningful decline in combined Model S and X sales in the coming quarters looks highly unlikely.
"Model S and X net order growth remains strong, as we are continually evolving our products by elevating performance, convenience, and safety," management explained. Tesla also said Model S and X orders hit a record high during the quarter and were up 49% year over year.
Finally, it's worth noting that abrupt pauses in Tesla's sequential growth have occurred in the past on several occasions. Indeed, in 2016, combined Model S and X deliveries declined 15% and 3% sequentially in Q1 and Q2, respectively, before they skyrocketed 72% sequentially in Q3.
Model X. Image source: Author.
It's fair to say, therefore, that year-over-year growth has proved to be the best way for investors to see the bigger picture when it comes to Tesla's ability to grow sales. And despite Tesla's expectations for flat sales going into the first half of 2017 compared to the second half of 2016, it would likely serve investors well to still take a moment to acknowledge just how sharp Tesla's year-over-year growth remains.
Sure, this doesn't mean Tesla can continue growing Model S and Model X sales sharply or even at all. But Tesla's continued ability to increase sales at 50%-plus rates annually since Model S was first launched demonstrates Tesla's consistent execution on its growth plans on a year-over-year basis, and it bodes well for the company's ambitious growth outlook for Model 3.
10 stocks we like better than TeslaWhen investing geniuses David and Tom Gardner have a stock tip, it can pay to listen. After all, the newsletter they have run for over a decade, Motley Fool Stock Advisor, has tripled the market.*
David and Tom just revealed what they believe are the 10 best stocks for investors to buy right now... and Tesla wasn't one of them! That's right -- they think these 10 stocks are even better buys.
Click here to learn about these picks!
*Stock Advisor returns as of February 6, 2017
Daniel Sparks owns shares of Tesla. The Motley Fool owns shares of and recommends Tesla. The Motley Fool has a disclosure policy.