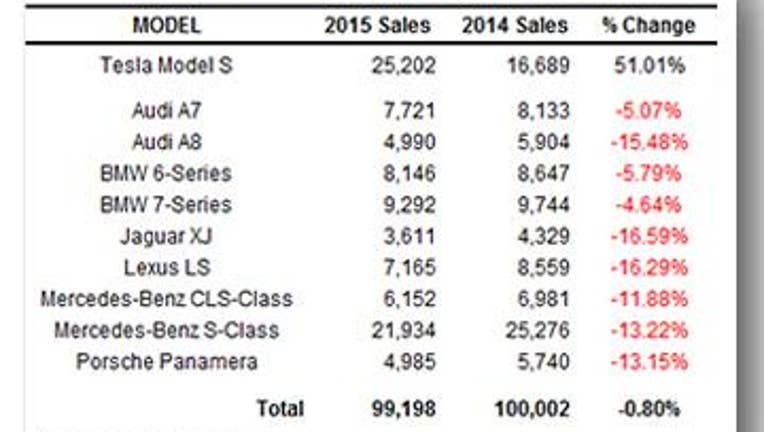 Model S was the No. 1 large luxury sedan in the U.S. in 2015. Image source: Tesla.
In no uncertain terms, Tesla Motors dominated the U.S. market for large luxury sedans last year. It's possible that you already saw the headlines last month when the company reported fourth-quarter earnings and gave a rare glimpse into its geographical performance by showing how it fared in the U.S. compared to other large luxury vehicles. The Model S even overtook the venerable Mercedes-Benz S-Class for the first time.
Image source: SEC filings and company reports.
This victory underscores the urgency that many traditional automakers now feel with competing with Tesla, since we're talking about one of the most profitable segments of the market. But there's another factor to consider: Tesla doesn't "punch" cars like its rivals do.
Channel-stuffing by any other name still boosts reported salesPunching cars is an industry practice where dealers will purchase vehicles from their own inventory and then use those cars as demo units or service loaners. This allows the manufacturer to register the transaction as a sale and boost their reported figures, even though the vehicle is not being sold directly to an end customer. Oftentimes, these vehicles are then later sold as used vehicles. In some cases, manufacturers even offer hefty incentives to dealers who are willing to participate in the practice.
With the U.S. auto market currently at record highs in terms of unit volumes, the pressure is on for manufacturers to maintain sales volumes. For instance, BMW has been offering incentives to dealers from $1,000 to $3,000 for "specialty demo" units that dealers purchase, according to a recent report from Automotive News. The German automaker is aggressively trying to maintain its crown in the U.S. luxury market. These types of incentives may have helped contribute to BMW's December figures, when it said 6 Series (which competes with Model S) monthly unit sales jumped 64% to 1,461. BMW was able to retain its title for another year, narrowly beating out other luxury brands.
Simply put, punching cars is effectively a form of channel-stuffing. But since there are legitimate needs for service loaners and demo units, it's a little bit more acceptable than in other consumer markets, but only to a certain extent. It's still a highly questionable strategy. By comparing sales data with registration data, investors can get an idea of how widespread the practice is. IHS and Automotive News estimated that the difference in 2015 was nearly 287,000 vehicles, the largest gap in a decade, which suggests the practice is on the rise.
Tesla has no sales channelSince Tesla uses a direct sales model, it only recognizes revenue and unit sales once the vehicle is delivered directly to the customer. There is no channel to stuff. Elon Musk even addressed this distinction on a conference call last May (via Thomson Reuters StreetEvents):
That being said, Tesla does have a distribution channel that is always full of vehicles. These are often cars that have already been ordered and purchased and are simply en route to their new homes.
But the important difference is that these units are classified as finished goods inventory (up 20% last quarter to $476.5 million), and Tesla does not recognize them as sales until delivery. Some of the company's finished goods inventory is allocated to service loaners and new inventory, but Tesla attributed last quarter's increase "primarily due to customer orders that were in transit for delivery at year end."
Even with the "advantage" of padding sales figures with punching cars and channel-stuffing, Tesla's luxury rivals couldn't keep up.
The article Tesla's Dominance of the U.S. Luxury Market Is More Impressive Than You Think originally appeared on Fool.com.
Evan Niu, CFA owns shares of Tesla Motors. Evan Niu, CFA has the following options: long January 2018 $180 calls on Tesla Motors. The Motley Fool owns shares of and recommends Tesla Motors. The Motley Fool recommends BMW. Try any of our Foolish newsletter services free for 30 days. We Fools may not all hold the same opinions, but we all believe that considering a diverse range of insights makes us better investors. The Motley Fool has a disclosure policy.
Copyright 1995 - 2016 The Motley Fool, LLC. All rights reserved. The Motley Fool has a disclosure policy.