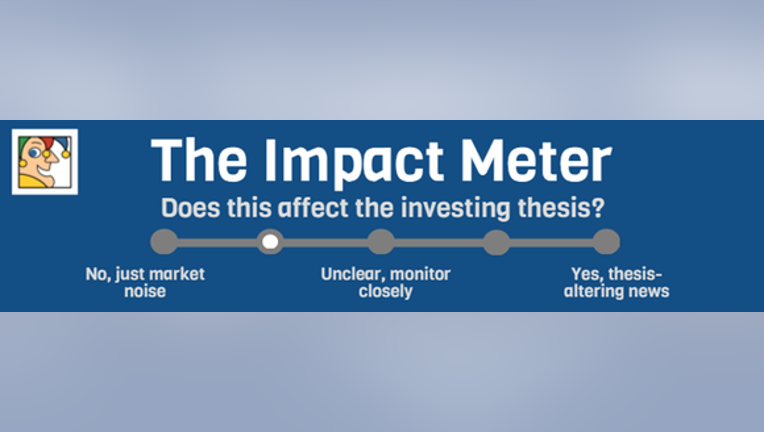 Earlier this month, Tesla (NASDAQ: TSLA) said its P100D Model S was about to get a performance boost through an over-the-air software update. Already the world's fastest-accelerating car currently in production, it's difficult to imagine the car's 2.5-second zero-to-60 time getting any better. But, according to a tweet from Tesla CEO Elon Musk on Wednesday, a faster zero-to-60 time is indeed on the way.
Model S. Image source: The Motley Fool.
"Looks like the Model S P100D Easter egg will allow it to do 0 to 60 mph in 2.4 sec and a 10.6 sec 1/4 mile via software update next month," Musk said.
The company's Model X SUV's zero-to-60 and quarter-mile times will also improve by 0.1 seconds, Musk said in another tweet.
As an "Easter egg," owners will have to search for a way to unlock the performance boost. Tesla has hidden Easter eggs in its software before, including a Mario Kart-like rainbow road that displays in the dash, a warp-speed-looking 5-second animation on the 17-inch touch screen, among others. This Easter egg, though, is the first to unlock a significant performance enhancement.
Does it matter?
There are several reasons Tesla software updates like these are notable. First, by delivering a significant performance update for its flagship versions of Model S and Model X, Tesla continues to demonstrate the value its software can bring to its fleet over time. Second, software updates likely also help boost press coverage and word-of-mouth marketing, both of which are particularly important to Tesla since it doesn't pay for advertising.
However, it could also be said that investors already expect Tesla to deliver this kind of value to customers, making moves like this more of a requirement at this point rather than a bonus.
Forget the 2016 Election: 10 stocks we like better than Tesla Motors Donald Trump was just elected president, and volatility is up. But here's why you should ignore the election:
Investing geniuses Tom and David Gardner have spent a long time beating the market no matter who's in the White House. In fact, the newsletter they have run for over a decade, Motley Fool Stock Advisor, has tripled the market.*
David and Tom just revealed what they believe are the ten best stocks for investors to buy right now...and Tesla Motors wasn't one of them! That's right -- they think these 10 stocks are even better buys.
Click here to learn about these picks!
*Stock Advisor returns as of November 7, 2016.
Daniel Sparks owns shares of Tesla Motors. The Motley Fool owns shares of and recommends Tesla Motors. Try any of our Foolish newsletter services free for 30 days. We Fools may not all hold the same opinions, but we all believe that considering a diverse range of insights makes us better investors. The Motley Fool has a disclosure policy.