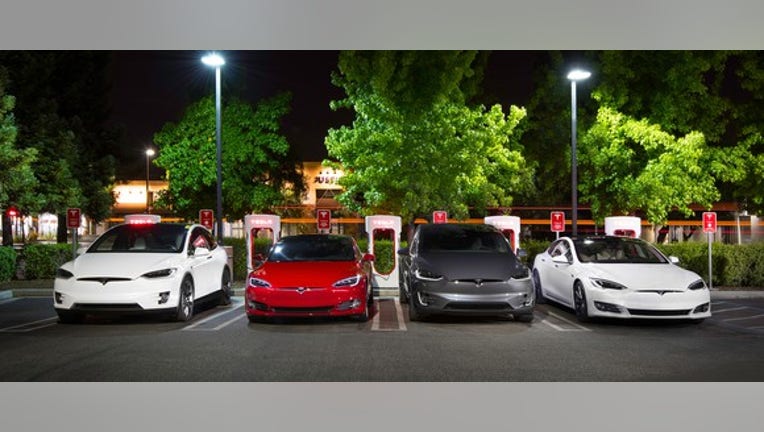 Tesla (NASDAQ: TSLA) sure had a busy first quarter. Over the weekend, the electric-car maker announced its production and delivery numbers for the past three months. Tesla delivered 25,000 vehicles during the quarter (up 69% year over year), consisting of 13,450 Model S sedans and about 11,550 Model X SUVs. Production in the first quarter came in at 25,418, and there were 4,650 vehicles in transit at the end of the quarter.
That total delivery count represents a new quarterly record for Tesla. The news has sent shares surging to fresh all-time highs, hitting $294.15 earlier this morning, a few dollars higher than the prior all-time high of approximately $291 set in September 2014.
Image source: Tesla.
Model X production is improving
Tesla has long said that the Model X could very well be the most difficult vehicle in the world to manufacture, in part because the company jammed so many features into it. That hurt the initial production ramp when Model X launched in late 2015, and Tesla owned its "hubris" in over-designing the electric SUV; CEO Elon Musk has even previously compared Model X to a Faberge egg. The proportion of deliveries that are Model X is now growing as Tesla makes progress with actually producing the vehicle.
Data source: SEC filings and author's calculations. Chart by author.
U.S. consumer preferences have been gravitating toward SUVs and luxury SUVs for years, so Tesla improving its Model X production capabilities should help it better meet that demand.
Guidance is within reach
The first-quarter total puts Tesla in a good position to hit its guidance target for the first half of 2017. The company said in February that it was expecting to deliver 47,000 to 50,000 vehicles (Model S and Model X combined) in the first half ahead of the planned start of Model 3 production in July.
If you include the vehicles in transit that will be delivered during the second quarter, Tesla is almost up to 30,000 deliveries year to date. For context, Tesla exited the fourth quarter with 6,450 vehicles in transit that were included in first-quarter deliveries.
Tesla is now the second-most valuable U.S. automaker
Tesla's market cap briefly overtook Ford's last week, but shares of major automakers are down today following poor March sales even as incentives were on the rise. Most manufacturers missed relative to market expectations. That puts Tesla's market cap around $47.6 billion as Ford's has fallen to $45.2 billion.GMis currently worth about $51 billion.
Of course, each company's respective valuation metrics are worlds apart, as the majority of Tesla's value remains predicated on its future potential. Ford sold 6.65 million vehicles (wholesale) in 2016, compared to the roughly 76,000 vehicles that Tesla delivered last year.
10 stocks we like better than TeslaWhen investing geniuses David and Tom Gardner have a stock tip, it can pay to listen. After all, the newsletter they have run for over a decade, Motley Fool Stock Advisor, has tripled the market.*
David and Tom just revealed what they believe are the 10 best stocks for investors to buy right now... and Tesla wasn't one of them! That's right -- they think these 10 stocks are even better buys.
Click here to learn about these picks!
*Stock Advisor returns as of April 3, 2017
Evan Niu, CFA owns shares of Tesla. The Motley Fool owns shares of and recommends F and Tesla. The Motley Fool has a disclosure policy.