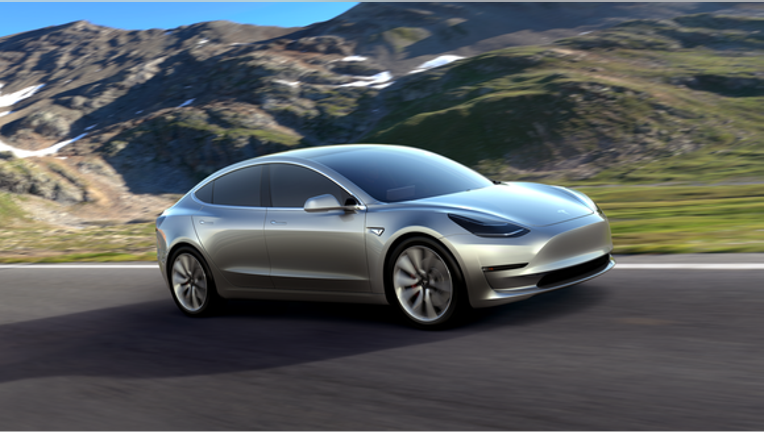 Last week, a comparison of Tesla's (NASDAQ: TSLA) current Model S and forthcoming Model 3 was leaked online. The comparison was distributed to Tesla's sales team ahead of the Model 3's debut to help educate prospective buyers on the differences. Now, Tesla has gone and officially released the same table, sharing a few new details about the smaller sedan.
The table is Tesla's latest attempt to clear up some confusion about the Model 3, after putting out a blog post last month on the topic. CEO Elon Musk has acknowledged the confusion may be hurting sales. On the earnings call this month, Musk said:
Image source: Tesla.
A couple new details
Some of these details were previously disclosed, but some are new.
Data source: Tesla.
Tesla had previously said that the Model 3 0-60 time would be "under 6 seconds," so there's more specific detail on its performance now. After the unveiling in early 2016, there were concerns that the trunk hatch looked cramped, and Musk said Tesla would address the concerns and tweak the trunk opening. As a smaller sedan (approximately 1 foot shorter than the Model S), the Model 3 will have less than half the cargo capacity.
Tesla expects most Model 3 buyers to spend $7,000 on options
Another big question has been what kind of options the Model 3 will have, particularly as the average transaction price (ATP) is expected to be around $42,000 after adding options.
Musk mentioned a $42,000 ATP last year, but head of sales and service Jon McNeill suggested this month that a 20% premium is appropriate when asked about option uptake: "And we'll be introducing at the start of production, I think we'll be announcing our vehicle -- as we get closer to the start of production what these vehicle stacks will be, but I think 20% is a fair number to use."
The full table implies that some of the current options on Model S won't make it to Model 3, like the smart air suspension and panoramic sunroof. Dual-motor versions are in the works, but won't go into production until 2018. That suggests that options like the subzero weather package and premium sound package will be available on Model 3, which are currently priced at $1,000 and $2,500, respectively, on Model S. Having dramatically fewer potential configurations is in line with the fact that Tesla needs to streamline production in order to hit its ambitious volume targets.
10 stocks we like better than TeslaWhen investing geniuses David and Tom Gardner have a stock tip, it can pay to listen. After all, the newsletter they have run for over a decade, Motley Fool Stock Advisor, has tripled the market.*
David and Tom just revealed what they believe are the 10 best stocks for investors to buy right now... and Tesla wasn't one of them! That's right -- they think these 10 stocks are even better buys.
Click here to learn about these picks!
*Stock Advisor returns as of May 1, 2017
Evan Niu, CFA owns shares of Tesla. The Motley Fool owns shares of and recommends Tesla. The Motley Fool has a disclosure policy.