Tesla Overtakes GM to Become Most Valuable US Auto Maker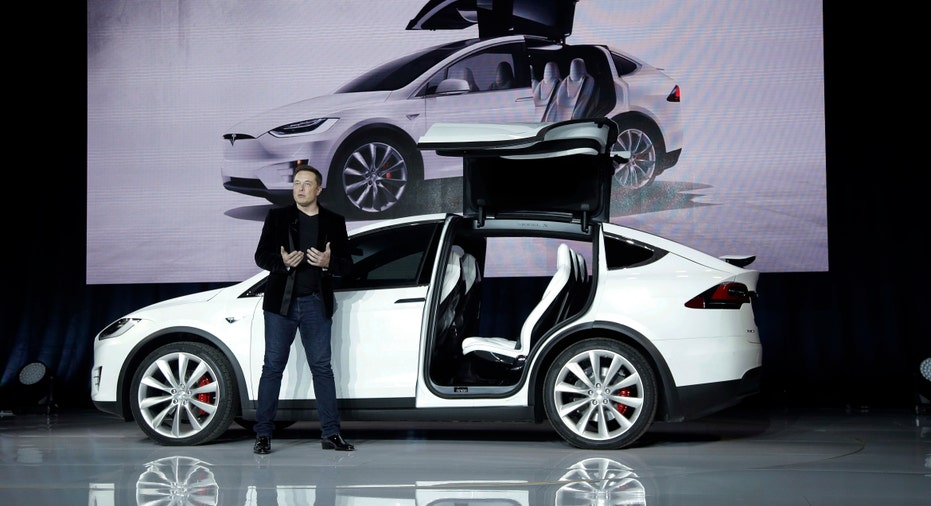 Tesla Inc. (NASDAQ:TSLA) on Monday became the largest U.S. auto maker by market value, overtaking General Motors Co. (NYSE:GM) -- a feat that would have seemed highly improbable 13 years ago when the electric-car maker first began tinkering with the idea of making a sports car.
Shares of Palo Alto, Calif.-based Tesla rose as high as $312.75 during Monday morning trading, pushing the company's market capitalization to $51.01 billion. That eclipsed Detroit-based GM's $50.89 billion, based on its highest point in early trading. Ford Motor Co., meanwhile, was valued at $44.95 billion.
The milestone underscores the seismic change occurring in the global automotive industry as Silicon Valley pursues a vision for transportation -- including self-driving cars and vehicles-on-demand -- that could upend century-old players. Last week's disappointing monthly sales results by traditional auto makers served as a further example to investors concerned that the profitable U.S. new-car market is plateauing.
"We've built a track record of strong financial performance," a GM spokeswoman said in an email. "We'll stay focused on delivering outstanding results and making decisions to deploy capital where it will generate the strongest returns, to enhance shareholder value."
Tesla declined to comment.
GM remains the largest auto maker in the U.S. by market share, making up 17.3% of the sales last year, according to Autodata Corp. Tesla had a 0.2% share, which beat Ferrari and Maserati.
"What's fun about following this company now is that anything can happen, " Chaim Siegel, an analyst for Investing.com, said in an email about Tesla that seems to mimic investor sentiment even as the auto maker remains unprofitable and deeply in debt. "The potential is huge. The hopes are huge."
Even some of Tesla's most optimistic followers are surprised at the recent run up in value. "We're pretty surprised by the recent run in Tesla's share price to over $300 so quickly," Adam Jonas, an analyst for Morgan Stanley, wrote in a note to investors as Tesla's market cap neared GM's. He has been targeting a $305 price for Tesla. "Such is the power of technical factors over fundamental drivers."
Tesla shares have been on roll this year, rising more than 40%, a run that last week had Chief Executive Elon Musk's car company surpass Ford Motor Co. as the second-largest car company. The exuberance comes even as Mr. Musk faces huge challenges in accomplishing all that he is claiming to do, including making 500,000 vehicles next year after building just 84,000 last year and creating software that would enable a vehicle to drive itself.
"It's indicative of the market wanting to pay for potential, including into markets that don't exist yet in any large size such as EVs, home energy generation and storage, rather than profits and cash flow today that the large auto makers generate," said David Whiston, an analyst for Morningstar Research.
Mr. Musk, who has struggled to bring out new products before, faces the daunting challenge of later this year rolling out the $35,000 Model 3 sedan, the linchpin in his plans to take the company into the mainstream from the rarefied air of selling luxury vehicles.
His acquisition of SolarCity Corp. late last year and removal of the word "Motors" from the company's official name is part of a broader vision of being able to offer solar panels to generate energy and batteries to store that power at home or the office -- all for the benefit of the vehicles being sold. He has also begun shipping vehicles equipped with the hardware he says is needed to make them fully self-driving once the software is completed, aiming to demonstrate the prowess by year's end.
It is a vision that got a strong endorsement late last month with the revelation that Chinese tech giant Tencent Holdings Ltd., best known for China's largest social network, WeChat, had acquired a 5% stake in Tesla.
"The sooner investors view Tesla as a transportation/infrastructure company rather than just a car company, the more we believe the industry events to come over the next 12 to 18 months will make sense," Mr. Jonas wrote.
Investors continued to push Tesla shares higher last week following the announcement of a record quarter of vehicle sales. Meanwhile, GM reported a modest U.S. sales gain for March, lifted by truck demand, and said Chief Executive Mary Barra earned $22.6 million in 2016, a decline of 21% from 2015 when she was awarded a sizable retention package. Ms. Barra, at the helm since 2014, has said her goal is to make GM the most valued auto maker in the world.
For GM, this day is particularly painful. The Detroit auto maker, which sold 10 million vehicles last year globally, has been rushing to develop its own self-driving technology, acquiring Cruise Automation last year in a deal that could be worth $1 billion, and investing in ride-hailing service Lyft.
Ms. Barra's predecessor, Dan Akerson, a former telecommunications executive, was concerned about the potential of Tesla, setting up a team to study how Tesla could threaten GM and challenging his senior executives to war-game-like scenarios.
GM has been especially aggressive in recent years in its attempt to thwart Tesla, pushing legislation in states in an attempt to block the company's strategy of selling directly to customers instead of using franchised dealers like the rest of the auto industry has done for generations.
In preparing the new Chevrolet Bolt all-electric small car, seen by some as GM's answer to the Model 3, Ms. Barra took a veiled shot at Tesla in January 2016 at CES, the high-profile annual consumer electronics show in Las Vegas, saying GM's dealer network gave it a competitive edge. Tesla's belief in having the ability to control its own stores is held as tightly as a religion among senior leaders, worth fighting protracted battles in states across the country.
GM's vision of a world with self-driving cars dates back to concepts it introduced at the World Fair in the 1930s, but innovation took a back seat among the most recent generation as leaders fought to keep the company from bankruptcy.
Ultimately, GM's crushing debt load and the 2007-09 recession led to what was then unthinkable generations earlier: GM's U.S. government-backed bankruptcy reorganization in 2009.
Financially, the company has roared back, reporting record profits and developing some of its best vehicles in a generation. But investors have largely yawed. GM shares closed Friday at $33.71, compared with its postbankruptcy initial public offering price of $33 in 2010.
"It's absolutely mind boggling that we're even discussing GM and Tesla reaching a parallel," said Dave Sullivan, an industry analyst with AutoPacific. "It's not as if they are sitting on some sort of blockbuster drug that isn't available in generic form. The wide rollout of electric vehicles by Jaguar, Daimler, BMW, and Audi is right around the corner."
By Tim Higgins