Tesla Motors Might Add More Battery Suppliers for Model 3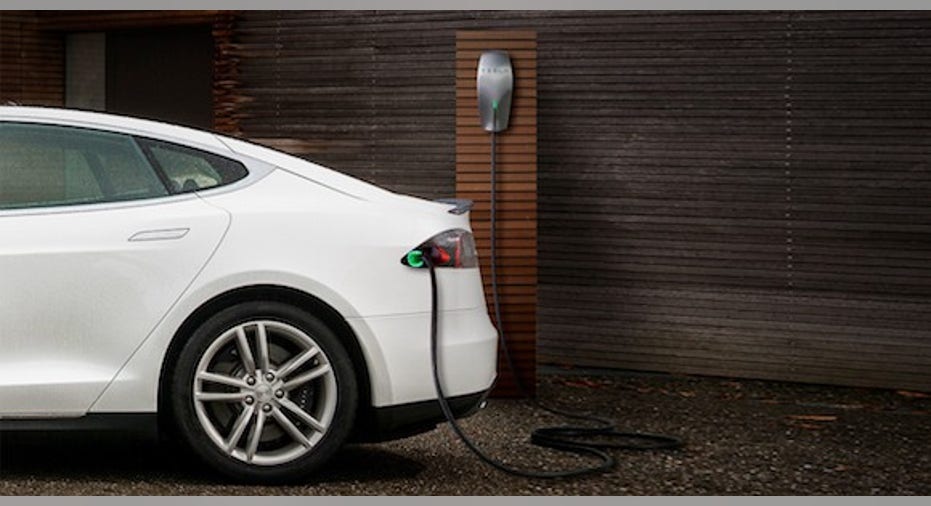 Image source: Tesla.
For the past few years, Tesla Motors has had an exclusive relationship with Panasonic as its primary battery supplier. That may be about to change for Model 3, even as Panasonic is also Tesla's primary partner with building the Gigafactory.
While Tesla did ink a deal last year with LG Chem to provide battery upgrades for the original Roadster, that was inherently limited since there were only about 2,500 Roadsters ever sold -- and the upgrade costs $29,000. Tesla notes that this is the expected cost of the upgrade and the company is not seeking to profit on these upgrades. The high cost is attributed in part to the fact that the Roadster battery packs are hand-made and only produced in low volumes.
Well, The Korea Times is reporting that Tesla is in talks with LG Chem, Samsung, and SK Innovation to potentially add more battery suppliers.
Three's company
LG Chem appears to be the frontrunner in the negotiations, since the LG Electronics subsidiary was able to commit to sufficient output levels while offering competitive pricing and delivery timelines. Executives from Tesla have toured research centers and met with executives at all three South Korean companies.
The EV maker is also reportedly adding other South Korean components to its vehicles such as tires and OLED displays, and it's already been reported that LG Display (another LG Electronics subsidiary) is the sole supplier of the Model 3's center infotainment display.
Both LG Chem and Samsung currently manufacture round cylindrical battery cells like the ones that Tesla currently uses from Panasonic. LG Chem and Samsung are advocating for different battery cell form factors such as pouch-type or rectangular-type, but the thermal system that Tesla uses is built around cylindrical cells.
LG Chem wants to become a go-to EV supplier
It's worth noting that LG Chem is General Motors' primary development partner for the forthcoming Chevy Bolt. LG Chem will supply the battery cells, the battery pack, the GM-designed electric motor and power inverter, the onboard charger, and many other components related to the powertrain. Those are all big steps for LG Chem into new areas where it previously had limited experience, made possible by the collaboration with General Motors.
It won't be a surprise if LG Chem indeed scores the contract, as the company has high hopes of expanding its supplier position in the EV market.
Another theory
Even as Tesla and Panasonic have been exclusive for years, it was never meant to stay like that forever. The two companies do have a supply agreement where Tesla can purchase the full output of the Gigafactory initially, but once the Gigafactory is built it would make sense that Panasonic would want to sell some of the output to other customers as well after the supply agreements expire and the facility is pumping out 50 GWh of output.
There's another possible explanation for why Tesla is considering dual-sourcing. With the company's borderline-insane plan to ramp production to 500,000 units in 2018, that would also seemingly imply a similarly accelerated construction ramp for the Gigafactory. But Tesla is already going to need to raise external capital just to fund the tooling and manufacturing infrastructure, which is already seemingly a tough sell considering the market's reaction to the plans.
If the Gigafactory won't be ready yet to accommodate the target unit volumes and accelerating its construction would be too costly, it makes a lot of sense to seek additional battery suppliers that can compensate for the shortfall and help Tesla meet Model 3 demand. Adding LG Chem to the mix could potentially serve as a short-term bridge until the Gigafactory is complete.
The article Tesla Motors Might Add More Battery Suppliers for Model 3 originally appeared on Fool.com.
Evan Niu, CFA owns shares of Tesla Motors, andhas the following options: long January 2018 $180 calls on Tesla Motors. The Motley Fool owns shares of and recommends Tesla Motors. The Motley Fool recommends General Motors. Try any of our Foolish newsletter services free for 30 days. We Fools may not all hold the same opinions, but we all believe that considering a diverse range of insights makes us better investors. The Motley Fool has a disclosure policy.
Copyright 1995 - 2016 The Motley Fool, LLC. All rights reserved. The Motley Fool has a disclosure policy.