Tesla Motors Is Going to Need More Factories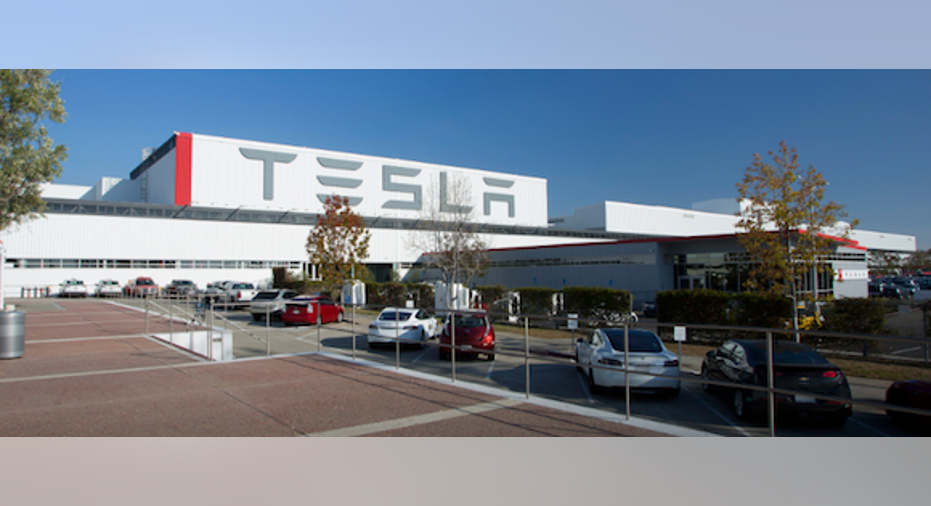 Tesla paid pennies on the dollar for its Fremont factory. Image source: Tesla.
It seems that the market doesn't have a lot of faith right now in Tesla's incredibly aggressive plan to ramp production to 500,000 vehicles per year by 2018 -- accelerated from the initial target of 2020. The company then expects that production can approach 1 million vehicles per year by 2020.
The electric-auto maker will eventually need more factories.
It's a fire! ... sale.In no uncertain terms, Tesla got incredibly lucky in the wake of the financial crisis. Not only to barely survive a time period when the auto market was imploding, but also because it was able to score an incredible deal on its Fremont factory that General Motorsand Toyota were unloading at a bargain price.
GM was in the process of unloading assets as part of its Chapter 11 bankruptcy restructuring. Tesla paid a mere $42 million for the 5.3 million square foot facility in 2010, while also purchasing discounted parts and other gear from GM and Toyota. The Fremont factory had previously produced upwards of 500,000 cars per year.
Tesla CEO Elon Musk thinks it would even be possible to push the limit of the Fremont factory and produce 1 million cars per year there, while acknowledging that it's probably a bad idea. From the recent earnings call:
As Tesla continues to expand globally, it makes increasingly more sense to set up factories or final assembly facilities in other countries. The company opened a final assembly facility in the Netherlands in 2013. Just a couple weeks ago in an interview in China on CCTV, sales and service chief John McNeill suggested that it could make sense to set up a factory in China.
China in particular makes a lot of sense because it is the largest auto market in the world, the middle class is growing like gangbusters, the government has been pushing for EV adoption in order to combat pollution, and import taxes are extremely high if the vehicle is assembled outside of the country.
However, the big difference with the next factory will be that Tesla won't be able to acquire one for pennies on the dollar like it did with NUMMI. So yes, a capital raise seems in order.
The article Tesla Motors Is Going to Need More Factories originally appeared on Fool.com.
Evan Niu, CFA owns shares of Tesla Motors. Evan Niu, CFA has the following options: long January 2018 $180 calls on Tesla Motors. The Motley Fool owns shares of and recommends Tesla Motors. The Motley Fool recommends General Motors. Try any of our Foolish newsletter services free for 30 days. We Fools may not all hold the same opinions, but we all believe that considering a diverse range of insights makes us better investors. The Motley Fool has a disclosure policy.
Copyright 1995 - 2016 The Motley Fool, LLC. All rights reserved. The Motley Fool has a disclosure policy.