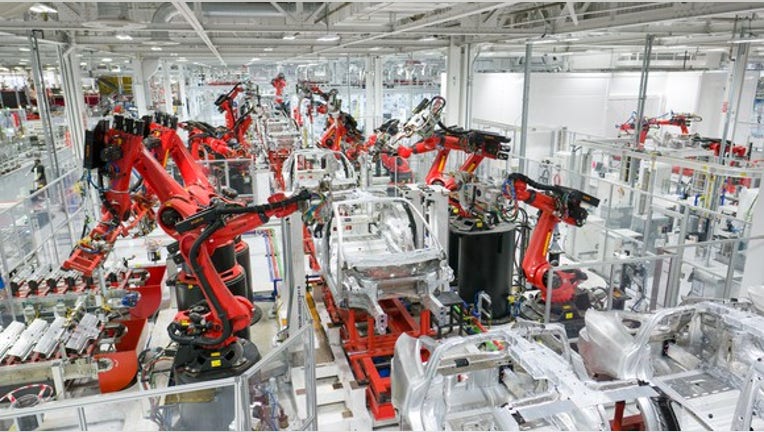 Electric-car maker Tesla Motors (NASDAQ: TSLA) reportedly made some important progress on expanding its executive team recently when it hired Volvo's Head of Interior Engineering. But Tesla also lost a tenured executive from the company's energy storage business. The two executive changes, detailed by Electrek on Monday, highlight pressures at the company as Tesla ramps up for its critical Model 3 launch next year.
Image source: The Motley Fool.
Another hire aimed at boosting quality
It's no secret Tesla has experienced some quality issues. While the reliability score for the Model S was recently ranked as average by Consumer Reports, the same product rating agency said the newer Model X has been plagued with problems. Going further, Tesla cited Model X quality issues as one of the reasons for the company's slower-than-expected production ramp-up earlier this year.
Tesla has taken a number of actions to address production quality, including making important hires to help with production and quality control. Some of the notable hires that Tesla made during 2016 which aimed at increasing Tesla's expertise in manufacturing and production quality include Volkswagen's Peter Hochholdinger, who was responsible for production of Audi's A4, A5, and Q5 vehicles, and Apple's Director of Reliability Engineering.
And now Tesla seems to be making another hire that might help bolster product quality. Volvo's Head of Interior Engineering, Anders Bell, will join the electric-car maker "in an equivalent role this month," said Electrek's Fred Lambert.
On Bell's LinkedIn profile, he lists key accomplishments in his most recent role at Volvo of launching the interiors for the Volvo XC90, X90, and V90.
While it's possible Bell will help improve the interiors of the Model S and the Model X, it's likely Tesla's upcoming Model 3, which management plans to launch before the end of 2017, will be Bell's biggest priority when he comes on board.
It's time for a break
On another note, Tesla is simultaneously losing key talent. The VP of its energy storage business, Mateo Jaramillo, is leaving the company after working there for seven years. Jaramillo's reason for leaving? The executive is ready for a break from the high-pressure Tesla culture, Electrek gathers.
Tesla Model X production in the company's car factory. Image source: The Motley Fool.
Both Bell's onboarding and Jaramillo's decision to exit put the spotlight on changes at Tesla as the company begins preparing to dramatically increase production. With its sights set on increasing vehicle production from an annualized run-rate of 100,000 units today to 500,000 units in 2018 on the back of Model 3's higher-volume deliveries, Tesla is in the middle of a major expansion. In Nevada, Tesla is rapidly building its Gigafactory while simultaneously increasing battery production in the portions of the building that are already up. And in California, Tesla recently unveiled plans to nearly double the size of its car factory. Meanwhile, production and deliveries of the company's Models S and X are soaring. In Tesla's most recent quarter, deliveries were up 114% year over year and 72% sequentially.
Investors may want to keep an eye on Tesla's executive comings and goings. While there have been a few prominent executive departures at the company during the past year, it has undoubtedly benefited from a strong inflow of integral talent. Of course, this should be expected in light of Tesla's ambitious growth plans, but it's still comforting to see that Tesla is able to attract experienced and accomplished names like Bell.
10 stocks we like better than Tesla Motors When investing geniuses David and Tom Gardner have a stock tip, it can pay to listen. After all, the newsletter they have run for over a decade, Motley Fool Stock Advisor, has tripled the market.*
David and Tom just revealed what they believe are the 10 best stocks for investors to buy right now... and Tesla Motors wasn't one of them! That's right -- they think these 10 stocks are even better buys.
Click here to learn about these picks!
*Stock Advisor returns as of Nov. 7, 2016
Daniel Sparks owns shares of Apple and Tesla Motors. The Motley Fool owns shares of and recommends Apple and Tesla Motors. The Motley Fool has the following options: long January 2018 $90 calls on Apple and short January 2018 $95 calls on Apple. Try any of our Foolish newsletter services free for 30 days. We Fools may not all hold the same opinions, but we all believe that considering a diverse range of insights makes us better investors. The Motley Fool has a disclosure policy.