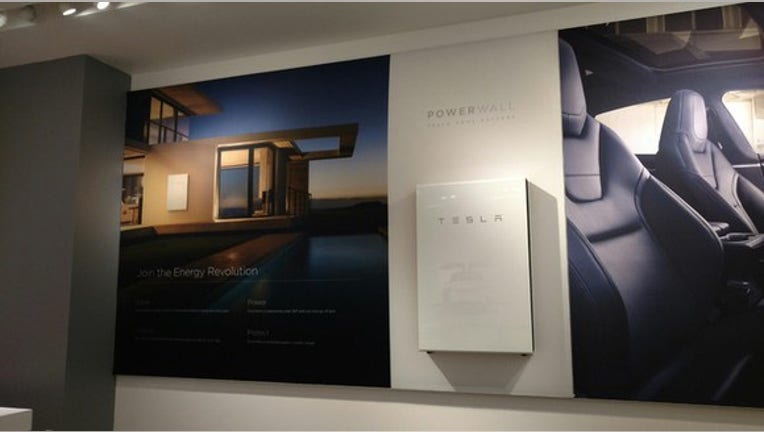 Electric-car maker Tesla Motors'(NASDAQ: TSLA) stores already break the mold. Located in areas with heavy foot traffic like shopping malls, commission-free employees facilitate an educational environment where visitors can learn about the company's products -- a starkly contrasting experience from pushy auto dealerships. Indeed, when it comes to being salesy, Tesla was ranked dead last by an annual mystery-shopping study by Pied Piper Prospect Satisfaction Index.
Tesla store. Image source: The Motley Fool.
But Tesla stores are departing even further from auto dealership practices. During November, the company began selling energy products alongside its vehicles.
Powerwall hits Tesla stores
In dozens of locations across North America, Europe, and Australia, Tesla has revamped its stores to promote and sell its recently updated energy storage product for residential customers, Powerwall 2.
According to Tesla, customers at select locations can now see and learn about Powerwall 2.
Powerwall 2 in a Tesla store. Image source: Tesla Motors.
The initial stores selected to feature Powerwall 2 were chosen because they were the company's strongest markets for energy products, according to the company. But Tesla will be revamping more locations with its Powerwall in the near future.
Tesla's new Powerwall, which launched in October, includes 14 kilowatt-hours of energy capacity -- twice the capacity of its predecessor. It also costs slightly less per kilowatt hour and, unlike Powerwall 1, includes a built-in inverter. It requires no maintenance and lets customers monitor and control their energy with a Tesla app, the company says.
Capitalizing on a nascent segment
Tesla's rollout of energy products at its stores comes just after the company closed its acquisition of solar panel company SolarCity and essentially previews the combined company's plans for a larger integration of energy products in Tesla stores. Tesla has said it expects the global reach of its 190-plus high-foot traffic stores to increase leads for its solar products after the company begins selling them in its stores. Given that Tesla's energy storage products go hand in hand with solar power generation, the Powerwall's launch in Tesla stores is just a start for a broader rollout of energy products.
Tesla solar roof paired with a Tesla Powerwall and a Model 3. Image source: Tesla Motors.
Importantly, just because the Tesla Powerwall is only now making it to company stores, investors shouldn't mistake the company's energy business as a new venture. The Powerwall's presence at Tesla stores also comes as the company is ramping up its energy storage business. Tesla first launched its energy storage products in the first half of 2015, and its offerings, which include storage options for residential, commercial, and utility customers, have arguably since surpassed competition in both breadth and scope. The Powerwall's newfound spotlight in Tesla stores pegs the company's ambition to be a leader in a nascent and fast-growing market for energy storage and solar solutions.
A total of 300 megawatt-hours of Tesla energy storage capacity has now been deployed worldwide, Tesla said in October. It also anticipates that energy storage sales could eventually soar to represent one-third of the company's expected 35 gigawatt-hour annual battery production capacity at its under-construction Gigafactory.
10 stocks we like better than Tesla Motors When investing geniuses David and Tom Gardner have a stock tip, it can pay to listen. After all, the newsletter they have run for over a decade, Motley Fool Stock Advisor, has tripled the market.*
David and Tom just revealed what they believe are the 10 best stocks for investors to buy right now... and Tesla Motors wasn't one of them! That's right -- they think these 10 stocks are even better buys.
Click here to learn about these picks!
*Stock Advisor returns as of November 7, 2016
Daniel Sparks owns shares of Tesla Motors. The Motley Fool owns shares of and recommends Tesla Motors. Try any of our Foolish newsletter services free for 30 days. We Fools may not all hold the same opinions, but we all believe that considering a diverse range of insights makes us better investors. The Motley Fool has a disclosure policy.