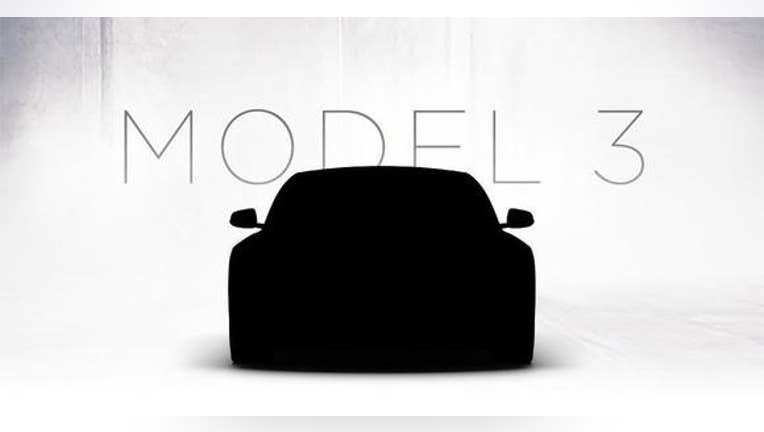 Ahead of electric-car maker Tesla Motors' event next week to unveil its lowest cost model yet, little is known about the super secret car. Big questions about its design and features remain unanswered. But investors are interested in more than the vehicle itself. What may ultimately determine investor response to the vehicle's launch is how well the new car, which Tesla has named Model 3, is received by customers. This is why investors may be watching to see whether or not the company soon provides any context on initial reservations or not.
Tesla Model 3 logo. Image source: Tesla Motors.
Expectations are highTesla's Model 3, which the California-based company will unveil on Thursday in Hawthorne, California at its design studio, is crucial to its business. This is why investors have been watching anything related to Model 3 very closely as Tesla gets closer to launching the vehicle. With a starting price of $35,000 -- or about half the starting price of its Model S -- the vehicle represents the electric-car maker's first move toward more affordable pricing. And its lower cost has investors expecting significant sales growth from the company in the years following the Model 3's first deliveries, which are planned for the end of 2017.
Tesla CEO Elon Musk has played a key role in keeping investor expectations for the vehicle high. He believes Model 3 can help the company grow annual vehicle deliveries from management's guidance for 80,000 to 90,000 units in 2016 to 500,000 annually by 2020.
Initial reservation figures for Model 3 could be the first window investors get into whether or not Musk's bold ambitions for Tesla's vehicle sales growth between now and 2020 are realistic or not.
Since the company is also going to begin accepting deposit-backed reservations for the vehicle next week when it shows a prototype version for the first time, investors may get a glimpse into demand for Model 3 very soon.
More from The Motley Fool
How many reservations could Model 3 generate?Its difficult to speculate how many Model 3 reservations Tesla could generate in the coming weeks, but a look at recent Model X reservation growth, as well as the company's recent vehicle sales, provides some context for what it might take to impress investors.
Model 3 event invitation art. Image source: Tesla Motors.
Tesla's most recently launched vehicle -- its Model X SUV -- had 20,000 deposit-backed reservations by the end of 2014. And net reservations grew by an additional 15,000 by the end of 2015. Of course, this SUV, with a starting price of about $80,000, is much pricier than Model 3. With the Model 3's lower price and Tesla's continually growing base of customers, investors may be expecting Model 3 reservations to quickly and easily surpass the 35,000 total reservations for Model X on Tesla's books at the beginning of the year.
For further context, consider the company's recent sales. During 2015, Tesla sold just over 50,000 vehicles and grew sales by 60%. Given that 2015 sales were almost all Model S units, as the company had only just started Model X production, investors may likely be hoping Model 3 reservations quickly surpass Tesla's annual Model S sales.
It's not clear when or if Tesla will first share any figures on Model 3 reservations. But if the company does share some insight into reservations soon, you can bet investors are hoping reservation figures indicate Model 3 will be much more popular than its pricier siblings.
The company will begin accepting Model 3 reservations in stores on March 31 when stores open. Reservations begin online later during the evening, just as the event starts at 8:30 p.m. PDT.
The article Tesla Motors, Inc.'s Model 3 Unveil Is Just a Week Away: Will Reservations Soar? originally appeared on Fool.com.
Daniel Sparks owns shares of Tesla Motors. The Motley Fool owns shares of and recommends Tesla Motors. Try any of our Foolish newsletter services free for 30 days. We Fools may not all hold the same opinions, but we all believe that considering a diverse range of insights makes us better investors. The Motley Fool has a disclosure policy.
Copyright 1995 - 2016 The Motley Fool, LLC. All rights reserved. The Motley Fool has a disclosure policy.