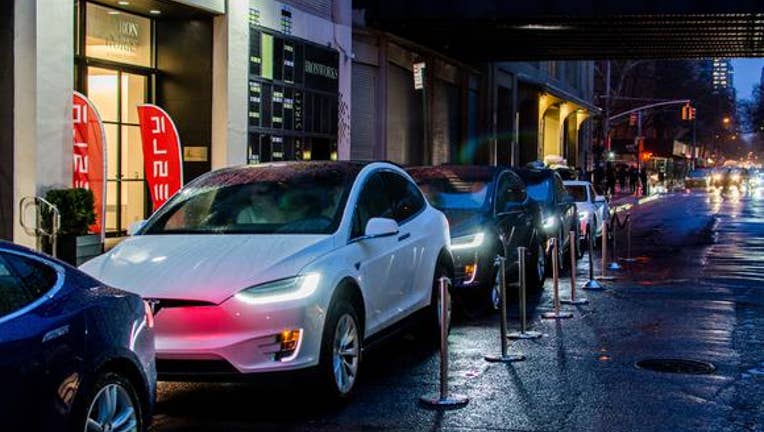 Image source: Tesla Motors.
During electric-car maker Tesla Motors' fourth-quarter earnings call earlier this month, the company said it was virtually doing whatever it could to suppress demand for its September-launched Model X SUV. But this narrative seems to be shifting as the company starts to ramp up production and deliveries to customers. And it begins with test drives.
Ready for demandWith orders for the new vehicle up 75% in one year without the company showing the vehicle in stores, making it available for magazine reviews or test drives, or prominently marketing it on the web, there was simply no reason for the automaker to try to generate additional demand for the vehicle until production began to ramp to meaningful levels. Its 35,000 deposit-backed orders for SUV were already significant, considering Tesla only delivered about 50,600 vehicles total during 2015.
But it seems the company may finally be ready to begin pulling the lever on demand.
Model X at Tesla's "Meet Model X" tour in Manhattan, New York. Image source: Tesla Motors.
Tesla's "Meet Model X" tour, which began earlier this month, signals its first demand push for the SUV. Notably, the tour's reach still represents some conservatism in demand generation since it's only available to current reservation holders. But the act of getting the vehicles out there and sharing them with customers is definitely a step toward demand generation efforts.
The tour began in Manhattan, New York on Feb. 23, where the vehicles will remain for four days, and ends in with a March 26 to March 30 event in Miami, Florida. The tour includes nearly 30 stops.
A unique approach This isn't the first time Tesla has taken this approach to solicit demand. The Meet Model X tour replicates Tesla's Double Black All-Wheel Drive Tour it launched in 2015 to market its late 2014-launched dual motor technology for Model S. The electric-car maker's decision to launch a similar tour for Model X suggests these test drive events are proving to be a success for the company. Notably, Tesla's Model S unit sales soared from about 31,700 in 2014 to over 50,000 in 2015. While Tesla did enter 2015 constrained by production, orders continued to grow rapidly throughout the year.
Model X at Tesla's "Meet Model X" tour. Image source: Tesla Motors.
Another unconventional approach Tesla has used to drive order growth is with a touring mobile store, which the company toured around Europe and North America in 2015.
Tesla's entire retail strategy is unconventional, with the company opting to sell its vehicles directly to customers instead of through dealerships. Further, the company puts its stores in high foot-traffic areas like indoor malls and shopping centers.
Model X production Tesla exited 2015 with very weak production of its Model X SUV. The company had only delivered a few hundred units and had produced about 500.
But management expects the production ramp ahead to be rapid. Tesla said in its fourth-quarter earnings report, which was released nearly halfway into the first quarter, that Tesla believed Model X production would reach a peak production rate of 1,000 vehicles per week during Q2.
For the full year, Tesla expects to deliver 80,000 to 90,000 Model S and Model X units combined.
The article Tesla Motors Inc.'s "Meet Model X" Tour Begins originally appeared on Fool.com.
Daniel Sparks owns shares of Tesla Motors. The Motley Fool owns shares of and recommends Tesla Motors. Try any of our Foolish newsletter services free for 30 days. We Fools may not all hold the same opinions, but we all believe that considering a diverse range of insights makes us better investors. The Motley Fool has a disclosure policy.
Copyright 1995 - 2016 The Motley Fool, LLC. All rights reserved. The Motley Fool has a disclosure policy.