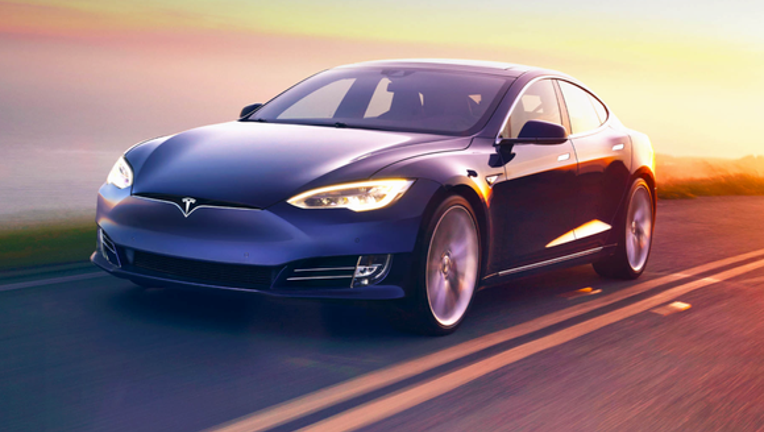 Last Thursday's surprise announcement from electric-car maker Tesla Motors of a less costly entry-level version of its Model S sedan deserves a closer look. Not only did it represent an aggressive pricing move, but it highlights the company's ability to drive battery capacity costs to customers lower -- an important feat ahead of Tesla's lower-cost Model 3.
Model S. Image source: Tesla Motors.
The evolution of Tesla's base Model S
Tesla's new entry-level Model S starts at $66,000 and comes with a 75 kWh battery. But there's a catch: The 75 kWh battery can only be accessed after customers pay a $9,000 fee for a "range upgrade." Until customers pay for the range upgrade, they'll only have access to 60 kilowatt-hours of this battery -- or 210 miles of EPA-rated range. The vehicle also comes standard with lifetime access to the company's Supercharger network.
This is a big change from the base version Tesla was selling in April of last year. At the time, the base version included only a 60 kWh battery and started at $71,000. Further, buyers had to pay $2,000 to get access to the Supercharger network.
The biggest standout difference between the two models is undoubtedly the greater value in battery capacity. Sure, buyers of the new base Model S don't actually get access to the 75 kWh battery unless they pay $8,500 at the time of delivery, or $9,000 after delivery. But it's worth emphasizing that Tesla is still shipping a 75 kWh battery whether the range upgrade is purchased or not. And even after a $8,500 range upgrade is purchased, the total cost comes to $74,500 -- a small jump from the $71,000 Tesla was charging last April for a Model S with a smaller 60 kWh battery back.
Here's a simpler way to highlight the greater value in Tesla's base model today: The newest base Model S gives buyers the same battery capacity as its base model in April of last year, but for $5,000 less. Then there's the added bonus that buyers now have an option to pay for a 19% range upgrade.
It's also worth noting that Tesla also recently refreshed Model S with a new design, which included an enhanced look to the front of the car and a total of nearly 300 part changes.
Here a close look at how Tesla's base version of its Model S has evolved on some key metrics since last April.
Data source: Tesla press releases and Model S configurator on Tesla's website. Asterisk indicates price is approximate. Prices of Tesla's base models have moved slightly up or down from time to time.
Improving where it counts
It's good to see Tesla offering more bang for buyers' bucks when it comes to battery capacity. Batteries are the costliest component of the Model S, and Tesla has said it has been the No. 1 factor holding it back from bringing a more affordable fully electric vehicle to market sooner. With Tesla able to offer a better vehicle with more battery capacity for a lower price than it was last April, the company appears to be making meaningful progress in this key area.
Tesla's ability to offer more battery capacity for a lower price comes ahead of the company's first deliveries of its Model 3 -- a vehicle with a significantly lower starting price than the Model S. Scheduled to begin deliveries in 2017, it's critical the company keeps driving battery costs lower -- and Tesla's new Model S 60 suggests the company is making significant progress in this direction.
The article Tesla Motors, Inc.'s Entry-Level Model S Has Improved Significantly originally appeared on Fool.com.
Daniel Sparks owns shares of Tesla Motors. The Motley Fool owns shares of and recommends Tesla Motors. Try any of our Foolish newsletter services free for 30 days. We Fools may not all hold the same opinions, but we all believe that considering a diverse range of insights makes us better investors. The Motley Fool has a disclosure policy.
Copyright 1995 - 2016 The Motley Fool, LLC. All rights reserved. The Motley Fool has a disclosure policy.