Tesla Motors, Inc.'s Bigger Goals May Increase Investment Risk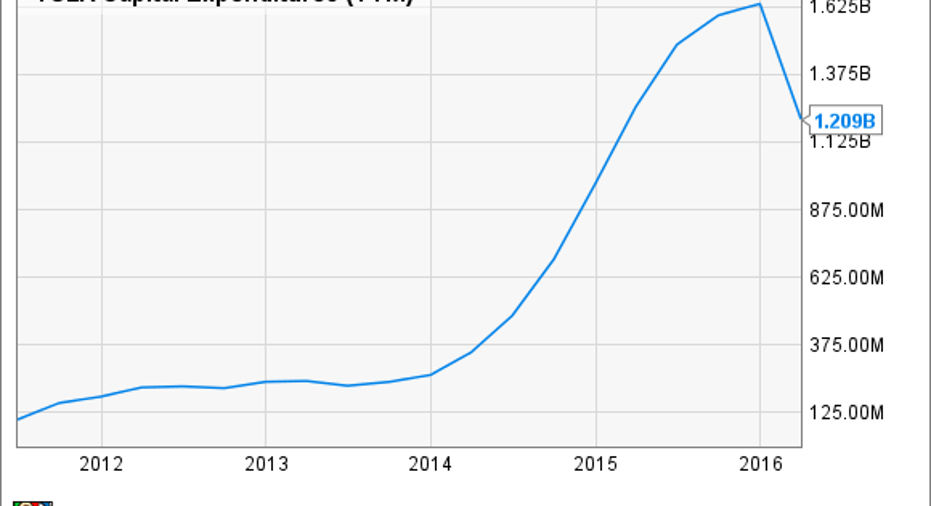 Last week electric-car maker Tesla Motors took investors by surprise when it announced a new timeline for getting to production levels of 500,000 vehicles per year to 2018. Previously, the company was gunning for 2020 -- and this was already widely considered impossible. But beyond the debate of whether this is possible or not, there's another matter for investors to contemplate in the meantime: bigger spending today in anticipation of faster sales tomorrow likely heightens the risk of owning the stock.
Tesla factory in Fremont, California. Image source: Tesla Motors.
Sure, if Tesla can truly execute on its plans to ramp-up production to 500,000 vehicles per year by 2018, bigger spending in the time leading up to these future sales will likely be worth the payoff. But this is also where the biggest risk to owning Tesla stock lies: If Tesla's growth is slower-than-expected, or -- even worse -- the company runs into some large and unexpected detours, this big spending could put it in a very tough situation.
Consider the incremental costs required to begin working toward this accelerated timeline for its vehicle growth:
1. More investments must be made. Going into 2016, one of Tesla's feats worth highlighting was its plan to grow sales this year by more than 60% while simultaneously decreasing annual capital expenditures. And in Tesla's first quarter, it easily followed through with this plan; capital expenditures decreased 47% sequentially to $217 million -- well below the quarterly run rate required to stay beneath its previous 2016 capital expenditure forecast of $1.5 billion.
TSLA Capital Expenditures (TTM) data by YCharts
But in Tesla's first-quarter shareholder letter, management scratched this capital expenditure alongside this reinvigorated production target.
This would put 2016 capital expenditures at about $2.25 billion -- far ahead of its 2015 capital expenditures of $1.6 billion.
2. Goodbye "net cash flow positive" target. Higher spending today puts Tesla in a riskier situation. For instance, management gave up its expectation to be "net cash flow positive" after it announced its no plan for growth.
"Naturally, [our accelerated 500,000 unit build plan] will impact our ability to be net cash flow positive for the year," management said in the first-quarter letter.
And keep in mind, Tesla's reference to being "net cash flow positive," isn't cash flow from operations -- and it's not even close to free cash flow positive. It's a non-GAAP measure Tesla arrives at by adding in changes in collateralized borrowing, which reflects cash paid for vehicle sales to leasing partners.
3. Hello new capital. Both in Tesla's shareholder letter and its earnings call, management emphasized that the company will probably need to raise more capital to fund this accelerated roadmap. But before this updated plan, this wasn't the case. Previously, the automaker had planned to fund its 2016 capital expenditures without accessing any outside capital beyond its asset backed line.
More capital, of course, means either greater dilution of shareholder ownership, or higher levels of debt -- both of which heighten risk in the near-term.
Model 3. Image source: Tesla Motors.
Investors should consider each of these risks carefully. All three make the business riskier if Tesla isn't able to deliver on its plans.
Of course, Tesla believes these risks will all be worth it in the end.
"[B]ut given the demand for Model 3, investing to meet that demand is the best long-term decision for Tesla," management said as it wrapped up its first-quarter update.
The reality, however, is that there's no certainty the automaker will follow through.
With its new 500,000-unit build plan, Tesla just raised both the potential risk and reward to owning the stock.
The article Tesla Motors, Inc.'s Bigger Goals May Increase Investment Risk originally appeared on Fool.com.
Daniel Sparks owns shares of Tesla Motors. The Motley Fool owns shares of and recommends Tesla Motors. Try any of our Foolish newsletter services free for 30 days. We Fools may not all hold the same opinions, but we all believe that considering a diverse range of insights makes us better investors. The Motley Fool has a disclosure policy.
Copyright 1995 - 2016 The Motley Fool, LLC. All rights reserved. The Motley Fool has a disclosure policy.