Tesla Motors, Inc. Q4 Deliveries Jump 50% From Q3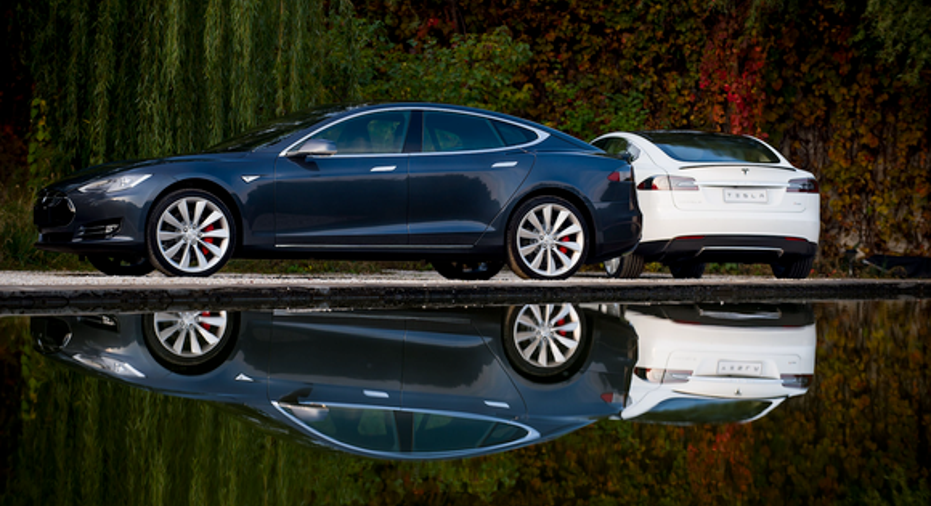 On Sunday, electric-car maker Tesla Motors reported fourth-quarter deliveries at the low end of its guidance range. It was the company's biggest quarter by far, also marking its fastest year-over-year and sequential growth in deliveries in the past nine quarters. Here's a closer look.
Model S. Image source: Tesla Motors
The numbersDuring Q4, Tesla delivered 17,400 vehicles. This put its full-year deliveries at just over 50,500, up from about 31,650 in 2014.
Going into 2015, Tesla was initially guiding for 55,000 deliveries during the year. Based on commentary during the company's earnings calls, it seemed that the electric-car maker believed about 5,000 of these deliveries were likely to be its new SUV, which was planned for a late summer launch when the year started. But as the year went on and the scheduled time frame of the first deliveries of Model X slipped by a few months, Tesla adjusted its guidance to a range of 50,000 to 55,000. This range was then narrowed further when the company reported third-quarter results, to a range of 50,000 to 52,000, reflecting Tesla's challenges with sourcing parts for the SUV.
Model X production is ramping upThe biggest question mark before Tesla reported its fourth quarter deliveries was how many of its September-launched SUVs it would be able to sell. Fortunately, Tesla broke down its Model X and Model S deliveries when it shared its fourth-quarter delivery numbers, giving investors insight into the early ramp-up for the X.
Tesla production line 2, where Model X is made. Image source: Tesla Motors
Tesla delivered 208 of the SUVs. While this is a small number, it's more encouraging when put in context with the fact that Tesla said it also produced 507 Model X vehicles during the quarter "with the remainder to be delivered in early Q1" and that the "ramp has been increasing exponentially."
During Tesla's third-quarter conference call, Musk emphasized that the only Model X production goal the company was confident it could achieve during Q4 was getting to a production rate of several hundred Model X per week sometime in December. And this is exactly what Tesla did -- but barely. The company finished the last week of the year with production tracking at 238 Model X's per week.
With production ramping exponentially, the company should be able to deliver far more Model X's during the first quarter of 2016 than it did in Q4.
Growth is accelerating Tesla's big fourth quarter continues the electric-car maker's impressive trend of accelerating growth. Its vehicle sales in 2015 were up 60% from the prior year -- a notable jump from the 41% growth achieved between 2014 and 2015.
Tesla's general trend of accelerating growth is also evident by observing its year-over-year growth in deliveries each quarter.
Data for chart retrieved form SEC filings for quarters shown. Chart source: author
In 2016, there's a good chance Tesla's year-over-year growth could exceed 60%. With demand for the Model S still on the rise and over 25,000 deposit-backed orders for the Model X on the company's books, 2016 should be another year of considerable growth. Tesla wrote in its third-quarter letter to shareholders that management believed it could "average production and deliveries of 1,600 to 1,800 vehicles per week for Model S and Model X combined during 2016," this implies 83,200 to 93,600 deliveries during the year, or 65% to 85% year-over-year growth.
With Tesla shares down about 7% on Monday at the time of this writing, the market doesn't seem particularly happy with the company's deliveries at the low-end of its quarterly guidance range. But it's also not clear whether a recent Model S fire in Norway at a temporary Supercharger location, which occurred while the car was charging, could be driving some of this sell-off. Tesla is currently investigating the fire and told The Wall Street Journal it will share its findings "as soon as possible."
The article Tesla Motors, Inc. Q4 Deliveries Jump 50% From Q3 originally appeared on Fool.com.
Daniel Sparks owns shares of Tesla Motors. The Motley Fool owns shares of and recommends Tesla Motors. Try any of our Foolish newsletter services free for 30 days. We Fools may not all hold the same opinions, but we all believe that considering a diverse range of insights makes us better investors. The Motley Fool has a disclosure policy.
Copyright 1995 - 2016 The Motley Fool, LLC. All rights reserved. The Motley Fool has a disclosure policy.