Tesla Motors, Inc. Model 3: The Narrative We Won't See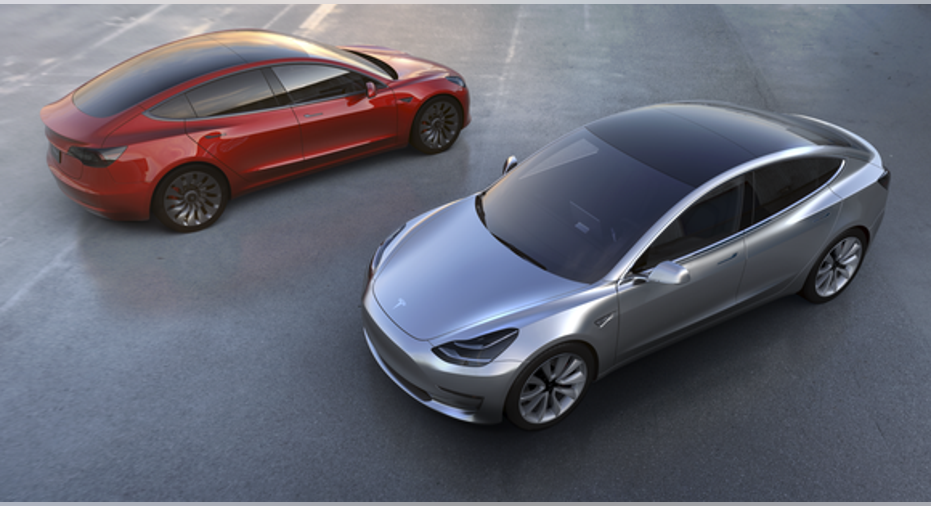 In a world where electric car maker Tesla Motors only garnered 75,000 reservations for its Model 3 in the weeks following its unveiling last month, analysts might have argued that the market for Model 3 could fall short of Tesla's ambitions. But this is a narrative we won't be seeing anytime soon. The pent-up demand demonstrated for Model 3 has been off the charts. In the wake of almost 400,000 deposit-backed reservations for the company's Model 3, it's clearer than ever: the market is more than sufficient.
Model 3. Image source: Tesla Motors.
This display of demand for Model 3 shouldn't be overlooked. For Tesla investors, it significantly reduces the risk of owning the stock.
Why 400,000 Model 3 reservations reduces riskTesla has some huge aspirations for its growth. By 2020, the company hopes it will be producing 500,000 vehicles per year. This is quite a leap from Tesla's 50,600 deliveries in 2015, and its anticipated 80,000 to 90,000 in 2016.
With these growth goals in mind, one of the biggest concerns investors had ahead of the Model 3 launch was whether or not the vehicle would spark the sort of demand needed to offer some validation that there is a large enough market to support Tesla's wild growth vision. While the company likely hopes its Model S and X can take it to 100,000 annual units beyond 2016, Tesla is depending on lower-cost models like its Model 3 to get it to 500,000 annual deliveries. So, investors were waiting eagerly to see if initial reservations of Model 3 would confirm whether or not this might even be possible.
Model 3. Image source: Tesla Motors.
Investors didn't have to wait long for their answer. Generating almost 400,000 reservations for Model 3 in just a three weeks highlighted the massive market for the vehicle and significantly reduced the risk of the company's growth ambitions potentially outstripping demand.
Some perspective on Model 3 demandJust in case you're still doubting whether or not 400,000 deposit-backed reservations for Tesla's Model 3 is indicative of robust demand for Tesla's electric vehicles, consider some of these facts about how the reservations went down.
Before Tesla even showed Model 3 for the first time on March 31, the company generated around 100,000 reservations for the vehicle in less than 24 hours.
Twenty-four hours after Tesla began accepting Model 3 reservations, the reservation count hit 180,000.
On the evening after the day of Tesla's unveiling event, reservations hit 232,000.
Two days after the unveil, reservations hit 276,000.
Two weeks after the company unveiled Model 3, Tesla vice president of Business Development Diarmuid O'Connell said reservations for the important vehicle were "approaching 400,000."
On April 21, Tesla CEO Elon Musk said Model 3 reservations were "almost at 400,000."
With initial reservations at this level in such a short period of time, Tesla no longer has to worry about demand for Model 3. This demonstration of demand frees up Tesla management to focus intently on what matters most: bringing the car to market and ramping up production as fast as possible.
Unfortunately, however, even the blockbuster demand demonstrated for Model 3 can't solve risks of vehicle development and production woes. This is a narrative we will see.
The article Tesla Motors, Inc. Model 3: The Narrative We Won't See originally appeared on Fool.com.
Daniel Sparks owns shares of Tesla Motors. The Motley Fool owns shares of and recommends Tesla Motors. Try any of our Foolish newsletter services free for 30 days. We Fools may not all hold the same opinions, but we all believe that considering a diverse range of insights makes us better investors. The Motley Fool has a disclosure policy.
Copyright 1995 - 2016 The Motley Fool, LLC. All rights reserved. The Motley Fool has a disclosure policy.