Tesla Motors, Inc. Doubles Down on Growth Plans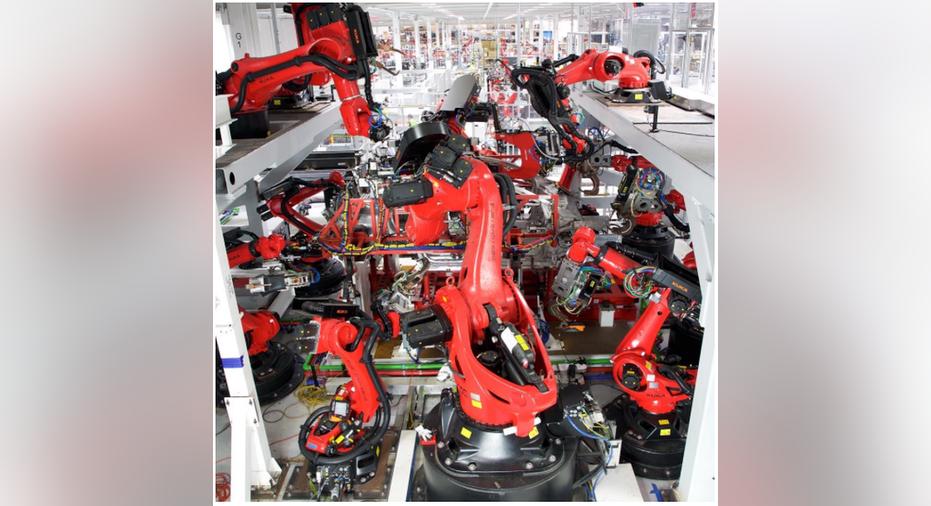 Electric-car maker Tesla Motors just reported first-quarter results, and the market likes what it sees. While the company's loss per share was better than expected, there's likely more to the optimistic response from investors; Tesla doubled down on its growth plans in a huge way.
Here's what investors need to know.
Tesla is going to need a lot of robots. Model X production at Tesla's Fremont factory. Image source: Tesla Motors.
The resultsTesla reported non-GAAP revenue of $1.6 billion -- in line with analyst estimates and up 45% from the year-ago quarter. Since the automaker had already reported its first-quarter deliveries, which ultimately determines the bulk of Tesla's revenue, investors likely weren't very focused on revenue. But Tesla's 45% year-over-year increase in the metric highlights the automaker's rapid growth.
Here's how Tesla adjusts its non-GAAP revenue:"Automotive revenue was $1.48 billion on a non-GAAP basis, and comprises $1.03 billion of GAAP Automotive revenue plus $455 million of net increase in deferred revenue resulting from lease accounting used for indirect leases and cars sold with a resale value guarantee."
Tesla's non-GAAP loss per share was $0.57, topping analysts' most recent consensus estimate for a loss of $0.60.
It's also worth noting that the company's energy storage business is beginning to take off. Tesla delivered over 2,500 Powerwalls and nearly 100 Powerpacks during the quarter.
Accelerating growth plansBut here's where Tesla's just-released shareholder letter gets a bit wild and is likely attracting droves of skeptics. The company announced it is advancing its goal to produce 500,000 vehicles per year by a whopping two years. Previously, Tesla wanted to achieve this critical milestone by 2020. But now the automaker wants to make this happen by 2018.
Model 3. Image source: Tesla Motors.
For some context, Tesla only delivered about 50,600 vehicles last year, and plans to deliver just 80,000 to 90,000 units this year. So this new timeline is going to require some extraordinary growth.
"[G]iven the demand for Model 3, we have decided to advance our 500,000 total unit build plan (combined for Model S, Model X, and Model 3) to 2018, two years earlier than previously planned. Increasing production five fold over the next two years will be challenging and will likely require some additional capital, but this is our goal and we will be working hard to achieve it."
Notably, Tesla's confidence in demand for its vehicles being this high by 2018 has more to do with reservations for Model 3. Management is also optimistic about growing demand for its Model S and X:
"The growth in Model S orders and the Model X reservation conversion rate support our plan of 80,000 to 90,000 deliveries in 2016. Notably, this demand level was reached ahead of the Model S refresh, before Model X could be seen in stores, and prior to the unveiling of Model 3, which we believe is stimulating demand for all of our vehicles."
Model X. Image source: Tesla Motors.
Of course, at this point, it's not really demand investors are concerned about, it's the company's ability to produce vehicles. Perhaps this is why management emphasized that "continuing to ramp high-quality production is the top priority at Tesla right now."
For the current quarter, the company estimates it will deliver 20,000 Model S and Model X vehicles combined, representing a 35% and 73% sequential and year-over-year increase, respectively. The guidance was solid, as the company only needs to average just over 20,000 vehicles per quarter in each of the remaining three quarters to hit the low end of its full-year guidance for vehicle deliveries.
At the time of this writing, Tesla shares are up about 4% in after-hours trading.
The article Tesla Motors, Inc. Doubles Down on Growth Plans originally appeared on Fool.com.
Daniel Sparks owns shares of Tesla Motors. The Motley Fool owns shares of and recommends Tesla Motors. Try any of our Foolish newsletter services free for 30 days. We Fools may not all hold the same opinions, but we all believe that considering a diverse range of insights makes us better investors. The Motley Fool has a disclosure policy.
Copyright 1995 - 2016 The Motley Fool, LLC. All rights reserved. The Motley Fool has a disclosure policy.