Tesla Motors, Inc. and Amazon.com, Inc. Drop as Stocks Fall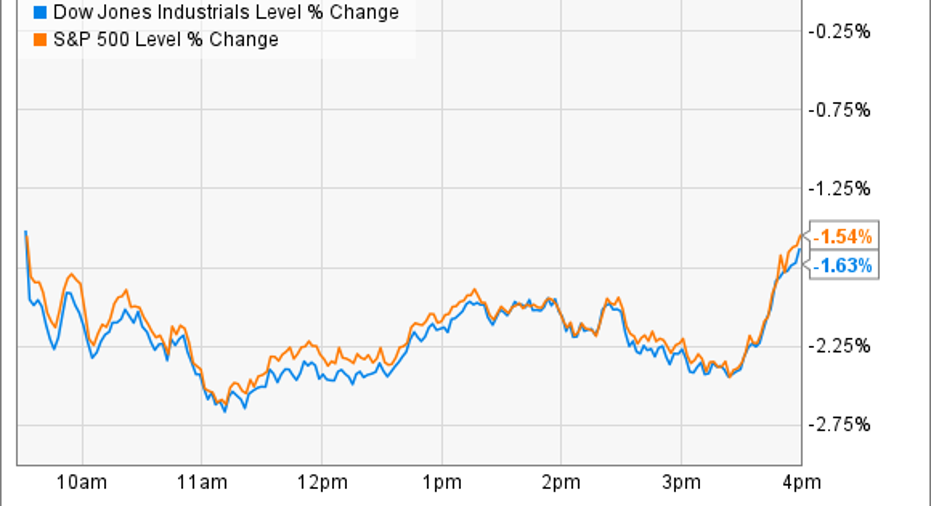 Stocks logged a negative start to the new year -- but one that could have been much worse. After being down by as much as 2.6%, the Dow Jones Industrial Average rallied in the final hour to end the trading session lower by 276 points, or 1.6%. The S&P 500 shed 31 points, or 1.5%.
Blue chip indexes took their lead from global markets after a sharp sell-off left Chinese stocks 7% lower in overnight trading. The Shanghai composite index slumped as fresh data showed contraction in manufacturing activity in the world's second-largest economy for the tenth straight month.
Meanwhile, Amazon.com and Tesla stood out with large drops, even for this broadly negative day for stocks.
Amazon's valuation Amazon was the worst-performing stock on the S&P 500, posting an 8% loss on heavy trading. As one of just two stocks in the index to have doubled in 2015, the e-commerce giant's early 2016 pullback isn't exactly surprising and today's sinking market made Amazon aneasy target for profit taking.
Amazon's shares also caught a Wall Street downgrade from Monness Crespi Hardt, which lowered its rating from buy to hold while predicting that a repeat blockbuster stock performance (shares rose 119% last year) isn't likely in 2016. "We believe even winners need to take breathers sometimes," the analysts wrote.
Image source: Amazon.
The downgrade amounts to a valuation call only, as the investment firm stressed that it's still bullish on Amazon's growth outlook. The rest of Wall Street apparently agrees: Consensus estimates call for sales to have spiked by 23% for the holiday quarter that ended last week.
Earnings, boosted by rising profitability in the cloud services division, are expected to improve from $0.45 per share to $1.65 per share in Q4. It's anyone's guess how the market will choose to value Amazon's relatively tiny profits over the next year, which is why investors are better off trying to tune out valuation-driven price swings like today's.
Tesla's delivery figures Tesla's stock fell 7%, and is now 21% below the high mark it set six months ago. Today's drop came after the electric-car maker announced details on its delivery performance for the fourth quarter that ended last week.
CEO Elon Musk and his executive team managed to sell 17,200 automobiles over the past three months, setting up a good news/bad news situation for investors. The good news is that the Q4 delivery pace was the company's best yet by far. In fact, it represented a 48% improvement over the third quarter's figure and 75% gain over the prior year period. The results show that Tesla's trend of accelerating sales growth remains intact.
However, the Q4 number was at the low end of management's guidance, issued in early November, that called for between 17,000 and 19,000 vehicle deliveries. We won't know the reasons for the underperformance until the full fourth-quarter results are released in a few weeks.
Investors also likely aren't excited about the fact that Tesla's new Model X made up just 208 of those 17,200 Q4 deliveries. The production speed of that SUV will have to ramp up significantly from that pace if it is going to make a real contribution to 2016 deliveries.
Model X. Image source: Tesla.
Musk did warn shareholders that it will be a bumpy process to get Model X production up to speed. "[Supply] factors add uncertainty to our build plans during Q4, but we feel emphasizing quality is the right decision for our [Model X] customers," he said. It appears the quality vs. quantity trade-off resulted in slightly fewer initial Model X deliveries than expected.
The article Tesla Motors, Inc. and Amazon.com, Inc. Drop as Stocks Fall originally appeared on Fool.com.
Demitrios Kalogeropoulos owns shares of Tesla Motors. The Motley Fool owns shares of and recommends Amazon.com and Tesla Motors. Try any of our Foolish newsletter services free for 30 days. We Fools may not all hold the same opinions, but we all believe that considering a diverse range of insights makes us better investors. The Motley Fool has a disclosure policy.
Copyright 1995 - 2016 The Motley Fool, LLC. All rights reserved. The Motley Fool has a disclosure policy.