Tesla Motors Has Never Paid Elon Musk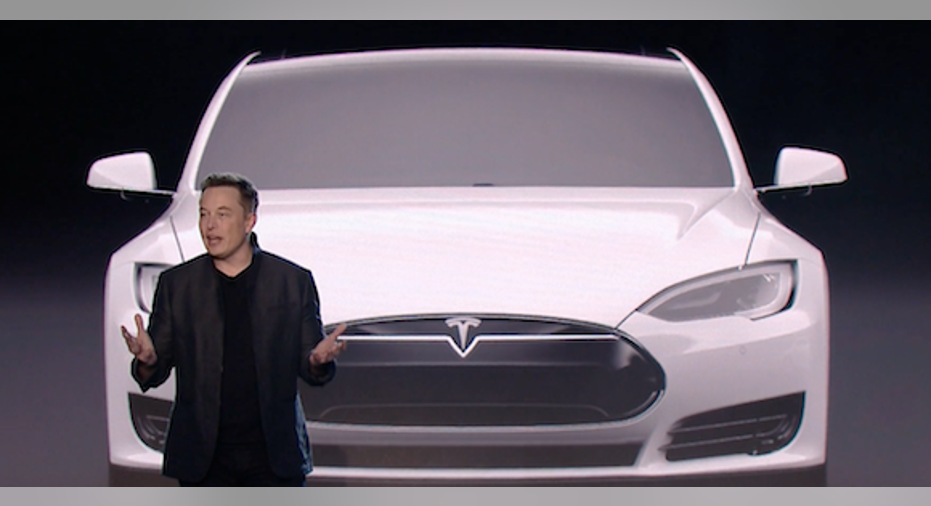 Image source: Tesla.
For one of the highest-profile tech billionaires in Silicon Valley, Tesla Motors Elon Musk has never taken home a paycheck from the electric automaker.
I happened to be reading through Tesla's most recent 10-K the other day (it's what we Fools do in our spare time), and while there is plenty of talk about Musk's overall compensation that primarily consists of equity awards, I ran across this tidbit on page 69: "No cash compensation has ever been received by our CEO for his services to the company." Similarly, the proxy statement notes that Musk also "does not receive additional compensation for his services as a director."
The proxy technically lists Musk's base salary as $37,584, but The Wall Street Journal notes that this is only to accommodate minimum wage requirements in California. In a statement to WSJ, Tesla said that its compensation practices reflect its start-up roots, with a greater emphasis on equity awards in lieu of cash bonus programs.
Cash is kingIt's not uncommon for founder CEOs to take home very little base pay. Steve Jobs famously had a token annual salary of $1 per year, while being compensated primarily with stock options (you probably remember the infamous options backdating scandal). Other tech CEOs like Mark Zuckerberg have also adopted the practice.
But for Tesla, Musk's refusal to take home any cash is particularly important, considering the capital needs of the business. Cash flow is easily one of the most important metrics for Tesla right now, and new CFO Jason Wheeler was explicitly instructed by Musk to prioritize cash flow above all else. (Wheeler's base cash salary is $500,000, and he received nearly $21 million in option awards when he signed on.)
Musk contributes plenty of cash to TeslaWhile Musk plunged nearly all of his wealth into Tesla in the early days to keep the company afloat, barely surviving the Great Recession, Musk continues to invest heavily in Tesla. Of course, Musk's compensation primarily consists of option grants, and he has plenty of shares to begin with (37.2 million shares as of the end of 2015).
Musk's most recent exercise was in January of this year, when he exercised 532,000 options at an exercise price of $6.63. That's "only" $3.5 million going to Tesla, and the position is obviously deep in the money, but the point is that even to this day Musk actively hands cash over. Musk also bought $20 million worth of shares during the secondary offering last year.
It's worth noting that Musk hardly ever sells Tesla shares, either. He has said that he "will be the last one to sell shares."
Where does Musk get that cash?Many years ago, Musk pledged 7.4 million shares of Tesla to secure personal loans of upwards of $1.6 billion from a couple of the big banks, according to Reuters. This cash helps provide Musk with liquidity since he takes home virtually no cash while retaining his Tesla position. (His SpaceX compensation data is not available since SpaceX is a private company.) But when Musk exercises those options, he has to fork over the cash to purchase the underlying shares, which is essentially a small cash infusion.
Technically, these loans represent a risk factor for Tesla's remaining shareholders, and the company acknowledges this in SEC filings. Since Musk is leveraged, if Tesla shares decline to a point that triggers a margin call for Musk, the CEO may have to sell shares to meet margin equity requirements. That potential selling pressure could theoretically hurt share prices further.
With Tesla shares reapproaching all-time highs again, it doesn't seem like Musk will be facing any margin calls anytime soon.
The article Tesla Motors Has Never Paid Elon Musk originally appeared on Fool.com.
Evan Niu, CFA owns shares of Tesla Motors, andhas the following options: long January 2018 $180 calls on Tesla Motors. The Motley Fool owns shares of and recommends Tesla Motors. Try any of our Foolish newsletter services free for 30 days. We Fools may not all hold the same opinions, but we all believe that considering a diverse range of insights makes us better investors. The Motley Fool has a disclosure policy.
Copyright 1995 - 2016 The Motley Fool, LLC. All rights reserved. The Motley Fool has a disclosure policy.