Tesla Model Y: New Information Coming Next Week?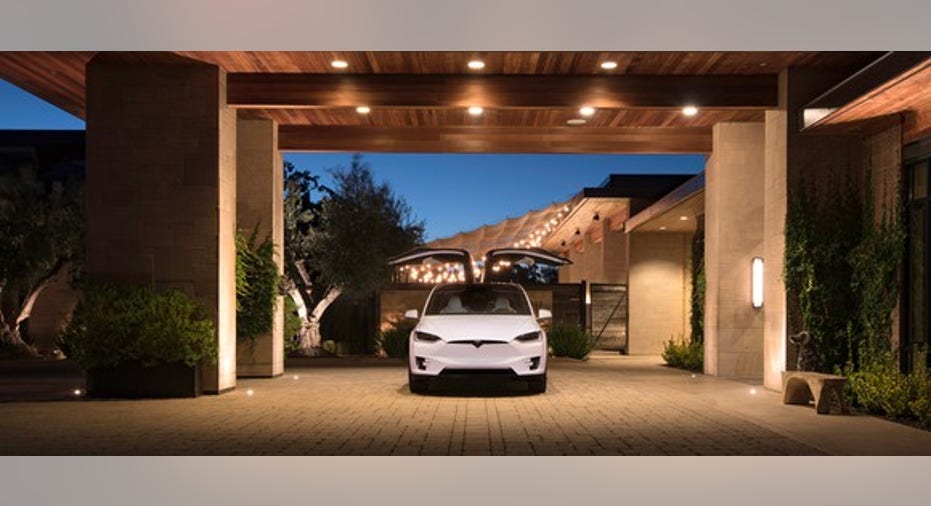 Don't get too excited. Tesla's (NASDAQ: TSLA) Model Y, which will be a smaller and cheaper version of the electric-car company's Model X SUV, is still a "few years" out, according to a tweet from Tesla CEO Elon Musk last week.
But there may be some new information about Model Y released as early as next week, according to Ars Technica: "We asked Musk (via Twitter direct message)whether there was any truth to recent rumors of the fourth model. The reply? An enigmatic 'Next week.'"
Model X. Tesla has said the Model Y will be a smaller and cheaper version of its Model X SUV. Image source: Tesla.
What we know about Model Y
Musk's tweet last week about Model Y was arguably the most concrete confirmation Tesla has provided in some time that the company is, indeed, going to bring to market its Model Y crossover. And Musk's reported tease to Ars Technica of more information about the vehicle coming out next week puts even more certainty around the vehicle's eventual arrival.
But what exactly will the Model Y be? Little is known about Tesla's Model Y. Tesla management has implied that the vehicle will essentially be an extension of the Model 3 platform, similar to the way the Model X was an extension of the Model S platform. In other words, the Model Y will likely sport the same-sized wheelbase as the Model 3. This would enable Tesla to use the same batteries it has in its Model 3 for the Model Y.
Musk has also said the Model Y would feature falcon wing doors like the Model X, but Musk said this before the company ran into significant production challenges with the Model X's complex features, leading management to admit "hubris in adding far too much new technology to the Model X in version 1." This complexity meant Tesla had insufficient supplier capability validation and didn't possess enough internal capability to manufacture parts in-house when suppliers didn't deliver, Tesla said in April 2016 after missing its guidance for first-quarter deliveries.
Why Model Y?
With about 400,000 deposit-backed reservations for Model 3 on its books despite little effort to create awareness about the vehicle, some investors might wonder why Tesla would even be focusing on Model Y at all right now. But it makes more sense when the vehicle is put into the context of Tesla's breakneck growth ambitions.
Tesla vehicle production. Image source: Author.
With the help of a planned Model 3 launch later this year, Tesla is aiming to grow vehicle production from an annualized rate of about 100,000 units today to 500,000 units in 2018. But looking beyond 2018, Tesla wants to grow annual vehicle production to about 1 million units by 2020.
To get to this level, Tesla may need to launch the Model Y. Indeed, based on comments from Musk during the company's second-quarter earnings call, Tesla may be expecting Model Y to help vehicle production to grow to 1 million units and beyond: "To be clear, the priority vehicle development after the Model 3 would be the Model Y, the compact SUV, because that's also a car that we expect to see demand in the 500k to 1 million unit per year level."
Keep an eye out for some new information on Tesla's Model Y next week.
10 stocks we like better than TeslaWhen investing geniuses David and Tom Gardner have a stock tip, it can pay to listen. After all, the newsletter they have run for over a decade, Motley Fool Stock Advisor, has tripled the market.*
David and Tom just revealed what they believe are the 10 best stocks for investors to buy right now... and Tesla wasn't one of them! That's right -- they think these 10 stocks are even better buys.
Click here to learn about these picks!
*Stock Advisor returns as of February 6, 2017
Daniel Sparks owns shares of Tesla. The Motley Fool owns shares of and recommends Tesla. The Motley Fool has a disclosure policy.