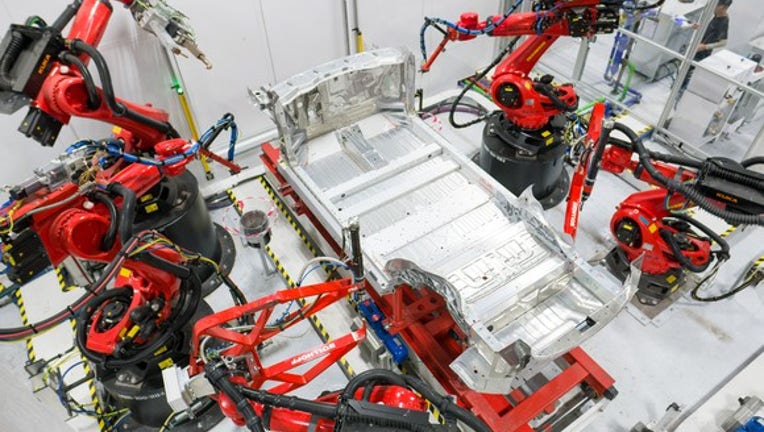 In an update on its long-term plans last summer, Tesla (NASDAQ: TSLA) CEO Elon Musk said one of the company's main priorities in the future will be to expand its vehicle offerings "to cover the major forms of terrestrial transport," including commercial vehicles like "heavy-duty trucks and high passenger-density urban transport."
When Tesla announced plans for these vehicles last year, they were in the early stages of development and were excepted to be unveiled in 2017. While there's no new information on Tesla's passenger vehicle, Musk said on Twitter Thursday that the heavy-duty truck, or "Tesla Semi," is on track for an unveiling in September.
Image source: Author.
Tesla commercial vehicles
"Tesla Semi truck unveil set for September," Musk tweeted. "Team has done an amazing job. Seriously next level."
Few things are known about Tesla's semi, but Musk did say in the company's "Master Plan, Part Deux" blog post last year that the Semi will "deliver a substantial reduction in the cost of cargo transport, while increasing safety and making it really fun to operate."
Tesla isn't the first company to show an interest in electric semis. Indeed, Mercedes-Benz has already started small-series production of an all-electric heavy-duty truck, which it calls the Urban eTruck. Capable of about 125 miles of range, the Urban eTruck is focused on short-distance applications.
The Tesla Semi would just be one facet of Tesla's plan to move beyond its consumer vehicles, which currently include its Model S sedan, Model X SUV, and its upcoming higher-volume, lower-cost Model 3 sedan. The other main commercial vehicle Tesla wants to bring to market is its high passenger-density urban transport vehicle, or what Tesla has also called the "Tesla minibus."
The minibus, which Tesla says isn't the official name of the vehicle yet, will be built on the company's Model X platform, Musk noted in the company's second-quarter earnings call last year. Musk explained the reasoning of an all-electric minibus in more detail in the company's master plan last summer.
Tesla vehicle production. Image source: Author.
Why it matters
Tesla believes an aggressive production ramp-up of compelling electric vehicles, along with an expansion of its lineup to address more of the major transportation markets, will help it in its mission "to accelerate the world's transition to sustainable energy." By bringing compelling electric vehicles to market, Tesla is betting it can catalyze manufacturers and consumers to transition to electric vehicles more rapidly.
Tesla Semi represents a key part of this plan. While a Tesla-branded heavy-duty truck is still too far away for investors to begin pricing in its potential impact on the company's business, it's something investors should keep an eye on -- particularly when it's unveiled in September.
10 stocks we like better than TeslaWhen investing geniuses David and Tom Gardner have a stock tip, it can pay to listen. After all, the newsletter they have run for over a decade, Motley Fool Stock Advisor, has tripled the market.*
David and Tom just revealed what they believe are the 10 best stocks for investors to buy right now...and Tesla wasn't one of them! That's right -- they think these 10 stocks are even better buys.
Click here to learn about these picks!
*Stock Advisor returns as of April 3, 2017.
Daniel Sparks owns shares of Tesla. The Motley Fool owns shares of and recommends Tesla. The Motley Fool has a disclosure policy.