Tesla Inc.'s Capital Expenditures Could Soar Nearly 200% This Year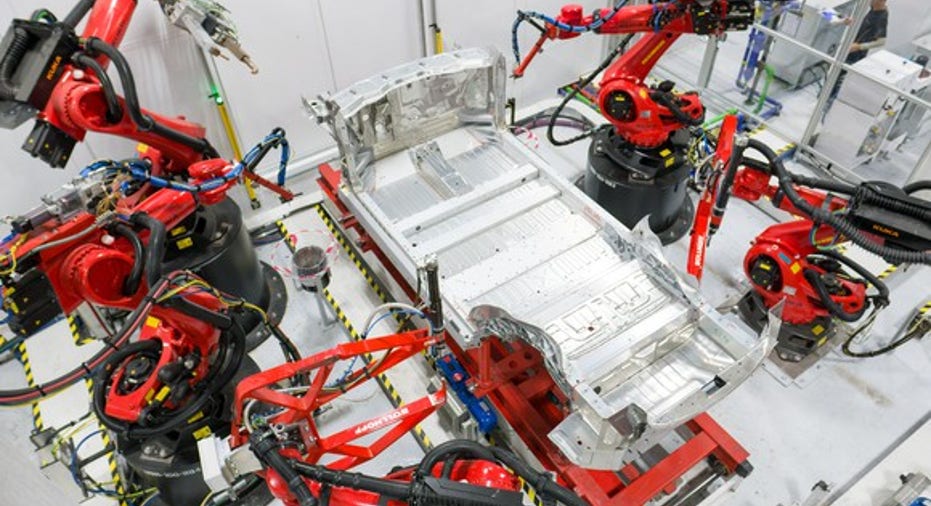 On Thursday, electric-car company Tesla (NASDAQ: TSLA) followed through on CEO Elon Musk's recent commentary regarding a likely capital raise to reduce risk associated with rapidly increasing spending for its ambitious growth plans. Tesla said it would raise about $1.15 billion.
As Tesla raises cash in preparation for a big jump in spending, it's a good time to take a look at how much the company's capital expenditures could go up this year.
Tesla vehicle production. Image source: Author.
Big plans, lots of cash
It's no surprise that Tesla needs a lot of capital. The company has some very ambitious plans for Model 3. With the help of a higher-volume, lower-priced Model 3, management expects its annualized production to increase from about 100,000 units today to a whopping 500,000 units in 2018.
But exactly how much cash will Tesla need? A lot more than it did last year. Here's what we know.
With plans to begin production of its upcoming Model 3 in July, Tesla expects capital spending during the first half of the year to rise sharply as it lays the groundwork for production. Management guided for $2 billion to $2.5 billion in capital expenditures in the first half of the year alone -- an amount that easily trumps the $1.3 billion it spent during the entire year of 2016 on capital expenditures.
What about the second half of the year? While Tesla didn't provide guidance for expected capital expenditures then, since management is focusedprimarily on initial investments required to get its upcoming Model 3 to volume production, Musk did recently imply that Tesla anticipates spending to come down during the second half of the year.
Here's what he said during the fourth-quarter earnings call:
Musk went on to conclude he wouldn't expect capital spending in the second half of the year to exceed 70% of its spending during the first half. Therefore, assuming spending in the second half of the year maxes out at about 70% of spending during the first half, investors can arrive at a ballpark estimate for Tesla's total capital spending in 2017: approximately $3.825 billion --up an incredible 194% compared to capital expenditures in 2016.
Gigafactory and Model 3 are Tesla's biggest investments
How will this spending be allocated? Unsurprisingly, mostly on investments related to ramping up production of Model 3 (and batteries for the Model 3 at the Gigafactory).
Tesla Gigafactory as of Jan. 3. Image source: Tesla
As CFO Jason Wheeler explained during Tesla's fourth-quarter earnings call:
So, while it does expect Model 3 to drive significant growth, Tesla won't be escaping the capital-intensive nature of the auto business. Investors should keep an eye on the company's spending, looking for it to pay off with outsized growth in the business.
10 stocks we like better than TeslaWhen investing geniuses David and Tom Gardner have a stock tip, it can pay to listen. After all, the newsletter they have run for over a decade, Motley Fool Stock Advisor, has tripled the market.*
David and Tom just revealed what they believe are the 10 best stocks for investors to buy right now... and Tesla wasn't one of them! That's right -- they think these 10 stocks are even better buys.
Click here to learn about these picks!
*Stock Advisor returns as of February 6, 2017
Daniel Sparks owns shares of Tesla. The Motley Fool owns shares of and recommends Tesla. The Motley Fool has a disclosure policy.