Tesla, Inc. Raises $1.2 Billion in Offerings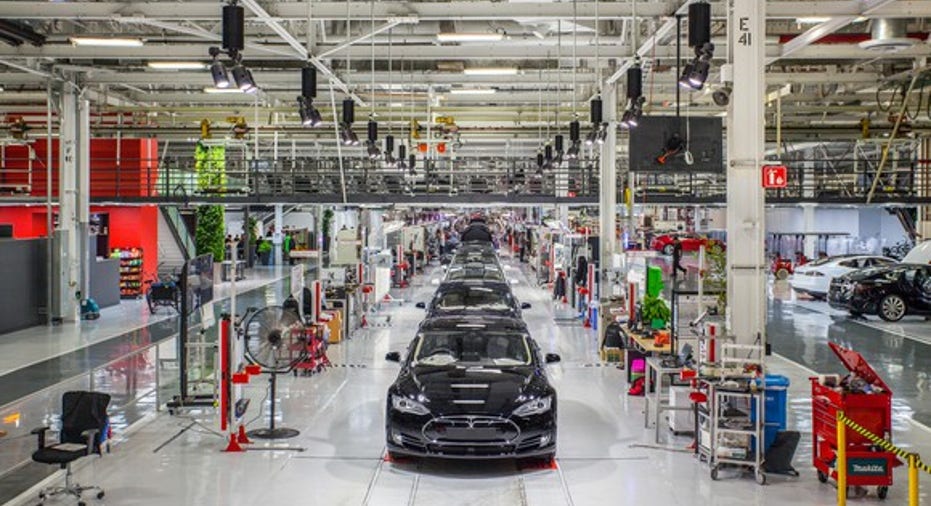 Electric-car maker Tesla (NASDAQ: TSLA) priced its concurrent stock and convertible note offerings last night, and the total capital raised came in at $1.2 billion, slightly higher than the $1.15 billion that Tesla had previously expected even after a 15% underwriter option. That $1.2 billion is the gross amount raised before factoring in underwriting discounts and other costs associated with the offering, some of which are not insignificant.
The total amount raised could climb to $1.4 billion if underwriters exercise all options. We'll find out in a few days if they do or not.
Tesla factory in Fremont. Image source: Tesla.
The equity
In terms of the common stock offering, it was priced at $262 and Tesla ended up selling 1.33 million shares, compared to the 969,000 it initially planned to sell. Underwriters still have options to purchase another 200,000 shares on top of that if investor demand is there. The net proceeds to Tesla after the underwriting discount are about $348 million. That puts the dilutive impact of the stock offering at 0.8% -- rather minimal.
The stock offering is pretty straightforward, while the convertible note offering is where things get a little bit more interesting and complicated.
The convertibles are pricing in more risk
The convertible notes due 2022 ended up pricing at a 2.375% coupon rate, with an aggregate principal amount of $850 million, up from the prior expectation of $750 million. The net proceeds to Tesla will be $840 million after the underwriting discount. The notes will have a conversion price of $327.50, which represents a conversion premium of 25% compared to current levels.
Compare those figures to Tesla's last convertible note offering from 2014 (underwriters exercised their options in full on that offering).
| Maturity | Principal Amount | Interest Rate | Conversion Premium |
| --- | --- | --- | --- |
| 2019 | $920 million | 0.25% | 42.5% |
| 2021 | $1.38 billion | 1.25% | 42.5% |
Data source: SEC filings.
The higher interest rate and lower conversion premium associated with the current offering show that the market is pricing in more risk associated with these notes. It's possible this is related to the recent acquisition of SolarCity, since the deal weakened Tesla's balance sheet, as it assumed quite a bit of its sister company's debt; Tesla had $2.7 billion in total long-term debt and capital leases at the end of Q3, which jumped to $6.8 billion at the end of Q4 after closing on SolarCity (not including solar bonds).
Additionally, Tesla is entering into hedge and warrant transactions to offset and mitigate any potential dilution should the notes be converted. But these transactions are expensive. Tesla says it expects to spend $131.5 million of the note proceeds to cover the costs of these hedges, which will only be partially offset from proceeds from the warrant transactions. That's a high price to pay, but the alternative is for shareholders to face even greater potential dilution if shares exceed the conversion price of $327.50.
In other words, Tesla is spending about 15% of the net proceeds from these notes on the related hedges, so it will only collect about $708.5 million.
Model 3 production is only four months away
If we add up the net expected proceeds from both offerings, after deducting the hedge expenses but before the possibility of underwriters exercising their options, Tesla will add $1.06 billion to its coffers to help reduce risk ahead of Model 3, which covers a good chunk of the $2 billion to $2.5 billion in capital expenditures that are planned for the new vehicle. With Model 3 still on track for production to begin in July, it's crunch time.
10 stocks we like better than TeslaWhen investing geniuses David and Tom Gardner have a stock tip, it can pay to listen. After all, the newsletter they have run for over a decade, Motley Fool Stock Advisor, has tripled the market.*
David and Tom just revealed what they believe are the 10 best stocks for investors to buy right now and Tesla wasn't one of them! That's right -- they think these 10 stocks are even better buys.
Click here to learn about these picks!
*Stock Advisor returns as of February 6, 2017
Evan Niu, CFA owns shares of Tesla. The Motley Fool owns shares of and recommends Tesla. The Motley Fool has a disclosure policy.