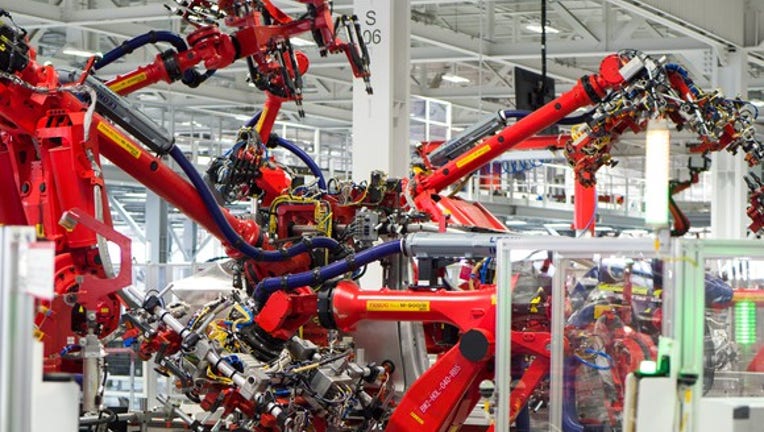 During Tesla's (NASDAQ: TSLA) fourth-quarter earnings call Wednesday afternoon, management said it will likely raise more capital this year. A capital raise would extend Tesla's history of raising capital through debt or equity every year.
Tesla car factory. Image source: author.
Reducing risk
Going into 2017, Tesla CEO Elon Musk had already hinted that the company could raise capital ahead of Model 3. In the company's third-quarter earnings call, Musk said the Model 3 didn't look like it would "require" a capital raise, but the CEO was also careful to emphasize that this didn't mean Tesla shouldn't tap into debt or equity opportunities in order to help create "a larger buffer and to derisk the business."
But a capital raise appears all but certain now, based on Musk's comments during the company's fourth-quarter earnings call on Wednesday.
A capital raise in 2017 comes after the company had indicated in August in a filing with the Securities and Exchange Commission related to its acquisition of SolarCity that it was planning to raise funds by the end of 2016, "including through potential equity or debt offerings."
The filing explained:
With these same statements remained even in an Oct. 7 filing with the SEC, investors assumed the company planned to raise capital during the fourth quarter.
But Tesla ended up deciding to delay a capital raise as record fourth-quarter deliveries helped the company report a rare profit, improving Tesla's cash position.
In retrospect, if Tesla opts to raise capital through equity instead of debt, delaying a capital raise looks like it will pay off for shareholders by significantly mitigating shareholder dilution. Tesla stock is up more than 30% since October.
Image source: author.
Big spending on the way
While Tesla's cash position improved again between the company's third and fourth quarter, increasing by over $300 million to $3.4 billion, raising capital would make sense ahead of the company's plans for aggressive spending ahead of Model 3. Tesla said it plans to invest between $2 billion and $2.5 billion in capital in the first half of 2017 as it prepares to bring Model 3 to market in July. With $1.3 billion in capital expenditures during the entire year of 2016, this represents a significant jump in the pace of Tesla's capital spending.
10 stocks we like better than TeslaWhen investing geniuses David and Tom Gardner have a stock tip, it can pay to listen. After all, the newsletter they have run for over a decade, Motley Fool Stock Advisor, has tripled the market.*
David and Tom just revealed what they believe are the 10 best stocks for investors to buy right now... and Tesla wasn't one of them! That's right -- they think these 10 stocks are even better buys.
Click here to learn about these picks!
*Stock Advisor returns as of February 6, 2017
Daniel Sparks owns shares of Tesla. The Motley Fool owns shares of and recommends Tesla. The Motley Fool has a disclosure policy.